New Boots: Florida Georgia Line
Country music has come a long way from where it began with its simple bluegrass roots. Most of today's modern country has come to adopt a more pop like sound coupled with good ol' country values. To those who don't like country music might think the genre is just about women, beers, hunting and tucks or as I like to call it "Bro Country" which is exactly what Florida Georgia Line is.
The American country music duo consisting of vocalists Tyler Hubbard and Brian Kelley. The duo gained popularity in 2012 with their debut single Cruise. Since then Florida Georgia Line has released four studio albums with their fourth and most recent album being Can't Say I Ain't Country.
The album was released Feb. 15, 2019, and features a total of 19 songs with appearances of pop singer Jason Derulo and country artist HARDY and Jason Aldean.
Despite not being a fan of Florida Georgia Line, I came into this musical experience with an open mind.
When I first started listening to this album I quickly became confused when instead of a song my ears were met with a phone call form a character named Brother Jervel who seems to be from a church. The phone call/skit called Tyler Got Him A Tesla lasted less than a minute. During the skit Brother Jervel was going on and on about how another character named Tyler got a Tesla instead of a pickup truck and how that doesn't make him country. Needless to say I found this quite puzzling as I struggled to find the point of the skit.
This first song on the album was Can't Say I Ain't Country. The song starts out light and upbeat which I liked but it was quickly ruined with stereotypical opening verse "I wake up and get me a gas station biscuit/ Head to town, wash it down with some Mountain Dew/ I end the day, about the same way/ Clock out and go fish just to crack a few" or the line "a styrofoam full of tobacco spit." These lyrics kind of bother me due to how stereotypical they are which only adds to the hate country music gets.
The next song I am rather familiar with for its obnoxious amount of radio play. Simple is annoyingly catchy and I often find myself singing along to the chorus in such a mocking tone. With lyrics such as "Its like one, two, three/ Just as easy as can be/ Just the way you look at me/ You make me smile" I feel as though they are just going off textbook songwriting.
The country duo tries their hand at love song called Talk You Out Of It. The song has a simple snap track making it easy to follow along with. At the same time snap tracks make the song sound like every other one on the radio. This love melody is sweet and slow at first, but loses all sentiment with a creepy lyric like "I'm looking at that fine little dress you got on/ Don't get me wrong girl, I love it/ Now I wanna talk you out of it." Lyrics like that made me rather uncomfortable and felt as though they were objectifying women. Unfortunately, they ruin every love song on the album with lyrics like that so, don't even bother listening to them.
After Talk You Out Of It, another weird phone call skit came on. By this one I realized that the skits were in place to introduce the next song. I thought it was an interesting idea but I don't think it really works.
If there was to be any song that had a chance of landing on my playlist it would be People Are Different. In this song, the duo talks about all the differences seen in society today. They go on to talk about how we just need to accept these differences. The one lyric that struck a chord with me in this whole album was found in this one song. But that was not enough to go on my playlist.
Songs like Y'all boys and Small Town, talk about what country really means. I have a hard time taking these sons seriously though when the duo lives in big mansions. These songs are filled with even more textbook lyrics heard in every mainstream country song.
Overall, this album confirmed what I thought about Florida Georgia Line. They are part of the reason country music gets such a bad rap.
0/5  
About the Contributor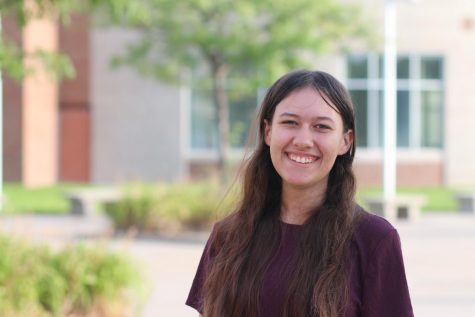 Mackenzie Gonzales, Cartoonist
Mackenzie is a senior entering her third year on the CATalyst staff. Her favorite stores to write are Entertainment and Features. She loves photography...