Dont Panic!
Sole band member Brendon Urie comes to CHI Health Center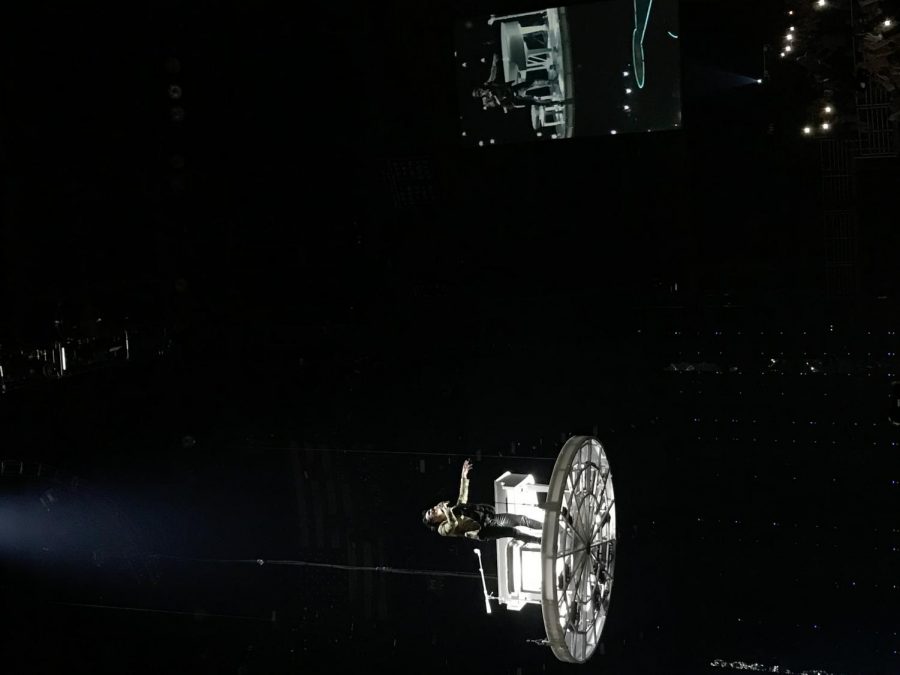 Walking into the newly named CHI Health Center on a freezing cold Friday night, conversations and screams of excitement fill the halls. Panic! At the Disco (P!ATD) performed their new album, Pray for the Wicked, in front of a sold out crowd of 19,000.
Betty Who and Two Feet opened for Brendon Urie. Betty Who performed her electronic "dubstep" album mixed with different types of dances and choreography. Two Feet, another electronic/rock band performed their famous songs, Go **** Yourself and I Feel Like I'm Drowning getting the crowd pumped up for the main act.
A four banner countdown starting from 10:00 cues for the moment Urie and the backup singers and band to come out.
The clock hit zero, the lights go dark and the sold out crowd rose to their feet. The band and instruments for P!ATD rose out of ominous dark purple light. A couple seconds pass, seeming like an eternity as Urie launches six feet up out of the pit in a blinding white light. **** A Silver Lining plays before a quick introduction by Urie.
Urie decided to throw it back for his concert and tour fans with older songs such as, "Don't Threaten Me With A Good Time" and "Ready To Go" which were released back in 2016 and 2011.
Classics from the album, Roaring 20s, Hey Look Ma I Made It and High Hopes were all performed with intensity and gratitude. Even Urie's cover of The Greatest Show snuck in the lineup. Urie even gave a cover to the famous Queen as he performed a piano and vocal solo of Bohemian Rhapsody
With all concerts, the managers want people to come in and remember something that they will for a very long time. For example, Coldplay gave everyone a wristband during their concert and during their performance of Paradise the wristbands emitted different colors making the entire arena light up in different "ROYGBIV" colors.
The concept used for P!ATD was similar, but less expensive. During Urie's performance of Girls/Girls/Boys the audience was instructed to hold their colored heart to their flashlight on their phone. The result, an arena colored all in the LGBT rainbow. An astounding sight to see 19,000 people all coming together to enjoy something so special to them and those around them. Some audience members from the floor also through up their LGBT flags for Urie to wear during his performance.
Urie also pulled out different tricks and certain privileges for the floor crowd. Urie performed Death of a Bachelor as he did "The Death Walk" where the performer comes off the stage and walks through the crowd to get to another part of the arena.
Urie and his management are thinking about stopping The Walk due to fans inappropriately touching him during the excursion,
"If people keep trying to lick, kiss or do weird creepy **** during the "death walk" we will for sure stop doing it." manager Zack Cloud said on Twitter. "It's a fun thing he likes to do and enjoys being that close to you guys, but come on. Have some respect."
After the death walk, Urie performed "Dying in LA" while being suspended 25 feet in the air on a platform with a piano. The greatest part of his performance in my opinion, flying right over my seats and coming over the side waving to those under him was amazing to experience first hand.
The pyrotechnics and light display could not have been better during this concert. A video dropback display different images and animation throughout the three hour dance fest. Fire appeared and kept fluctuating around Urie all throughout the concert, lighting up the shouded band.
Ending the concert, Urie gave a special message to all his fans. He thanked all of them for being at his concert and seeing him perform. Without their support he wouldn't wake up doing what he loves every single day. He then closed with the infamous I Write Sins Not Tragedies and Saturday Night (Say Amen). A great close for the concert and leaving the audience wanting to continue for hours.
From nostalgic songs and amazing pyrotechnics and different forms of uniqueness to stand out from other concerts P!ATD put on a very impressive performance. As Urie goes into his second decade for P!ATD, fans are left to wonder if he will do his last tour soon.
About the Contributor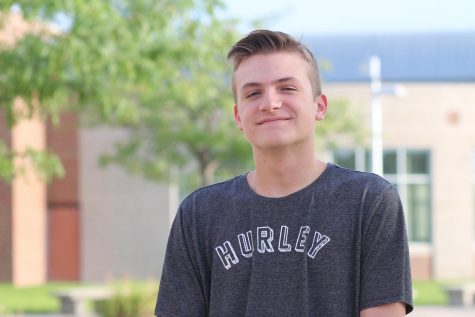 Cody Bennett, Sports Director | STRIV Executive Producer
Cody is a senior and on his third and final year on the Catalyst staff. Throughout his career, Cody was on staff for a Pacemaker Finalist and won 7th in...