Uptown Ladies Made History
Show Choir leaves their mark at their first competition of the season
Hang on for a minute...we're trying to find some more stories you might like.
Red and turquoise fringe dresses swayed as the 52 members of Millard West Uptown Girls took the stage at the Competition of Excellence hosted by Westside High School on Jan. 26. This was the first competition the show choir department had attended this year.
Uptown Girls had been working countless hours to perfect their show before the competition season began. The theme of their show is girls having fun and they showed just that during their preliminary performance.
"Our first performance felt unreal because we felt like it was one of our best performances we ever did," senior Aislyn Tyler said. "We felt like we weren't competing, we were just having fun."
Once every group had performed, the daytime award began. At this award session the winners of the prep and unisex groups were announced along with a few specialty awards. Uptown Girls won Best Costumes and were named the Women's Division Champions. After that the groups who made finals and would have to perform again for the judges later that night were announced. Uptown Girls made history as they were the first ever Women's groups in the history of the Competition of Excellence to make finals.
"I cried when they announced our name because it meant that we are truly breaking the stigma against unisex groups," senior Skyler Tucker said. "I was super proud of every sing woman in the group, they have each grown in enormous ways since we started rehearsal in August."
Because both Tyler and Tucker are on leadership which meant they tried help the group's nerves before their next performance. They had a meeting in their homeroom before taking the stage.
"We circled up and told everyone that we need to just perform the best we can and not get too nervous or in our heads," Tucker said. "We let all the girls have a chance to talk about what they were feeling which really set us up for the best performance we could have had."
Uptown was the first group to perform during finals. Both Swing Cats and West in the Groove sat front row, supporting the women with loud cheers and sign language I love you's throughout the entire performance.
"The best part of the performance for me was during the fourth number when we say 'I'm a lady', just because we were a women's group in finals at Westside," Tyler said. "When we said it, it just felt way more powerful because we beat the stereotype that women's groups can't make finals."
At the evening awards, Uptown Girls came in fourth place right behind West in the Groove who came in third. Both groups felt victorious because this was only their first competition and they already had had a lot of successes. The show choir department is looking forward to their competition on Feb. 9 at Elkhorn South where they are hoping to make history once again.

About the Writer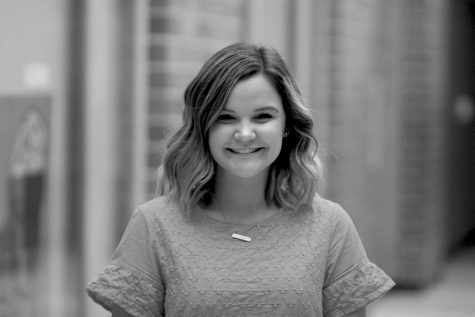 Sydney Looney, Editor-in-Chief
Sydney is a senior and this is her second year being apart of the CATalyst and MWHS Wildcats News staff. Her favorite part of journalism is getting to...