It's Time to Unleash Your Inner Artist
A review of the Morphe x James Charles Collaboration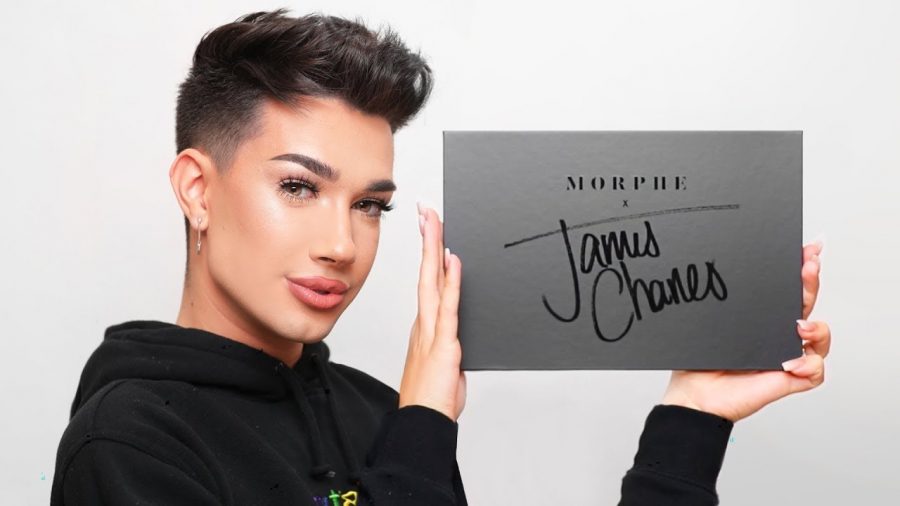 The widely popular 19-year-old YouTube makeup artist, James Charles, released a collaboration with the makeup company, Morphe, on November 13th. This collab included a palette and brush set. Although it sold out the day of the launch, I was lucky enough to get my hands on one.
The campaign video for the palette and brush set was beautiful. It was fully produced by Charles and his team, which showed how meaningful this launch was for him, being that it was his first one. It featured the palette, showing all of the gorgeously formulated eye shadow shades, with Charles and his friends singing in the background.They sang a harmony with Charles beat-boxing in the background. Also shown was various eye looks that Charles did with the colors and brushes in the collection. I believe these makeup looks were the perfect way to show what the shadows and brushes are capable of.
The palette itself sold out in one day and the hype around it on social media was crazy, as many people were very eager to purchase it. That explains why it sold out so quickly. Mine took about a week to ship. The packaging of the palette is a greyish white box with a picture of Charles' rainbow look. The back of it has a message from him to his fans thanking them for purchasing the palette and supporting him. The palette itself is matte black with "Morphe x James Charles" on the front. Inside it has the message "Unleash your inner artist," which is Charles' goal with this palette. I thought the packaging of the palette was very aesthetically pleasing, and very appealing to the eye.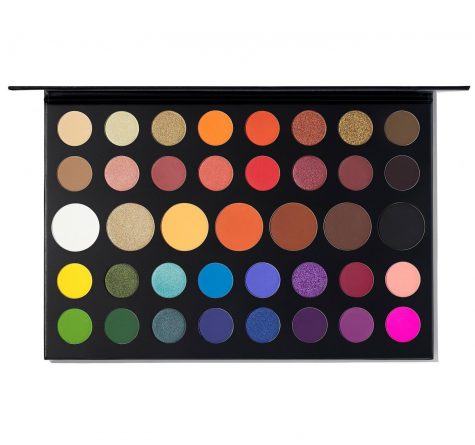 The palette features 39 shades, shimmer and matte, in the whole rainbow and neutrals. There are 7 base shades in the middle that can be used to calm down or deepen any look created. I used some of these shades a few weeks ago, and they showed up and blended beautifully.The matte shades are very pigmented, even though it might take a few layers for the color to fully show. My favorite shade in the palette is, "You're Kidding," which is a matte red. Anyone who does makeup knows that it's almost impossible to find a completely matte red shade. "You're Kidding" is exactly that. This palette gives colors that can be used in any look, whether it's natural, glam, or colorful. The colors featured in this palette are stunning and can easily be incorporated into an everyday makeup routine.
All of the shades are easy to use, but one of the issues is staining. Staining is a problem for many makeup palettes. Reds, pinks, and purples are the main pigments that cause staining. Many shades in Charles' palette are pressed pigments, which are eye shadows made using the pigment without a binder that would be used to dull it down. These types of shadows stain more easily. This issue with Charless' palette originally arose because of a Twitter video posted by Kodee rants. She claimed that the bright pink shade "Skip" stained her eye and none of the other pressed pigments did. Kodee was met with backlash. Other Twitter users claimed that most pink shades stain. Personally, I have gotten staining on my eyes from one of the purple shades, but in reality, that should be expected out of any palette with bright colors. Yes, it isn't fun to have stained eyelids, but it's a very hard thing for the creators to avoid.
The other problem with the palette is fall out. This is when the eye shadow pigment falls off onto the rest of the face. Some shades in this palette have a lot of fall out. The blues and purples, as well as the reds are very prone to this happening. I did a blue and purple look on Thanksgiving, and a lot of blue fell onto my concealer. Fall out can ruin a makeup look, but at the same time, it's nothing that a makeup wipe can't fix.
In my opinion, the brush set is one of the best. It has a beauty blender, face makeup brushes and eye makeup brushes. They all come in a cylindrical container that fits the aesthetic of the palette. The brush set is made up of all Charles' favorite brushes. He even created a new one, the M456. It is a small packing brush. These brushes work extremely well with the palette. There are packing brushes and blending brushes guaranteed to give the best color pay off. The brush set is a must have for blending and creating a beautiful makeup look.
The Morphe x James Charles collab is very well put together, but I have seen a lot of issues with the pricing of the items. The palette was $39 for 39 shades, which I think is fair. However, his brush set was $149. Many thought this was too much money for a set. In my opinion, the price is justified. Every eye shadow brush comes with a duplicate, and the most popular blending brushes come with three. His brush set also comes with a beauty blender. These usually don't come with sets. It comes with 34 brushes, which would usually cost $218. Charles got it down by a lot. It is expensive, but it's a good price for the amount and quality of the brushes.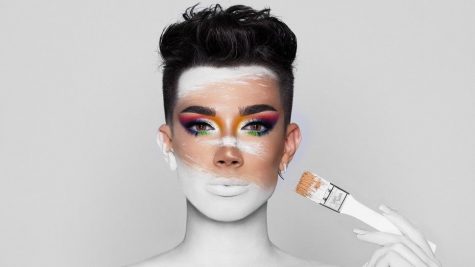 Charles' goal with this palette was for people to "unleash their inner artist." He wanted to create a palette that could make any look come to life. That's why he chose rainbow and neutral shades. His want for people to get creative and have fun using his palette is incredible. This palette is a way to unleash your inner artist because I think that makeup truly is an art. Charles has been liking and replying to tweets of looks using his palette. Using his platform to encourage up and coming makeup artists is inspiring to anyone who loves makeup, including me.
The Morphe x James Charles collection relaunched on December 9th, and the brush set and palette sold out worldwide once again that day. James Charles' first palette has been a hit and the feedback has been great. In my opinion, the best part of this launch was the pigmentation of the shadows. The colors are so bright and vibrant. They look the same on the eyelids as they do on the palette. Also, the brush set is fitting for any makeup look. Although it may be sold out now, I believe this palette is definitely worth the purchase. Whenever it restocks, go buy the James Charles x Morphe palette and brush set and unleash your inner artist.
About the Contributor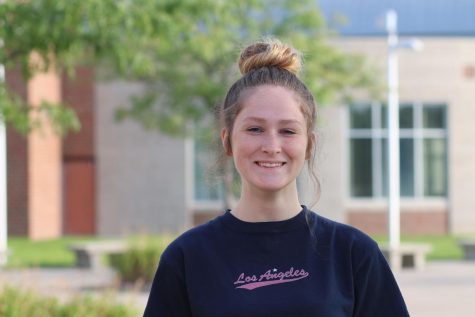 Elizabeth Hahn, Entertainment Editor
Ellie is a senior and this is her second year being on staff. She loves to write in general, but specifically, she likes to write reviews and Opinion stories....