Something that can't be ignored
As deaths by suicide continue to rise, knowing the signs becomes essential
Hang on for a minute...we're trying to find some more stories you might like.
In the last 45 years suicide rates have increased by 60% worldwide, according to the World Health Organization. This represents a global mortality rate of 16 people for every 100,000 or one death every 40 seconds and it is predicted that by 2020, the rate of death will increase to one every 20 seconds.
In addition, suicide is now among the three leading causes of death, following unintentional injury and homicide, for ages 15-44 (male and female). Many of these deaths are predominantly in age rage of 17-24 due to a multitude of factors, experienced during these years. High school students may be under intense academic pressure, while college students are often living away from home and must face an entirely new social environment. Situations like these are very common precipitates for suicide, and unfortunately, is deemed as a solution to these temporary problems.
However, knowing the signs of depression can be the difference between life and death.
Noticing signs of avoidance, sadness and recurring thoughts or talk of death is a clear sign that an intervention is needed. According to the National Alliance on Mental Health, communication is one of the key factors in providing help and a clear sense of validation to a depressed or suicidal person. Researching and contacting a local therapist is ultimately the most effective way to deal with long term depression and/or other issues needing to be addressed.
"It's important to seek assistance from people who are in a position to provide that help," school psychologist Kelli McWilliams said. "I think for a lot of high school kids they rely on their friends, but it's also very important to seek help from a trusted adult. There are many in this building that are trained professionals and are willing to help students. They are also able to provide resources such as outside therapy if they are not familiar with a certain area."
If left untreated, depression can have a detrimental impact on one's future self. The chance of partaking in risky behaviors such as drugs and alcohol drastically increases. It can also impact the social aspect by ruining relationships and causing a lack of interest in once enjoyable activities. Clinical depression, otherwise known as major depression, takes a serious toll on one's health and can lead to other physical problems. Some of these include a change in sleep patterns, weight gain or loss and feelings of hopelessness or irritability.  
Around the world schools, including Millard West, are taking necessary steps to reduce the amount of deaths caused
by suicide. According to the Suicide Prevention Resource Center, promoting emotional well-being and connectedness among all students is essential to suicide prevention.
Millard West students received a presentation on November 13th addressing signs of depression and participated in a Google Forms survey. They were asked if they had any concerns about their peers having suicidal thoughts or if they themselves, needed to speak to a counselor. Teachers also passed around small cards containing the Suicide Prevention Lifeline as well as other hotlines students could call with concerns.
"The district requires us to do one of these presentations each year during quality time," Millard West counselor Linda Brewer said. "The overall goal is to provide students with support that may need it as well as their peers that may be showing signs of depression. We also want students to be more educated on the topic and be able to report it."
If you or someone you know is struggling with depression or having suicidal thoughts, contact the National Suicide Prevention Lifeline at 1-800-273-8255 or visit their website at suicidepreventionlifeline.org to speak to one of their advocates.

About the Writer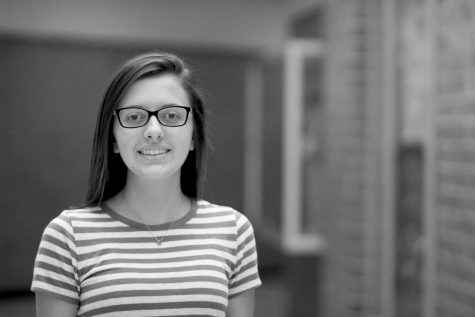 Chloe Parker, Staff Writer
Chloe is new to the Advanced Journalism scene. She has always enjoyed writing from a young age and has decided to put that passion to good use. She enjoys...