Restoring vitality
Superfood restruant helps bring life into Omaha
Hang on for a minute...we're trying to find some more stories you might like.
Located in the heart of Aksarben Village sits a small café, practically overflowing with exuberance. Vitality Bowls
offers a new take on healthy eating with its wide rage of organic açaí bowls, mouthwatering paninis and refreshing juices.
Vitality Bowls opened for business in 2018 as a quick casual restaurant that used only organic foods with no preservatives and additives. Its new location in Aksarben has a no cross contamination kitchen with dishes that are light and flavorful.
"We wanted to bring an exciting, new food concept to the Omaha market," Vitality Bowl owner Katie DeSantis said. "We also strongly believe in the importance of having healthy food options and want to be able to support customers and their nutrition needs. What makes our bowls unique aside from the actual ingredients is that they are essentially dairy free, gluten free, and cholesterol free. They also contain no frozen yogurt, no added sugar and zero trans fat."
When navigating the long line of shops at Aksarben Village, one must look carefully as the restaurant is quite small. Inside however, is a spacious eating area with comfortable seating. Their bright menu sign is a bit overwhelming at first, with many foods that I had no clue even existed. Bee Pollen? Graviola? I was clueless. Luckily, they have signs explaining what less known ingredients are. They also have a handheld menu to take with if you are a little indecisive like I was.
Although the café's prices are a bit high, with the lowest priced bowl costing about $10.00, they make up for it in the quality of their food. On my recent visit, I opted for the Nutty Bowl, containing ingredients such as their signature açaí mix, bananas, granola, peanut
butter and honey. Each of their açaí dishes is made fresh to order and can be customized to one's liking by taking out or adding in additional "super foods" for 75¢ each. One can opt for add-ons such as almonds, chia seeds, matcha, flax seed and goji berries. I also selected a Veggie Panini for the added cost of $4.99. This brought the grand total to around $17.63, with an estimated ten minute prep time.
When I recieved my order, I was extremely impressed at the overall visual appeal of this meal. The taste however, was even more delectable. The açaí mixture, whose flavor resembled the taste of a blueberry, was light and flavorful while the granola added a nice crunch. The thinly sliced bananas and peanut butter gave the dish an added creaminess. Even though the Veggie Panini did seem to contrast the sweet taste of the açaí bowl, it was well worth the extra $4.99. The sun dried tomatoes and the Dijon mustard added a nice bite to the sandwich while the melted mozzarella cheese helped keep all the ingredients together.
"Vitality Bowls is hands down, one of my favorite restaurants," sophomore Morgan Klauman said. "I love to order the Tropical Bowl with extra granola, as well as one of their juices whenever I go. The best part about it is that their dishes don't make you feel so heavy after you eat."
Vitality Bowls is an excellent choice for a quick bite to eat. Although I had had just right amount of food, I felt a bit of disappointment as the meal ended. I was practically scraping the side of the dish craving more. Their out of the box dishes and wide variety of flavors has made a lasting impression on my taste buds. On my next visit I plan to try the Dragon Bowl, another of their most popular dishes, and complement it with one of their refreshing juices.

About the Contributors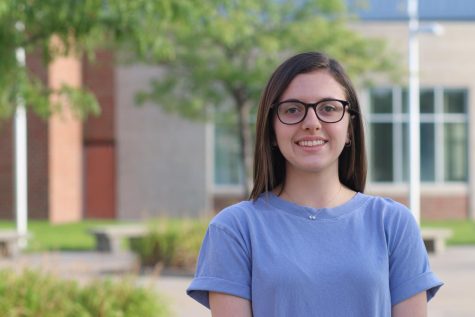 Chloe Parker, Staff Reporter
Chloe is a junior and in her second year of Advanced Journalism. She has enjoyed writing from a young age and loves being able to tell the stories of students...