United States exploration
German students experience the new environment of the U.S.A
Hang on for a minute...we're trying to find some more stories you might like.
On Sept. 3rd, 22 German students made the 4,731 mile journey from their hometown to Omaha, Neb, in order to take part in a school exchange. Arriving at  Eppley Airfield, the students were ready to explore a whole new country, improve their English skills and meet new friends.
The initial exchange happened when Millard West students took a trip to Germany and attended school in Waiblingen. They arrived on June 5th and stayed with a variety of  host families. This gave them a chance to experience new places in Germany and an all speaking German school. After their return, the German school that they attended decided to send some students to Millard West to experience Omaha for three weeks. Both German teachers from the each school worked together to make this happen so both groups could experience a new place.
Millard West offers the students field trips around the city where they get to visit places like downtown Omaha, Durham Museum, the zoo and a Nebraska City apple orchard.
"In Nebraska we saw old shopping markets downtown," German exchange student Mark Wanke said. "We went to a West football game, too. It was very new to me since we don't have many sports in Germany."
During the three weeks they are here in Omaha they were treated to trips around Nebraska. Some of the host families offer a Husker game to them, and bought Husker gear to give them the full Nebraskan experience, while others are offered a ride on an airboat and will cruise along Iowa.
Niklas Lindner, one of the German exchange students was looking forward to going to a Walmart, while others were thrilled to go to a steakhouse to compare the average American restaurant to places in Germany.
"I think the food is similar, but you have more fast food here," Lindner said. "In Germany we have McDonalds, Burger King and KFC. I've tried Chick Fil A and Wendy's and it's cool since you have a choice, but I think if I lived here for more then three weeks I would get fat."
For the students, just coming to Millard West is an adventure. Their hometown school is a average size building with a small amount of about 800 students. One of the craziest times for them is passing period when all the students are wandering the halls, going to their next class. With all the chaos during those eight minutes, it's easy for the students to get lost and trying to find to their classes.
"It's the biggest school I've ever seen," Wanke said. "I go to the bathroom and then I get lost and can't find my class anymore."
During school, some of the students are assigned to classes, but many have free range of the school to explore or go to the library and be with their American partner. Sometimes they will follow their American partners to their classes and see what they are learning. A few of them will be sent to a class to participate in. Some of the them are Speech, Language classes, Creative Writing and Geography.
All 22 of the German students are from the same school, so making friends was not a difficulty. Since Millard West over the summer went to their school, they know some of them. They also have their host family and American partner with them at school so they have many options on who to be with.
"I think I miss riding my motorcycle," Lindner said. "We get to drive motorcycles at 16 and cars at 18. The roads are much better in Germany for my motorcycle because its has more curves, and roads here are just straight for 100 miles."
In total, they will be gone for three weeks away from Germany. Already three weeks have passed since they have joined America and the Millard West Wildcats. On Sept. 20th, they will make the journey back home to Germany.  Many have missed their families, friends and their own personal items they couldn't take with them, but they are enjoying this new adventure and having the time of their lives.

About the Writer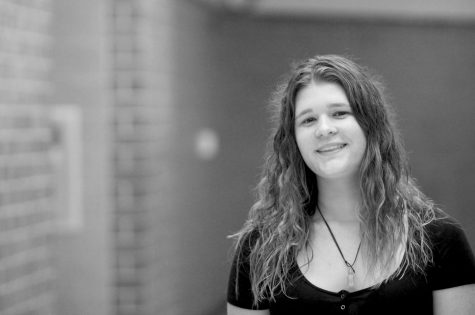 Annalise Smalley, Staff Writer
Annalise is a sophomore and is in her first year of Advanced Journalism. She enjoys writing feature stories, making broadcasts and taking photos. She runs...