Wildcat Wisdom-State of the Art
The many benefits of taking Art Foundations
Hang on for a minute...we're trying to find some more stories you might like.
I step back and breath a sigh of accomplishment. Numerous class periods and even a few hours outside of school have led to this moment. I am officially an artist.
Art is a talent many would say they don't have, but wish they did. They shirk away from art related assignments for fear of their less than amazing creative and artistic abilities being shown. I myself walked into my first high school art class, Art Foundations, with shaking hands. Having seen the amazing stunning produced by former students, I feared I would never be able to produce anything even close.
But I was wrong.
Art Foundations is a nine-week course that can fill the Fine & Performing Arts graduation requirement. Students wishing to progress to more advanced art courses, such as Drawing or Pottery and Sculpture, must take it as a prerequisite. It is a predominately freshman class, but it is open to all grades.
This class gives students an overview of the various branches of art including pottery, painting and drawing. Each of the four art instructors teaches this course, and though the projects vary slightly between them, they all achieve the goal of giving participants a foundation off of which they can build future art skills.
The first few weeks of the class are spent familiarizing students with the underlying foundation needed to succeed in art classes. Students learn how to brainstorm ideas for projects, find their inner creativity and about the elements and principles of art.
Each class completes a pottery project. During this segment, students learn about the tools and steps involved in creating a piece of pottery. After a basic overview, students are given the chance finally create something. In my case, I made a coil pot, which involved rolling out coils, bending them into shapes such as rope twists and braids and combining them into a creation. I learned how to mold clay into different forms, carve designs and glaze a piece of pottery. Creating pottery gives students the opportunity to work with their hands and build something tangible and 3D.
Drawing is the most intimidating form of art, and I began this section with much dread. After a few days, that dread vanished. A fair amount of time is spent practicing the techniques required to successfully draw. Students learn the proper way to shade, use perspective and draw objects in accurate proportion. All of those skills are combined to create a still-life, and I found it very satisfying to get the chance to create a drawing where the subject looks realistic.
My favorite section of the whole class was painting. Students learn how to mix paint in order to create multiple colors, tints and shades and how to pair colors in the most aesthetically pleasing way. One of the common Art Foundations painting projects is a radial arch piece. The final result is a four section rotating designed with multiple rings, each designated a different color scheme. I am definitely most proud of this piece; I even have it hanging in my bedroom.
If time allows, students get the chance to combine their skills into one last project. By the end of the semester, students can proudly display four to five of their own original works. The course wraps up with a final over all of the vocabulary from the term.
An added bonus is the art show at the end of the semester. This show is an open house where each student selects their favorite piece of art to display. Friends and family are then invited to come view their student's masterpiece. During my Art Foundations art show, I was inspired by the works of other students, and I left excited for the future art courses that were now available to me.
There are many benefits to being able to successfully create art. I personally will be able to take this skill into my future career as an engineer. It can also be used as a form of communication and expression. The right side of the brain (responsible for creativity and imagination) is strengthened when making art. Plus, it's fun to show off your creations.
While I thoroughly enjoyed this class, it was a little stressful due to the fact I am a perfectionist and slower worker. There were several occasions where I had to go in before or after school to meet due dates. Anxiety can also arise due to the fact that projects are based on artistic ability, not just effort.
That being said, the teachers prepare you very well to create quality work. In middle school art classes, I felt as if I was given assignments and just had to run with it. In Art Foundations, I felt like I was actually taught how to create quality art. The proper techniques were taught through well-explained demonstrations. I felt prepared when beginning my projects and that a good balance of guidelines and allowance of creativity were set for each assignment.
Even with some of the pressure, I found this course to be very therapeutic. It is a nice break from a traditional core class. I was able to let go of my outside stress when I had 90 minutes a day to just sit and create.
I have no regrets about taking Art Foundations because the results weigh out all of the downsides by a long shot. This class truly is state of the art.

About the Writer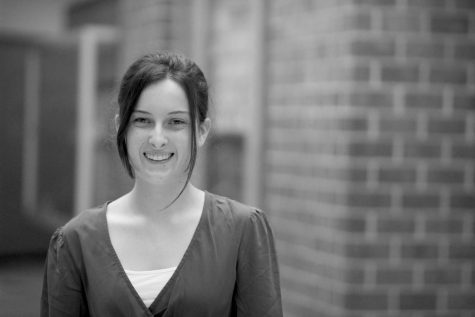 Alexandra Dobesh, Staff Writer
Alexandra is a junior and in her second year of Advanced Journalism. She enjoys writing entertainment and opinion stories. Outside of school, she is involved...