The Bookworm-Fabulous, Famous and Fierce
Olympic gymnast Aly Raisman's new book is one worth reading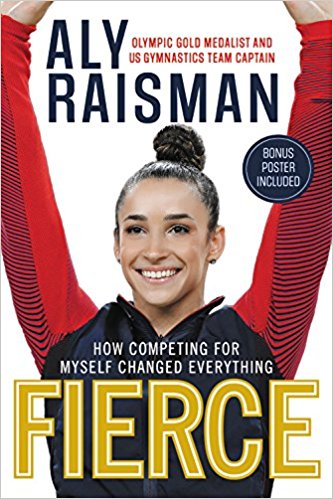 Two gold team medals. An individual gold and silver in floor A silver all-around. A bronze on beam. A total of six medals from two Olympics
Olympic gymnast Aly Raisman is the second most decorated U.S. Olympic gymnast of all time and has just recently published her autobiography, Fierce. Her story is both interesting and empowering, and I would highly recommend it.
Fierce narrates Raisman's path to becoming a gymnast. From mommy-and-me classes to Olympic training camps, this story provides a first hand-look into the hard-work required for  Raisman achieve her dream.
Her story begins as a young girl cartwheeling through her home. She realized from a young age her love of gymnastics, and began competing in order to climb her way to the elite level. Raisman tells about the numerous friends she made and the bonds they formed, as well as the doors that opened to new opportunities due to her success as an Olympian.
In Fierce, Raisman shares of her experience with sexual abuse. She doesn't go into too much detail in order to earn pity, but rather uses her experience to reach out to others. Raisman encourages witnesses or receivers of abuse to speak out in order to end this horror. She shares glimpses of the physical and emotional pain she suffered in order to provide comfort to other victims. Raisman stresses the truth that anyone can be abused, but also anyone can speak up.
This book is full of positive and powerful messages. Raisman is an advocate for body positivity, and encourages her readers to be confident with who they are. She shares how she was often bullied in school for her athletic body type and her own personal issues with self-confidence and provides advice to her audience on how to stay happy and healthy in the body you are given. She stresses the importance of finding supportive people who are able to look past physical appearances and appreciate what's really important.
Fierce shows the importance of strong relationships. Throughout the book, numerous positive examples of parent-child, friend, and coach-athlete relationships are portrayed. The benefits of these relationships are shown as well. Specific details and intriguing stories are provided as examples of the importance of healthy relationships. Raisman praises all of those in her life, from her coach Mihai Brestyan to supportive teammates like Gabby Douglas and Simone Biles, for their support and aid in helping her get to the place she is in today.
The importance of hard work and dedication are expressed throughout Fierce. Raisman's path to fame was not filled with shortcuts and glamour; it was filled with long days and hard work. She shares how she learned the lesson of the extreme hard work required to achieve your dreams. She tells of her sacrifices but also the sense of accomplishment she felt for reaching her goals of making it to the Olympics not once, but twice.
The biggest message of this book is another positive and uplifting one. Throughout Fierce, the biggest message is that competing for yourself makes all the difference. I found this message extremely relatable as Raisman poured out her heart while describing her constant anxiety of never being good enough. She shares how once she realized she needed to let go of the pressure to be perfect for everyone else, doors flew open. Readers are encouraged to come to this realization so they too can live fulfilling lives.
This was a very enjoyable book. Although it is nonfiction, it is told in a way that keeps the reader engaged. It is not cold hard facts presented in a boring manner; it is a narrative that details all points of Raisman's life from her ups to her downs. She is personal and relatable. Her voice strives to make meaningful connections to her reader.
Those connections are made through the strong emotions Raisman artistically brings out. She expresses her times of heartbreak and joy in ways that make the reader feel the exact same emotions she did. Even though I knew the outcomes of her Olympic events, they were written out in a way that had me biting my finger nails in suspense. I could not put this book down. I was constantly wanting to know what would happen next. Raisman plays with her words to make her readers feel every emotion imaginable: elation, despair, anticipation and more. When reading this book, the reader is actively engaged in the story.
One feature I particularly enjoyed in this book was The Fierce Guide to Life in the back. It is a list that summarizes all of Raisman's points from her story. The list contains snippets of advice on how to live a life that is fulfilling not only to yourself but others too. This component is something readers can flip to for quick advice or pick-me-ups on a bad day.
It's nice to see a celebrity using their platform in such a positive way. Raisman's story is one of empowerment. This book presents readers with a role model who truly is Fierce.