Learning English
EL students have come a long way since the beginning of the year
Learning a new language can be very challenging. It challenges your mind and takes an extended amount of time to learn. In language classes, there is a translation for both the native and learned language. For English Learning (EL) students, this isn't the case.
In the class, EL teacher Shelby Gewinner only speaks English, and the students are learning English completely submerged and with no translation. Although this may be a faster way to learn a new language, understanding something could be challenging. Visuals such as pictures and videos help them to learn English.
"They're teenagers, but what they need is, like, pre-k or kindergarten skills in order to be successful," Gewinner said. "Because if you think back to kindergarten, kindergarten is just understanding letters and sounds. Then once you understand those, you can begin to read."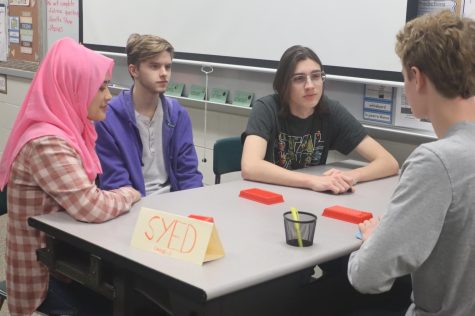 As well as being submerged in a new language, these students are immersed in a new culture. Freedom in America isn't a luxury for everyone in the world.
"A strong reason that I [came] here with my family from Afghanistan is the Taliban because [the] Taliban don't like women; especially women," senior Dunia Subat said. "It's a nightmare for most people. And until now, most girls can't go to universities, and they close all universities to girls. So, I hope my country [gains] its freedom because it's so [closed off] because of religion."
The students speak many different languages, such as Pashto, Persian, Haitian Creole, Spanish, Dari and Urdu. In the classroom, students tend to stick with other students that speak the same language for translations and comfort.
"I've had, I believe, two or three come from other schools, whereas some of my students, it's their first time in the United States," Gewinner said. "So, some just adjust differently than others. For the two girls that came from Afghanistan, when they first started with me in August, they wouldn't say anything. But, now, they're asking me questions and actually saying my name."
"I came to Nebraska seven months ago," Subat said. "My English [has] improved a lot. I didn't think my second language would improve so much. It [felt] really impossible for me, but now I can study and achieve my goals."
The students had come a long way from when they first started at Millard West to now. So Subat will graduate this year and wishes to become a nurse one day. Soon enough, all the students will be at this point as they continue to learn English.