Italian reality
Popular TV show exploits the unnecessary problems of the wealthy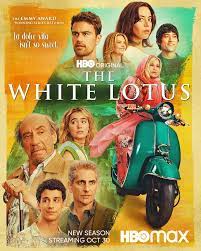 With the success of the first season of "The White Lotus," HBO Max renewed the popular TV show for a second season with almost an entirely new cast. After the first season, the show swept through the competition winning five Emmy Awards in the limited and anthology series category. 
Released at the end of October, this drama infused hit combines the perfect amount of comedy and mystery to keep the audience on their toes. The show follows various characters at a time, but manages to keep them all linked together in numerous ways. Consisting of five episodes so far, viewers get to learn all of the suspicious activities that go on in Sicily.
On the dazzling island of Sicily, the show commences with the first episode, "Caoi." The series begins with the end of one guest's worthwhile trip where Daphne (Meghann Fahy) is going to take one last dip in the ocean. Swimming out to enjoy the water, she feels something rub up against her. After a few seconds, two legs pan into the screen. Frightened, Daphne screams and runs out of the water to her husband, Cameron (Theo James).
The show then cuts to the beginning of the guests trip one week earlier. Arriving by boat, all of the guests are greeted with open arms from the employees at The White Lotus Hotel. The show made sure to thoroughly introduce the characters throughout the episode which I enjoyed because I felt I knew their personalities well enough to connect with them within the following episodes.
Introducing the characters, the viewers see Daphne and Cameron, like we have seen before, Harper (Aubrey Plaza) and Ethan (Will Sharpe), the Di Grasso family including Albie (Adam DiMarco), Dominic (Michael Imperioli), and Bert (F. Murray Abraham) and lastly, Tonya (Jennifer Coolidge), a returning guest from season one, and her assistant Portia (Haley Lu Richardson). 
Following Ethan and Harper up to their room, Daphne and Cameron are right behind them. The two couples are taking a trip together because Ethan and Cameron are best friends from college. The guests are shown their rooms by a hotel employee, and awkward tension fills the room because of Harper's opinions on the conjoined rooms. Once the two couples are separated, Harper has suspicions on why they were invited to Sicily. She thinks highly of the fact that Cameron wants the fortune that Ethan has made from selling his company, and that their whole display is fake.
Also being shown their rooms is the Di Grasso family. The three men reveal why they are on vacation, and that is to visit old roots of their Sicilian heritage. Once the concealer leaves, Dominic is having an intense call with his wife, who chose not to come to Italy after finding out about his many affairs. While his dad is making the call, Albie is swimming at the pool where he stumbles upon Portia. They hit it off but are interrupted by the fall of his grandfather, Bert. Albie walks his grandfather back up to his room, and sees what seems to be two native escorts, introduced as Lucia (Simona Tabasco), accompanied by Mia (Beatrice Granno). Without realizing who the two men are, the escorts knock on a suite door to meet their client, no other than Dominic. 
Meeting up with her husband who got to the hotel before everyone, is Tonya. Excited to see Greg (Jon Gries), she gathers herself in the bathroom and is having a great time with him. He says something that rubs her the wrong way. The two share a very fragile relationship, which makes it hard for viewers to comprehend what they are thinking.
At brunch, the two couples chat about what they are interested in. Awkward tension fills the table when they don't have anything in common with each other. They all decide to take a swim, but Cameron needs a spare swimsuit. Harper offers to go get him one, but he comes with her up to the room. When he gets his swimsuit, he drops naked right in front of her and exposes himself as the narcissist she knew he was.
The episode ends with Tonya overhearing Greg on the phone in the bathroom. She sneakily goes to listen and hears something along the lines of, "she's still clueless," and "I love you."
My first impression of the new season is strong. 
The storyline that was set up is interesting and leaves a lot of story lines untouched. The actors' facial expressions are on point and fill my body with anticipation when I'm watching. To add, there are scenes of dark waves and suspenseful music foreshadowing something eerie to come.
Episode 2: "Italian Dream," started with both Dominic and Lucia waking up in the same bed with a trashed room, emphasizing they had a fun night. The second episode was set up again to introduce the characters, but also display Tonya's idea of an "Italian dream" vacation. Of course there was the usual bickering and tension between the Di Grasso family as well as the couples. Later on in the episode, Tonya's husband tells her that he has to leave Sicily and go back to work in Denver. Heartbroken, Tonya burst out on him, making a total scene at the restaurant. 
Again, the episode left many scenarios untouched. With its suspenseful music and cut shots to a dark and cloudy ocean, makes me question what is to come next.
Episode 3: "Bull Elephants," starts off with the two couples at brunch. While Daphne wants to go to Noto, another city in Sicily, Cameron has other plans for him and Ethan. Daphne, unsure if she wants to go to Noto alone, invites Harper to go with her. After strange looks from Cameron and Ethan she agrees to go.
While the girls are on their way to Noto, the boys are having the most fun of the trip while enjoying sangrias and riding their jet skis. On the other hand, Harper and Daphne are having a tension filled girls trip. After being in the pool for a while, they start talking about their husbands. As suspected, Harper learns that Daphne's marriage is not what it seems. Daphne goes into detail about how they are always fighting to see who's the top dog in the relationship. Daphne calls her husband, and tells the boys that her and Harper will be staying the night in Noto. Flustered Cameron repeatedly asks why but she hangs up the phone quick and easy so she can get the last word. 
Seeing this kind of behavior from these two was very interesting as a viewer because we hadn't seen them act this way before. It was like they were fighting for the top dog spot in the relationship which was entertaining to see.
After the boys learn that the girls aren't going to be home tonight, Cameron has big plans for him and Ethan. At dinner, he proposes Ethan with a business proposal just as Harper thought he would, and is babbling on about his narcissistic behavior. He tells Ethan about the many times he cheats on his wife and how every man does it. Ethan, too stunned to speak, heads to the bathroom. 
When he gets back, the two escorts are flirting with Cameron. Everyone introduces themselves and Lucia pulls a plethora of pills out of her purse. Cameron suggests they party, so everyone but Ethan at first pops the pill. See ya He eventually gives in. The group of four eat, drink, swim and then make their way back to the suite. Cameron and Lucia quickly jump into things and when Ethan is approached by Mia, he turns her down.
Contemplating what he has done, the episode ends with Ethan having many missed calls from Harper.
I enjoyed how the season took an unexpected turn this episode. It was interesting to find out the true identity of these characters and what they are hiding from each other as well as other people.
Episode 4: "In The Sandbox," began with Harper and Daphne getting back from their overnight stay in Noto. They are greeted by the two boys, and Harper is mad suspicious. She asks him all these questions about his night, but Ethan is in denial about everything that went on. While he is in the bathroom, throwing up from his hangover, Harper finds a condom wrapper on the couch. She stays quiet, hoping to get a confession out of him before it comes into perspective.
With her husband leaving Sicily, Tonya and Portia have been spending a lot of unwanted time together. While walking through the hotel they meet a group of gay guys complimenting their outfits. One of the guys, Quentin (Tom Hollander), invites the two girls to join them on their yacht later in the night. 
Throughout the episode, Harper worries about what went on last night in the hotel, and Tonya is finally living her "Italian dream" through the favors of the gay men. Portia meets a new love interest, Jack (Leo Woodall), Quentin's nephew. Albie meets Lucia by the poolside one afternoon and despite his father's words, starts hanging out with her.
Episode 5: "That's Amore," was a heavy hitter. The amount of detail put into it from the directors was truly amazing. The clever comments from the actors really made this episode my favorite of the season thus far.
The episode began with both Harper and Ethan tip-toeing around each other because of the tension from the other night. But when Ethan finds the condom in Harper's make up bag, the truth spills out. Ethan snitches on Cameron for everything he did, but Harper isn't very amused, and still doesn't know what to think of the situation.
At brunch the couples chat about the normal things everyone would talk about. With drinks already starting with Harper, the conversation starts getting heated. Harper brings up nonsense about threesomes and Ethan-Camerons' relationship with women in college. 
Tonya and Portia seem to be having a grand time with new men in their lives, and upon Tonya's wishes, are both doing their own thing. While Portia and Jack are off spending time with each other, Tonya and Quentin sit down to talk about relationships. Quentin nods to having been in love with a straight man he could never have and the two keep chatting about Tonya's husband. 
By the poolside, Harper confesses some huge news to Daphne about their husbands. She tells Daphne that something suspicious went down while they were in Noto. Harper is infuriated by this, but Daphne doesn't seem to care, almost like this has happened to her before. Daphne gives advice to Harper about having a side piece of her own.  She talks about her personal trainer, and describes him as having blonde hair and blue eyes. When showing Harper a picture of him, she pulls up a photo of her son, also who has blonde hair and blue eyes.
Now, when this scene was played I was shocked. Daphne alluding that she is actually the top dog in the relationship was a huge surprise to the viewers. Knowing that one of her kids isn't actually Cameron's is her way of showing herself that she is the boss and doesn't have to take his crap. 
With the night getting young and everyone getting tucked in on the boat, Jack tells Portia he needs to do something before snuggling up with her in bed. Tonya, ready to go to bed, gets up for a glass of water, but hears something coming from the bedrooms below the first floor. Sneaking through the yacht, she looks through the crack in the door and sees Jack and Quentin having sex, putting the episode on a big cliffhanger.
Overall, season two of "The White Lotus," has kept me on the edge of my seat every episode. The show is a perfect twist between comedy and drama. The family affairs as well as the awkward side conversations never leave a dull moment on my screen. And with the new cliffhanger, my mind is going in so many different directions. Are Quentin and Jack really related? Or is their whole setup a lie to get close to Tonya's money? The season exploits the beauty and culture of Italy, and it was nice to watch.
With only two episodes to go, I am anticipating a chaotic ending to a marvelous season.
5/5