The potential album of the year
JID's newest release has people blown away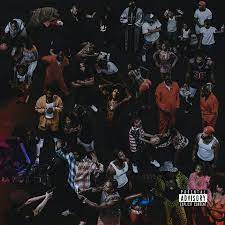 On Aug. 26th, 2022, the rapper JID who is quickly gaining traction released his 15 song album "The Forever Story." An album talking about his upbringing, his siblings, mixed with the hard hitting lyrics of an Atlanta rapper. Released through the label Dreamville and gathering big names for collaborations such as 21 Savage and Lil Wayne, the album hit #12 on the Billboard Top 200 Albums. 
The first song on the album called "Galaxy" introduces the idea of JID's struggles with the people around him, with the most notable part of the song in the last 18 seconds, where someone with a connection to JID calls angrily and says he never calls or picks up his phone, calling him fake. Although it probably won't be on most people's playlist, it delivers well on the introduction for the album.
JID's ability to jump around from topic to topic on his songs is shown off very well in the second song "Raydar," where he initially starts talking about how broad his style of music is. His discography has several examples of this differentiation in styles with some songs on this album being more relaxed while others being more aggressive. He then springs into the problem of racism in the government, emphasized in the lines "They got the people in office / [They] had us in chains / They make the laws, they goin' hard / Dang, they even started a gang," and criticizes the people that acknowledge that there is a problem but won't do anything about it. This song is accompanied by aggressive 808s and flow, leaving the audience with a message JID showed his thoughts and emotion on clearly.
Starting with a sample from Zusha's "Yoel's Niggun" co-produced by a very talented 16-year-old by the alias of "Aviad", the third song on the album called "Dance Now" with Kenny Mason sits as the second most popular song of the album on Spotify, gathering 14.5 million plays as of writing this. He opens with people talking about how people are scared he might sell his soul, and then goes to talk about all the things he gets up to. He ends the song with a message of positivity, saying follow the will of your heart. 
The fourth song on this album is called "Crack Sandwich", and the overall theme of this song is about his family, starting with him and his brother Izzy slap boxing and busting their lips, but they still hold the connection siblings have. JID described him and his 6 other siblings as crackheads when they were kids, and their mom always had to yell at them for whatever they did. The second half of the song talks about his previously mentioned brother Izzy, being able to get a scholarship at New Orleans through football but also being smart in class. While at a post-graduation party with the whole football team, JID's sister Precious told him that they were all about to get kicked out for hitting on some women. For reasons unknown, one of the next things JID saw was his sister getting hit in the jaw, causing JID and his siblings as well as a whole football team to start a brawl with everyone involved. The important takeaway of this anecdote is to drill home the value of his family connection despite all their hardships between each other.
The fifth song is a collaboration with JID and EARTHGANG. The story behind their partnership in the industry is because they were caught committing felonies and were all expelled from Hampton University at the same time. They then went on to do music for a bit, with JID being signed to both their collaborative group called "Spillage Village," as well as being signed to J. Cole's label Dreamville. "Can't Punk Me" is a song where JID and EARTHGANG say they are untouchable and can flip any situation they are put in, demonstrated by their expulsion from their old college and then becoming successful.
"Surround Sound" has 21 Savage and Baby Tate in tow, and is the most popular song on the album with nearly 75 million plays, a large jump from his second most popular song, "Dance Now," sitting at 14.5 million plays on Spotify. The main theme of this song is mentioning all the artists' invincible statuses, all the money they have, the type of things elderly people say rappers talk about in their songs after never listening to rap.
"Kody Blu 31" starts off with a slow beat accompanied with somber lyrics. JID wishes safety for his brothers and sisters, as well as himself. The idea of himself being trapped by ideas such as his own definition of success, as well as the people around him having to roll with the punches that life throws at them. It leads back to JID wanting the best for his brothers and sisters.
The eighth song of the album, "Bruddanem" features Lil Durk. The main theme of this song is about his loyalty to his brothers, how JID rides or dies for them and never even snitched on them when they were kids. Lil Durk takes over the second half of the song with a similar theme with his own brother and their struggle growing up to now where they are rich and have nice houses.
The ninth song is the flipside of the previous, by the name of "Sistanem." It starts out with saying J. Cole is stupid for being too ready to do people wrong for JID. He speaks about someone saying they are worried about what fame will do to him, how as soon as people get a slight bit of traction their whole personality changes. He didn't listen to this in time and now he feels like he's going on the wrong path. He feels that his family connections were weakening even though they still care for each other. His time on the road means time away from his people and JID is fearful for that reason.
"Can't Make U Change" sees JID's struggles with women. He feels tired of wasting time with random women he won't care about in the long term, and acknowledges that him and his lifestyle are the problem with any potential partners he has or had. He uses this song to almost directly speak to someone unnamed, saying he's sorry for his problematic tendencies but he really wants to do his best and using the music to better convey his thoughts making it feel much more personal.
The next song on the album by the name of "Stars" has JID reminiscing about before he became famous and rich, how he would play his mixtapes for his girlfriend and her friends. He said the line "Both of us will win if I get a big break" showing his optimism while doing his best to ignore how daunting of a task he is planning to go through with. He reminisced about his lowest lows, having to rob people's apartments for something to eat and some money to then being in the same car as Lil Yachty. The second part of this song has Yasiin Bey flexing his lifestyle and his money just to hide his shattered spirit. It ends with a bittersweet message of he'll keep doing what he's doing until he can't anymore.
"Just In Time" has JID once again talking about how he'll kill anyone he chooses, coming from a place where that is common. Lil Wayne delivers the same thing on his part of the song, with an incredible line of "Cowards talk excessive, pistol-ine is what I rinse they mouth with,"  a perfect demonstration of Lil Wayne's nearly undefeated lyricism as expected from someone who has been rapping for 27 years since the age of 12. Rappers trying to tell everyone not to mess with them should have been repetitive ten thousand times over at this point, but creativity accompanied by incredible beats in songs such as this could make people listen to the same thing over and over.
You'd think that a song called "Money" is just another rapper flexing how much money they have, and JID is partially the same but not entirely. This song is moreso about his journey up to his wealth, coming from Eastern Atlanta and being born into crime and making do with the little money his family had. In order to get out of the poverty his family was in either for himself or for all of them, he could only focus on money. His mother had to tackle a higher mortgage and feed 7 kids, and now that JID is living successfully he's breathing a sigh of relief that he is more stable now.
JID is talking to one of his best friends since ten in the song "Better Days". He remembered how he used to be dropped off at his friend's house every morning for school because the bus didn't go to his house in the morning, and that he and his friend were so close they called each other cousins. Fast forward to now and while JID was doing shows, his friend stayed back in Atlanta and ended up in prison. JID felt like this could've been avoided if he had been there and had to reassure his friend and himself that the two of them were like brothers to each other. With the thought in JID's head that he could've potentially prevented his friend from being in prison, his guilt grows and he wishes that he could have still been around for his people.
To finish off the album strong, "Lauder Too" is one of those songs that has a message of "go do it, go get it, go be great." JID still says he wants more than he has so he can provide for his family and friends even more than he already has, and if there is any sort of trouble he'll be there. Saying that, he feels like he's doing too much of preparing for the worst but not living for the best, something that he tries to correct in the next part of the song while saying all his family and friends and even strangers should put their weapons down and just take a breath to relax for a minute while JID is taking care of everything and everyone behind the scenes.
So what are my thoughts on the album? In a few words, I loved every moment of it. The variations in all the beats, JID's immaculate flow, his ability to tell a story and keep it interesting, and the fact that most of his values on family and loyalty shine through very clearly on the album has me wanting more from JID. It isn't just me who likes the album either, there is talk of this being the album of the year going against Kendrick Lamar's "Mr. Morale & The Big Steppers", his first drop in 5 years. Even if it was just up for debate it would be impressive as it is, but more people are leaning towards JID's album such as DJ Khalid which impresses me even more. Overall, I'd rate it 4/5 stars.