Top notch sequel
Action-packed film returns after years of anticipation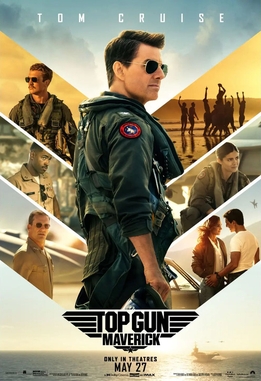 After not being in the field for 30 years,  you'd expect the spark to burn out in fighter pilot Pete "Maverick"  Mitchell (Tom Cruise),  however, after all these years he still finds a way to captivate and fascinate a new generation of aviators. 
Released in May of 2022, "Top Gun: Maverick" follows the infamous 1986 film, "Top Gun." After waiting nearly 36 years for the sequel to be released, a new generation of viewers has taken interest in these electrifying films. 
In order to form a skillfully trained team of fighter pilots, Maverick must return to his old stomping grounds to instruct the newest Top Gun recruits; however, Maverick would soon come to realize that this wasn't just any regular job.  Along his mission, Maverick would be forced to combat several obstacles including confronting ghosts from his past and facing his deepest fears. 
With only a few minutes passing by in the film, scenes flash by with high speed and intense actions of jets darting throughout the sky.  The exhilaration that the opening scene presented had me on the edge of my seat excited to see the many more scenes to follow. 
Upon returning to the Top Gun program, Maverick makes a pit stop at the Hard Deck Bar, where emotions and memories seem to flood back to him.  Maverick reconciles with his former lover, Penny Benjamin, (Jennifer Connelly), who conjures up old feelings from their fling years ago. However, emotions fly high when Bradley "Rooster" Bradshaw (Miles Teller), the son of Maverick's late friend Nick "Goose" Bradshaw (Anthony Edwards), enters the bar. Maverick avoids Rooster's presence because he cannot bear the pain of Goose's death.  Yet, Maverick can not help but marvel at Rooster's piano rendition of Jerry Lee Lewis's, "Great Balls of Fire", which was the exact same song he and Goose would belt out together. 
The directors do a fantastic job of creating an emotional homecoming scene with flashbacks to the original 1986 film. I love how we get to see Rooster as a young boy in the first movie sitting on his father's piano, now all grown up performing the same song that his father taught him. In this sequence, Cruise's acting is phenomenal as we get to see him display a full range of emotions. 
After a rough night out, Maverick returns the next morning to the Top Gun academy where he begins the harrowing journey of teaching 20 students, including Rooster, to become the best of the best in order to defeat an uncompleted uranium enrichment site in Iran. 
With Maverick returning to Top Gun, I was intrigued to see the dynamic that would come along with the new generation of bulletproof, arrogant pilots. Watching Maverick relate to them as the OWL (Older, Wiser, and Larger) instructor made great entertainment. 
After getting the basics out of the way, Maverick puts his students' ability to the ultimate test, dog fighting. Essentially a game of tag, Maverick challenges his students to stay out of his range, or else he'll shoot enemy air defenses at long range. After countless montages of students failing Maverick's challenge, Rooster is the next one up. We see both pilots enter their jets in anticipation to see who will come out on top and end the feud between them. As both jets launch into the air and reach their maximum height, they quickly fall straight down in a spiral formation to see who will give up and launch their jet up first. Due to their extensive ego, neither of the two will give up, nearly causing them to crash into the ground, which practically made my heart beat out of my chest. 
It's astonishing that in a world full of CGI and special effects, films can still encapsulate outstanding cinematography using practical stunts. The practical stunts used throughout the film definitely gave a more believable experience for the viewer and even made me wonder if Cruise himself actually flew one of the jets. 
After the action-packed activities that Maverick ensued on his students, he figured it was only right to give them time to loosen up.  Find out that playing football on the beach was the perfect way to do so. With the sound of OneRepublic's, "I Ain't Worried" playing in the background this scene provided the perfect amount of summer serotonin I desperately needed. By now almost everyone has seen or even replayed the moment Miles Teller launches his body into the air to grasp the flying football, only to wiggle his way back to the ground in a gorgeous slow-motion shot that made everybody fall in love with him. 
As Maverick navigates his way into his students' hearts he also finds a way into Penny's. Although it may be cheesy, the romantic montages between Penny and Maverick showed an incredible range of emotions and created amazing chemistry between the two characters. However, I will say that the love story in the original movie was far more developed and focused on compared to the sequel. 
Contrary to the love story between Maverick and Penny, the true heart of the film lies in the brotherhood between Rooster and Maverick. Going from enemies to friends was truly inspiring because Maverick was able to face his fears and befriend the son of the man who died next to him, and Rooster was able to look past his aggression and support his father's old wingman. 
Successfully I can say there was never a moment in this film that didn't have me on the edge of my seat. The adrenaline-pumping high-flying adventure that "Top Gun: Maverick" took me along was exhilarating. And dare I even say better than the original. Cruise shines in his performance where he is required to display a full range of emotions and has phenomenal chemistry with Connelly. The music and score are terrific, and the cinematography is another major plus. While the original film still stands as a phenomenal staple in movie history, the sequel has already become an iconic film enjoyed by viewers of any age.