Wildcats battle Gretna
Millard West boys basketball team takes on the Dragons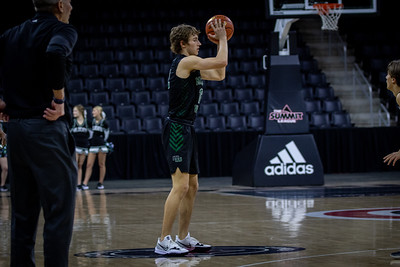 Coming off a devastating loss to the Warriors, the Millard West boys basketball team suited up to take on the Dragons. The game was played on Saturday, Feb. 5, and it took place at home.
The game started off with the Wildcats winning the tip and sophomore Max Froloff driving to the rim. The ball wasn't able to fall, and the Dragons soon after completed on a fast break opportunity. Following this, Millard West answered back, getting their first two points of the night. Along with this, junior Peyton Moore knocked down a three to give the Wildcats a 5-2 lead. 
At this point the game started to pick up speed. Gretna was able to convert on another fast break opportunity, but shortly after, the Wildcats found Moore open behind the arc again to make his second three of the quarter. This is where the momentum was lost for Millard West. Gretna started playing pressure defense, converting on more shots and getting more steals to take a 20-8 lead ending the quarter.
"As a team, we were eager to get a win after losing four straight," senior Reese Kolar said. "We knew our game plan and we wanted to start the game strong."
The second quarter began with the Wildcats in possession of the ball but quickly losing it with several missed shots. The Dragons, however, kept the momentum and started their quarter out with an AND1. Following this, senior Trace Thaden was able to make one free throw for the Wildcats and bring some hope back, but then their spirits got knocked down again when Gretna responded even faster. The Dragons were able to secure six unanswered points within a minute and take a 20 point lead. This led Millard West to take a timeout and figure out how to work around the issues. Although they took this timeout, it didn't do them much good as they would go on to score four more points to Gretna's 11, ending out the half.
"We turned it over too much in the first half," head coach William Morrison said. "Our press breaker was not very good and they got easy shots after turnovers.  Defensively, we simplified what we were trying to do."
The third quarter started with the Wildcats and Dragons playing tough defense and not letting a lot of shots up. Within the first three minutes, Millard West was able to make one free throw and one layup, holding Gretna to two points. This changed about halfway through the quarter, where the Wildcats fell back into some previous habits, giving up some easy shots and making their deficit grow. Although they let up on defense, their offense still stayed strong as they picked up pace nearing the end of the quarter. The game was already over point wise, but the Wildcats still put up some good shots with sophomore Cooper Fortune hitting a three to go into the fourth.
"Gretna had a 29 point lead going into the third, so they stopped pressing us," Kolar said. "This let us run our offense a little better and gave us more open looks. It also limited their offense because of how much they were scoring off of our turnovers."
The final eight minutes began with back to back threes by Gretna sophomore Ty Smolinski and Millard West senior Jessie Cauble. This led to a lull in the game where neither team could make a shot until there was about five and half minutes left. Moore was able to steal the ball and get two points off a fast break, along with an AND1. After this, both teams answered each other a number of times to keep the score gap fairly even. Rounding out the game the Wildcats were able to narrow that gap by a few points, but the outcome was already decided.
Gretna took down the Wildcats with a score of 64-46. Although Millard West had a rough weekend, they will be back in action on Thursday, Feb. 10. They will take on one of the toughest teams in the state: the Millard North Mustangs.