Millard West takes on defending State Champs
Millard West falls short to Papillion La Vista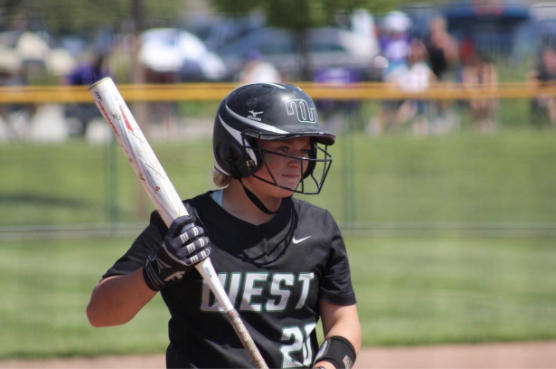 On Sept.10, the Millard West Varsity Softball team took on Papillion La Vista in the Varsity Metro Conference Tournament. With a final score of 3-6, Millard West took the loss and was not able to overtake Papillion La Vista.
Starting off the game, the Wildcats were able to get their bats going with two hits. Senior Emma Van Boskirk was behind the plate and sophomore Jaclyn Johnson was in the circle. Johnson pitched one inning giving up three hits with zero earned runs. Although there were no earned runs, Papio was still able to score four runs on errors while Johnson was pitching. 
 "My mindset going into the game was to make sure that I spun the ball and avoided the middle of the plate," Johnson said. "I know that Papio is a hitting team, so I would need to hit my spots to be successful. TheThe defense helped me out when I was pitching because I knew that even if someone got a hit that they would be behind me going all out."
In the top of the second, Van Boskirk singled on a ground ball to left field. With Vanboskirk on first base, freshman Macie Wyman smacked a line drive to right field advancing Vanboskirk to third. Then sophomore Kailyn Fisher hit a hard ground ball which advanced Vanboskirk home leaving the score 1-0. With seven hits throughout the game, Ava Rongisch and Riley Kramolisch each had multiple hits for the Millard West Wildcats. Rongisch and Kramolisch are both batting top three in the batting order, so they usually have the most at bats. Meaning they are put in many situations where they have to move runners or make important plays. 
"This season we are really working hard on being together as a team," Kramolisch said. "Because last year we were not able to make it to state. So we are making sure to work hard to succeed."
During the bottom of the second, Papillion La Vista racked up four runs leaving the score 1-4. At the end of the inning, freshman Cailtyn Semple came in for relief, quickly ending the inning. With the Wildcats back up to bat, Rongisch hit a hard ground ball to shortstop, while Wyman hit a sacrifice fly to right field and was able to advance Rongisch home, leaving the score 2-4.
"When I was up to bat in the third inning with two people on base my goal was to just get a base hit," Wyman said. "I wasn't getting a base hit for me to feel good, I was getting a base hit for my team. Every time before I get up to bat I think of where I wanna hit it and how I can adjust to make that happen."
In the bottom of the third, Papillion La Vista was able to score a run on an error, while Millard West was not able to score. In the next inning, both Millard West and Papillion were able to score one run. Throughout the game Papillion LaVista's pitcher gave up one earned run and had one strikeout. The final score was 3-6. Although seven hits were not enough to overtake Papillion La Vista. Millard West still has a winning record of 9-6 and has shown major improvement from their previous record last year  of 15-15.