Welcome to the jungle
Millard West holds first pep rally in two years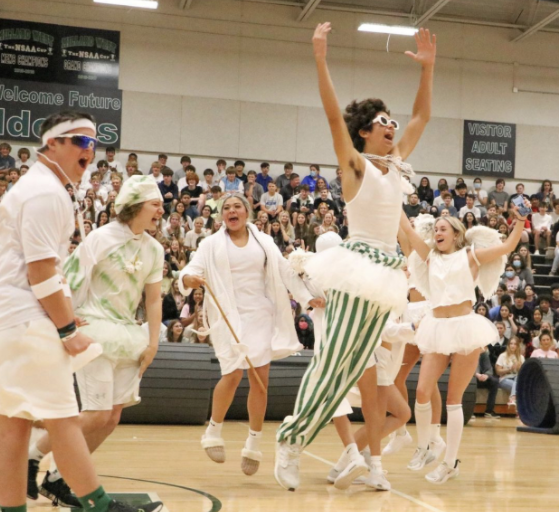 On Friday, Aug. 27, Millard West students gathered in Wildcat 1 to attend the first pep-rally of the year. All students were ready since due to COVID restrictions last year. Students gathered in Wildcat 1 during Extended QT for the annual fall pep rally, complete with performances and games. 
This pep rally was to prepare for the first football game of the season. All students were dismissed from their classrooms at 9:25 to head down to the gym. Although pep rallies are not a mandatory event, most students attended to show their school spirit and enjoy this time with their peers. 
"My favorite part was when as soon as you entered the gym you heard the band playing," sophomore Madison Bosley said." I think this really set the tone for the whole pep rally. I  also think that students that are in music don't get as much recognition. So I think it was great to have them perform as soon as you enter the event."
While students entered the gym the band introduced everyone to the "fight song" as students found their seats. The first performances were from the cheer and dance team. Some of the front line performers were Avery Cutler and Ayda Matya. The Millard West Cheer and Dance team has been preparing for students to watch their performances all summer long, so they were ready to put on a good performance. After their performance, the lights were turned off and ready to play the hype video and the introduction to the new Wildcat Crazies. 
"I wanted to be a crazy since freshman year when I saw the 2019 crazies," senior Ranim Allam said. "They were super exciting and inspiring. We plan to engage the audience by using new chants, getting people to show up and dress up for themes. Sports games are always fun and we got a lot of them taken away last year so this year everything will be more fun."
As a Crazy it's your duty to "hype" the audience. Millard West tries to choose the craziest and best students to fulfill this role. Each name was announced as each crazy ran through the gym to introduce themselves. This really elevated the mood as students rose to their feet to applaud each student. 
"I thought it was the most entertaining to watch each fall sports team and the crazies compete in different activities," sophomore Makenzie Miller said. "There was a representative from each sport competing against a crazy person in each activity, which was very fun to watch."
There were two teams competing in a heated game of Tic Tac Toe as the whole school watched. Each nominee participated and gave their best effort. To wrap up the event, the new foreign exchange students were introduced to say "Beat the Storm" in their foreign language. This was their first time being introduced to the whole school. 
As students left Wildcat 1, they were hyped and pumped and ready for the season.