Millard West celebrates Pride
Justice and Diversity League creates a display for the LGBTQ+ community
In Room 243, Justice and Diversity League members grab brushes and dip into cups of paint. They coat their hands in red, orange, yellow, green, blue and purple before leaving a colorful combination of handprints on a large white poster, surrounding a word written in bold capital letters: PRIDE. 
For the past few weeks, the Justice and Diversity League has been working on a display for a belated celebration of Pride Month. The club typically misses the occasion, which takes place in June over summer break, but they decided in May that they wanted to do something for Pride as their first order of business in the new school year. With more members than they have had in previous years, the club has had plenty of people willing to pitch in for the immense undertaking. Their foremost task was to brainstorm content for the display at the first of their weekly Tuesday meetings. Freshman, sophomores, juniors and seniors came together to think of ideas. In the end, they came up with a three page long Google Doc full of historical events, figures, films, books, songs and more. With a goal to cover a wide array of subject matter, ideas ranged from pop culture icons like RuPaul to monumental protests such as Stonewall. From there, club members signed up to make posters and visuals for the topics on the brainstorming list. 
The process of creating the display involved a lot of research and creativity. Students designed graphics and made aesthetic digital posters that include interactive features such as QR codes. As they worked on their designs, members kept in mind the project's focus of equality and inclusion  — to create a display as colorful and diverse as the LGBTQ+ community itself. They made an effort to represent different groups within the community, including women, non-binary people, trans people and people of color. They added different fonts and colors, pulled bright photos off the internet and even dipped their hands into paint to add handprints to the title poster for a personal touch symbolic of the overall approach to the display: hands-on, collaborative and colorful. 
"For the display, I am working on the big Progress Pride flag and the little pride flags to go around it," sophomore Maggie Scott said. "My friends and I who joined the club together are working on this part of the display together. We got poster paper and some paint and paintbrushes from the art room to paint it. For the smaller flags, my friends made a document and added all the flags they could find, and then we researched the gender identities and sexualities so we can include that in the display, too."
The result is a display that has a mix of stories and perspectives. An assortment of posters with links to book and movie trailers gives students a way to expand their knowledge beyond the posters on the wall. There is also a collage of flags representing different subgroups. Biographies littered throughout the wall include famous figures such as Bayard Rustin and Jojo Siwa. In the middle of the display, a poster opens the door for a discussion about gender identity, expression and attraction. To the left, the Millard West logo reimagined with the pride flag colors printed on a poster with the words "at Millard West, all are accepted." Altogether, it exemplifies the broader theme of inclusion that the Justice and Diversity League hopes to convey. 
"I'm covering the progression of pride flags over time and why they were changed, so I'm researching about how and when the Progress Pride flag was created and what it aims to do," junior Sofia Witmer said. "I chose this topic because it interested me and I wanted to learn about the changes within the LGBTQ+ community and how we can help support progress."
The display gave a diverse group of students the chance to get creative and hands-on while also sharing important information. Their hope is that, for the rest of the student body, it is both an educational tool and a celebration of a unique and vibrant culture. Ultimately, the goal is to further tolerance and inclusion within Millard West.
"I think most importantly, it's supposed to be a display so that every kid who's hiding in this school and doesn't feel comfortable because some bully treats them differently, if that kid sees that display, they might be encouraged to live their life just like everybody else," social studies teacher and Justice and Diversity League sponsor Bryant Bull said. "For a lot of kids that don't conform to those norms, I think they feel like they are made to feel different too often and seeing that display — I'm hoping — will help them feel like this is a place where they're welcome. Ultimately, that's the whole reason our club exists."
The display is currently hanging in front of the library where students, staff and visitors can see it. Justice and Diversity League hopes to expand it and make it a yearly tradition that will send a message to everyone who passes by: at Millard West, all are accepted. 
About the Contributor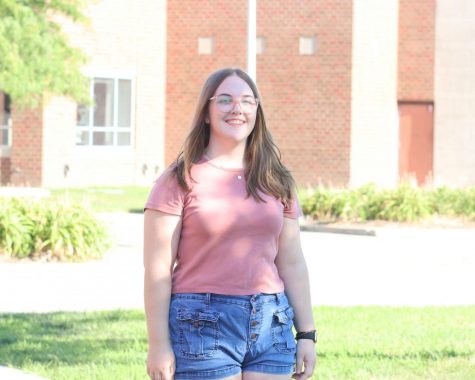 Morgan Weir, Catalyst Editor-in-Chief
Morgan is a senior returning for her third year on the CATalyst staff. She enjoys writing opinion and news stories. As a member of Millard West's Justice...