Scream for the ice cream
Dessert shop, opened on Farnam street, is worth trying
The Coneflower Creamery ice cream parlor, opened in midtown Omaha, definitely exceeded my expectations. 
From their calm atmosphere to their astounding service, this shop, known for its homemade ice cream flavors won't leave you unhappy.
Once I finally got my hands on their unique ice cream flavors, like golden milk, carrot cake, sweet corn, and more, I was pleasantly surprised to actually enjoy them. They have options for vegan treats, along with the classics as well. They have a couple of choices on toppings and what you want your ice cream to be in. You can choose from waffle cones or sugar cones if you enjoy eating your dishes, but if you prefer to recycle, you can have your ice cream in a simple bowl. As for their toppings and mix-ins, caramel sauce, handmade sprinkles, and even a vegan coconut cream are just some of the selections.
For my visit, I decided with one, two scoop classic cookies and cream bowl, and two signatures, honey lavender, and mocha chip. Two out of the three I love, the other, not so much. 
Let's start with the cookies and cream. Of course, most of us know what the flavor tastes like, but this was even better. The chunks of Oreos in it were two times bigger than other places, not to mention how creamy it was. It has a very rich and fresh vanilla flavoring, and the best part, it's farm-to-table, meaning they get all of their dairy products right from a farmer. It is a very common flavor so there isn't much to talk about but just know this was definitely my favorite.
For my next flavor, I've decided on the honey lavender — which I particularly did not like. Even with the earthy taste, which I usually enjoy, the lavender was way too strong for me, which overpowered the honey taste as well. I could say it even had the taste of straight eating an essential oil. Unfortunately, It also melted way quicker than the others and by the time I could finally taste it, it was soup. I must say, lavender tastes exactly like it smells. It's very relaxing but not for everyone.
Last, but definitely not least, the mocha chip. This one tastes like the name — mocha. It has a strong flavor of espresso, maybe even a little bitter, barely leaving room for a chocolatey taste, what I mostly thought it would be like. It has very small, and few, chocolate chips mixed in which I believe made it even better. For the texture, it seemed to be more of a soft-serve rather than regular ice cream, but that's not a downside for me. It was very smooth which made it better to eat. If you like a strong coffee in the morning to wake you up, this is the one for you.
Altogether, I'd give this ice cream a four out of five-star rating. The cookies and cream and mocha made me happy with my choices, but the honey lavender wasn't what I was looking for. Although there were some negatives, the energy of the store made my experience better. I'm hoping for closer locations but even with the long 30-minute drive there, I'll be going back for more.                                                      
About the Writer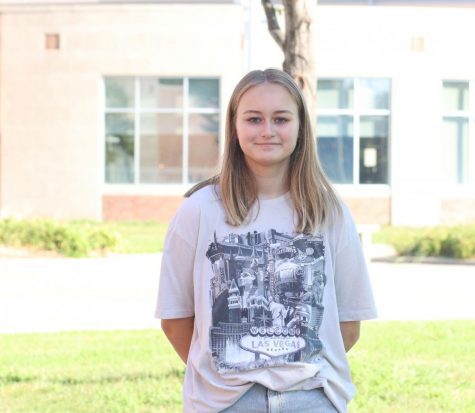 Makayla Taylor, Staff Reporter
Starting her sophomore year at Millard West, Makayla is onto her first year in the CATalyst staff. She's hoping to create several broadcasts this year...