Local organization fights for a more diverse Omaha
Tri-Faith Initiative brings together citizens of Judist, Muslim and Christain faith to build interfaith trust and understanding
Situated on 13136 Faith Plaza, a church, synagogue and mosque all rest on a 38-acre campus home to Tri-Faith Initiative: an organization dedicated to challenging people of faith to be proactive and tolerant of other religions in a diverse society. The group offers Omaha citizens of Jewish, Muslim and Christian faith to learn and celebrate not only their own religion, but also other faiths involved in a safe space.
After discussions between the leaders of Temple Israel (an Omaha-based synagogue) and leaders of Omaha's Muslim community about space needed for worship in 2006, they decided to found Tri-Faith Initiative along with a Christian partner in the Episcopal Diocese of Nebraska. Five years later, the group purchased land to house its three places of worship and provide its members a common ground to discuss issues related to persecution, religious freedom and how to build a more tolerant society.
"Our societies are inherently interfaith," Program Director Amanda Ryan said. "Our neighbors, coworkers and families bring their religious and spiritual experiences to our vibrant community. The work of Tri-Faith instills a value of religious diversity to embrace our differences and challenge the status quo."
The organization normally holds all of its events in person; however, this year each activity is online for safety during the COVID-19 pandemic. One of these activities, "More Than a Joke: A Tri-Faith Symposium," brings together clergy leaders for learning and dialogue on the diversity of beliefs and practices across a variety of timely topics. "Crucial Conversations" offers workshops bringing community members together to discuss the difficult aspects of religion, and "Neighbor to Neighbor" connects people from the three faith communities.
"Our religious and spiritual identities shape how we view and understand the world," Communications Director Sierra Salgado Pirigyi said. "By meeting people where they are inviting them into conversation with one another, Tri-Faith Initiative creates opportunities for deep interfaith relationships and understanding."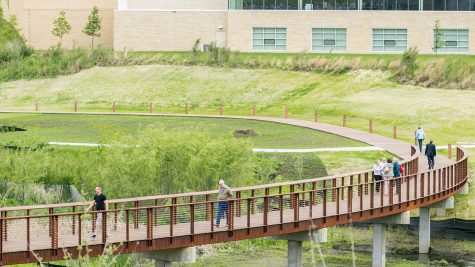 In addition to providing holiday themed workshops and events – like accepting donations on December 1 for Giving Tuesday (a day for people around the world to show their generosity to different organizations or people) – each congregation will host religion-specific holiday related functions.
"In this time, Tri-Faith's voice rejects religious bigotry in all of its forms and responds to this by providing a wide variety of ways to learn about the embrace of religious diversity," Executive Director Wendy Goldberg said. "It is our custom to offer hospitality for each congregation for special holidays – Eid, Rosh Hashanah and Christmas Eve. This year we are creating a special video blessing for our Christian partners at Countryside."
The organization invites citizens of any age, but especially encourages high school students to volunteer or join. They can contribute by helping organize events Tri-Faith is planning and also engage with its various workshops. Anyone looking to participate in events via Zoom can visit https://www.trifaith.org/events/ to see upcoming activities. 
"No one should fear for their safety because of the color of their skin, what language they speak or how they pray," Goldberg said. "Tri-Faith fights for religious freedom in the face of scapegoating and fear, while making spaces for meaningful connection across differences."
Connecting people of different cultures and backgrounds, the organization continues to fight bigotry and discrimination in Omaha. Though most events for the year are finished by December 10, they will still spread their message of religious diversity. For more general information about the Tri-Faith Initiative and its goals, visit www.trifaith.org.