Musical minds at work
Song Exploder dives deep into artists' creations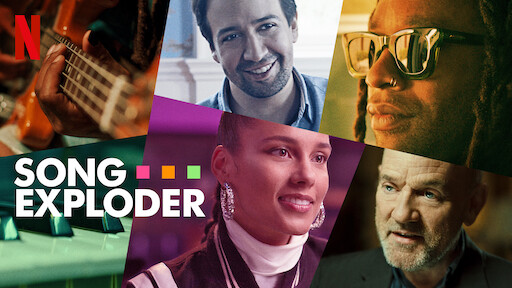 Netflix has a wide variety of shows to offer, including a new one released about music called "Song Exploder," a one volume, four episode docuseries released on October 2. Each episode is dedicated to an artist and their journey during their song creation.
"Song Exploder" was first a podcast with the concept of interviewing artists and the creative processes behind their songs. A video element was added to the Netflix adaptation featuring Alicia Keys, Lin-Manuel Miranda, R.E.M. and Ty Dolla $ign. Hrishikesh Hirway, host of "Song Exploder," interviews each of the musicians about their songs. The music covered ranges from 2020 all the way to the early 90s. 
The first episode features legendary R&B singer Alicia Keys with fellow R&B artist Sampha and their song "3 Hour Drive." The song comes off Keys' latest album, "Alicia." The only songs I've heard from her are "No One" and "Girl on Fire," so I was surprised that she still made music. Both artists had their own meaning for "3 Hour Drive," coming from personal experiences. The tranquil emotion that Keys puts into the song stems from the birth of her second child. Her child fills her with love and life, which is expressed through the lyrics she sings and her blissful tone of voice. Sampha's depressing tone comes from the loss of his mother in 2015 due to cancer. The two different views of the song are polarizing like night and day, but they fit the lyrics well, showing the creativity two artists can bring together.
Miranda finds the perfect voice for Founding Father Aaron Burr in the second episode of "Song Exploder." Burr is played by Leslie Odom Jr., in "Hamilton: An American Musical." I had no prior knowledge of "Hamilton," so I was intrigued to see how the Odom Jr.'s character would be depicted. The song "Wait for It" is sung from the perspective of Burr. While Alexander Hamilton, played by Miranda, was a person who acted quickly, Burr was more patient, and Miranda wanted to emphasize this. Miranda first recorded the basis of the song as a voice memo while walking to a friend's party. I thought the recording was funny because Miranda was walking and singing at the same time, making him sound audibly out of breath. He then explained to Hirkway that he left the party because he had the song planned out in his head and couldn't risk losing the momentum he had. This clearly paid off for him, seeing as Hamilton is one of the most successful Broadway shows in history. While I'm not into musicals, I still respect the work of blending rap, singing and chorale into an innovative form of art.
Going on to the third episode of "Song Exploder," lead singer of R.E.M., Michael Stipe, and drummer Bill Berry listen to various audio recordings of the iconic song "Losing My Religion." Stipe's excitement and embarrassment is on full display as he reacts to an early demo of him singing lyrics. To me, it sounded good, but to him, it was cringeworthy. The way he sang it was totally different from how he wanted it to be. After that, Hirway tells Berry about his clapping in the song. Berry didn't believe that he clapped his own hands in the final mix, so Hirway showed him. To his disbelief, there was clapping. I was surprised, too, because listening to "Losing My Religion" now, I still can't hear it.
The final episode of "Song Exploder" features Ty Dolla $ign and his history with Los Angeles. Ty was born and grew up in Los Angeles, and he wanted to devote his first album, "Free TC," to his brother. TC was sentenced to life in prison for murder. The first song, "LA," would be about Ty's tough upbringing in his hometown due to crime. Ty brought on other artists with similar childhoods, like Kendrick Lamar, so the record would catch the emotion of their hard lives. Record producer BattleCat can be heard singing on "LA" with a talk box, an instrument that changes how one's voice sounds with airflow, and a piano keyboard. I thought this was a creative approach to making lyrics because I wasn't familiar with a talk box. It sounded like an extreme autotune to me. Ty plays multiple instruments on the song, like bass and guitar. His different talents are interesting to see because one instrument is already a lot of work.
Learning different artists' processes for composing their music was intriguing. I enjoyed R.E.M.'s story the most because of how iconic "Losing My Religion" is, and the fact that the band can remember many of the details from the writing process nearly 30 years later. I'm also a bit biased because it's a song I really enjoy. The now grown men looking back at their younger selves and their mindset at the time made for an entertaining perspective. I look forward to watching volume two of "Song Exploder" when it releases globally on December 15.