Best students recognized for success
COVID-19 pushes spring celebration of to the fall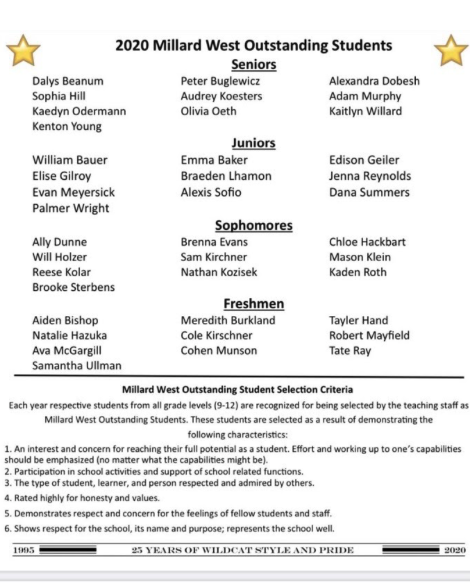 Every year, Millard West holds a time off for the school to recognize the "Most Outstanding Students" of each grade. Recent Wildcat students have had to go through changes and challenges from the pandemic, yet they have continued to learn and be a successful student body. Selected by the administrators and teachers, 10 students from every grade level are named the most outstanding. Also with over 150 students in the class of 21' rewarded for a GPA of 3.5 or higher with recognition and a printed certificate.
On Thursday October 8, during College and Career Readiness Quality Time classes, the students were announced. The class used a Zoom call to connect with their grade-level administrator as a slideshow was presented on the meeting where the students' names were recognized.
"It felt really good to hear people recognized me for this award," senior Evan Meyersick said. "Balancing sports and school has always been a challenge and I'm very glad that I have done well enough to be awarded for it."
School is hard work all the time, maintaining a high GPA in highschool is very impressive and can help you more than you think in life. Being at the top of your class with an exceptional grade point average, deserves the recognition the students received. In the Zoom meeting, all the names were displayed of those whose GPA is higher than a 3.5. Certificates awarding the students were also passed out during CCR. 
"Being recognized for my grade point average made up for all the time I put into school," senior Jackson Hagan said. "Knowing that my GPA was awarded in high school makes me feel more confident about my future and college."
Even throughout the pandemic Millard West was able to allow students to continue learning. With many changes, students had to also change the way they learn. From Zoom meetings to wearing a mask for seven hours in a school the "Most Outstanding" students were still able to manage their school work successfully. 
"School changed over the past months but I stayed focused on my junior and senior year," senior William Bauer said. "Being recognized for most outstanding and at the top of my class feels wonderful, especially with the challenges regarding COVID."
Recognizing the best students from each class means so much to the Wildcat families because the students are creating confidence and oppurtunity. The administrators and teachers took much time filtering through each student and finding the best matches for the awards. Finding the right candidates was easy going with the exceptional students in the school. Until the next round of student awards comes these students are the "Most Outstanding".
About the Writer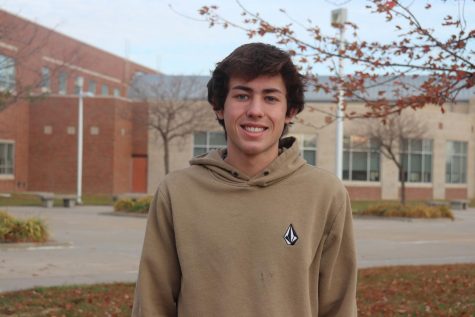 Noah Walls, Staff Reporter
Noah is a senior at Millard West and this is his third year in Advanced Journalism. Noah enjoys covering sports through broadcast and written stories....