Hard work pays off
Junior commits to power five school for softball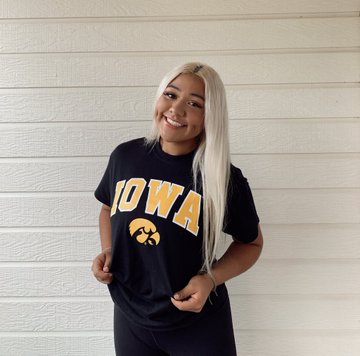 Most athletes' primary goal during high school is to catch the attention of any college that will give them the opportunity to play for their school. Most offers extended are mainly for small D1 or D2 schools, but for the standout players like junior Bella Bacon, you could expect much more.
Starting at a young age, Bacon started playing many different sports like basketball, soccer, volleyball, and even tennis. Out of all the other sports, softball seemed to stick with her the most. Her desire to play the game began in the first grade. The sport stuck with her throughout the rest of elementary and middle school, and going into high school the goal she wanted to accomplish most of all, was the chance to play for a D1 school. That dream became a reality on September 1st, when she committed to the University of Iowa . For Bacon, she had built her relationship with the school last year when she attended a camp the school hosted over the winter. During the visit she liked what the program had to offer. She began communicating with coaches and staff and on the first day schools could reach out to juniors they extended her an offer.
"She was so excited it was difficult for her to take a deep breath and tell me what happened," Bella's mother Ana Bacon. "I knew in that moment that all her hard work had paid off and she had found the right fit in her heart."
Bacon's season so far has been nothing short of exceptional so far, with a .490 batting average, five runs, two of them being grand slam, and leading the team in hitting this year. One of her biggest games this season came against Gretna on October 5, hitting 3 for 4, with a homerun, a double, and five RBIs. In her final regular season game against Elkhorn South she did not disappoint with four RBIs and a grand slam. She's preparing to make a strong performance at the district tournament and hopefully state after that.
"Nobody works harder than Bella," head coach Don Brummer said. "Her commitment to her craft is second to none. It has been a pleasure to watch her grow as a softball player and a person. She is a model student athlete."
Iowa University's softball program is regarded as a solid program in the nation, having been in the Women's College World Series four times in their history most recently in 2001. Their team currently sits at a 17-5 record on the season with many of the current roster having similar stats to those of Bacon.
"You see how some people can get so successful in it, even in college," Bacon said. "To have the chance of winning a national championship and play at that level. I really like that part of it from when I started. It helped shape who I am today as a player and as a person."
Be sure to catch Bacon and the rest of the varsity softball team at the district tournament and hopefully the state tournament. Bacon will be playing her final season with the Wildcats next year, be sure to support her and the rest of the team as they finish out the rest of their careers.