Straight from Dundee
Popular ice cream shop opens up a new location in West Omaha
Ice cream: Sweet, cold and perfect for a hot day. Pair it with freshly baked cookies and it is the perfect treat. It can be sandwiched between two cookies or smashed up cookies used as a topping. Maybe cookie ala mode? Either way that one consumes this sweet treat, it is something people worldwide take part in. 
eCreamery first opened in Dundee 2007. Known for their fantastic ice cream, they are a popular spot to eat midtown with their various flavors and options In 2019, Carson's Cookie Fix, a cookie bakery, was offered the chance to partner with eCreamery and have a product line through them.  
Carson's Cookie Fix, originally known as Kristen's Cookies, has been an ongoing business for 40 years. The business has had many ups and downs throughout the years, but once the owner, Maddie Carson, took charge, the restaurant relaunched with better leadership and stability. Carson came in contact with the owners of eCreamery, and they decided to combine forces and build an ice cream and cookie empire. 
eCreamery has been able to sell their products nationwide. They were able to talk about their business on "Good Morning America," "The Today Show," Oprah Magazine and "Shark Tank."
I love their Dundee location, but since it is a 30-minute drive for me, I would only get this ice cream once or twice a year. I was thrilled to find out they were opening a new West Omaha location, about 15 minutes from me on 114 and Dodge Street.  
The outside of the shop is welcoming and full of fun pictures. On their windows, they have cones and cookies drawn all over with pink neon signs. In front of their door, sits a chalkboard that tells you their specials and flavors of the day.
Walking inside, I was amazed at how delightful and enticing it smelled. Right away, the scent of fresh ice cream and cookies wafted to my nose. The smell of waffle cones was in the air, almost smelling like a breakfast joint with a mix of ice cream.  The ice cream overpowered the cookie smell, but I was happy with it. It reminded me of those old fashioned parlors where one can get ice cream. 
The ice cream was laid out to me in a big glass case. They had various flavors to choose from that included: pistachio, chocolate orange, mint cookie crunch and vanilla bean. 
Choosing which flavor of ice cream I wanted and what cookies I would take home was one of the most challenging decisions. I knew I would choose a dairy-free option, as I am lactose intolerant and I love places that offer ice cream that doesn't contain it. 
After looking up and down at all the flavors, I concluded that I wanted two orange and raspberry sorbet scoops in a bowl. I have never had orange ice cream, so I thought this would be a fun chance to try something new.
Next, I had to pick out the cookies I wanted. I chose to get three cookies: lemon sugar, monster and caramel chocolate chip. 
Besides scoops of ice cream and already baked cookies, they sell pints of ice cream and cookie dough for $7. As I was looking at the pints, I noticed that they had bubblegum ice cream, which is my mom's favorite from her childhood that she would always talk about. I decided to buy this for her and try it myself as bubblegum is not a typical flavor you see in many sweet shops. 
In total, it cost me $25, but it was well worth the price for the quality of the items.
First, I tried the sorbet. On top was the orange, and underneath was the raspberry flavor. Taking a bite of the orange, my tastebuds were covered in a sweet taste that reminded me of orange juice and orange popsicles. It covered my tongue in a sticky coating, and then quickly melted. The orange was a little bit tart for me, but as it was orange-flavored, that was expected. 
The raspberry was my favorite flavor; it was sweet and not too overpowering with the taste. Taking bite after bite, it reminded me of fresh raspberries, especially bringing back the memory of picking raspberries at my old house from our garden. We would then make a sauce out of them. This sorbet reminded me so much of this memory, and it consumed me. I was addicted to the flavor and ate it all in one sitting. It was cold and creamy, with a delightful texture that melted in my mouth and down my throat. 
 Every bite of the raspberry and orange was sensational. It had a terrific flavor that stood out more than most ice creams did, and it wasn't something I could just find in the store as it was made with love and care by eCreamry. I ended up mixing both flavors to see how they would taste together. I loved it. It was somewhat like a smoothie where I was tasting multiple flavors at once. Luckily for me, they were both fruit flavors and blended well together.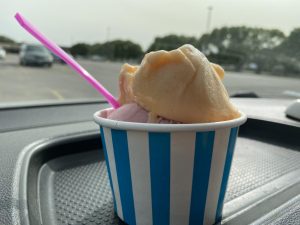 My favorite cookie I tried was the lemon frosted. I love lemon, as I love all fruit flavors. This lemon cookie was soft inside and out and covered in a thick glaze of lemon. The first bite I was hooked on. It tasted of lemonade on a hot summer day. The cookie melted in my mouth without me even having to chew it because of its softness. If I had known this cookie would be this delectable, I would've bought a pint of this cookie dough.
The next cookie I tried was the monster cookie, a regular cookie filled with oatmeal, chocolate chips and m&ms. This cookie wasn't soft, but it wasn't rock hard either. It was crunchy on the outside and the inside. This was a delicious treat but not one of my favorites, as it was simple. I have had this cookie before, and it reminded me of the homemade one I had baked earlier. I would get this cookie again as it was terrific or at least get the cookie dough to try to make this recipe for myself. 
The last cookie I tried was the caramel chocolate chip. This cookie was crunchy on the outside and chewy on the inside, which many people look for in the perfect cookie. I loved this treat; the caramel wasn't overpowering the cookie taste and wasn't hard in spots. Putting caramel in desserts is tricky to do since if you over bake the caramel or put too much of the caramel in the mix, it can be hard to eat since the caramel can get hard and crunchy. Even though the cookies weren't warm, the caramel still seemed to be melted inside it, and it didn't crunch or stick to my teeth as most caramel squares do. The flavor was immaculate. The chocolate chips and caramel were perfect together and had the ideal ratio in each bite, so I got both flavors of them.
Overall, I loved this place. I already love the Dundee location and now have one even closer. I know I will be visiting a lot with friends and family. I highly recommend this place in either West Omaha or Dundee, both have delicious flavors of ice cream and kind workers. If you love sweet treats, this is the place for you.
About the Contributor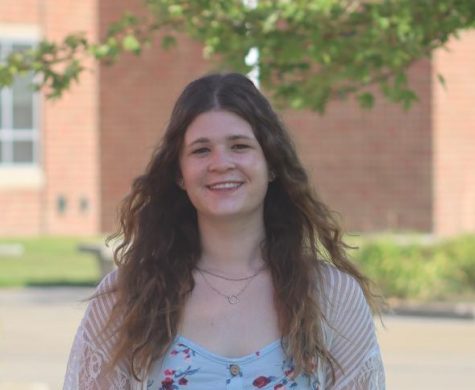 Annalise Smalley, Staff Reporter
Annalise is a senior at Millard West and is returning for her third year on the CATalyst. She loves writing food reviews for new restaurants and doing...