Flavors that dance on the tongue
New restaurant opens in Village Pointe serving unique food and a welcoming atmosphere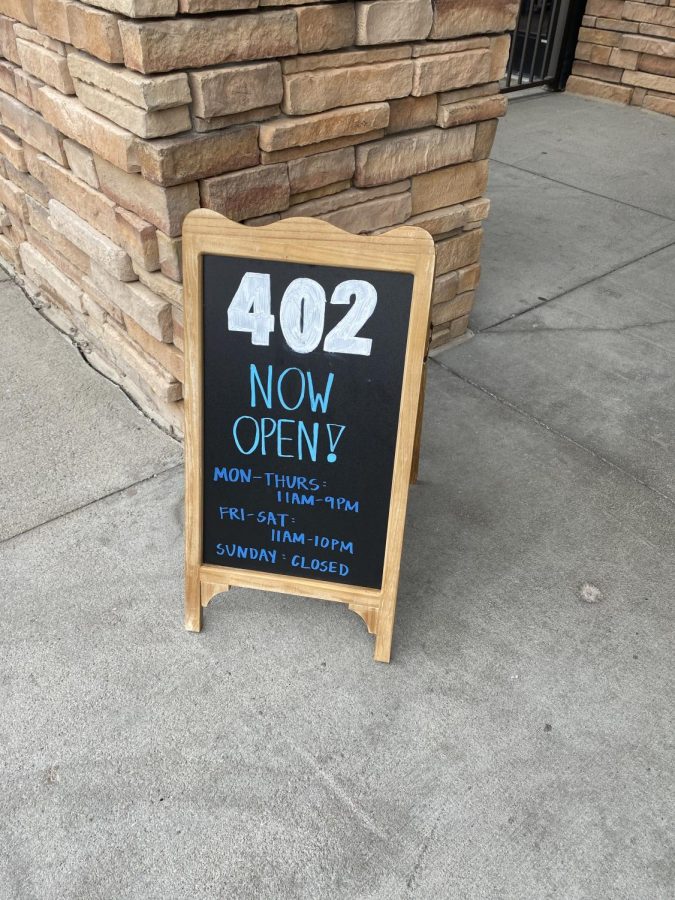 Restaurants have been opening over Omaha for years, bringing with them new recipes, cultures and modern designs to a restaurant. In this generation, people look for restaurants that give them something new, something they haven't been to or seen before. Whether its wild colors on the walls, different styles of seats they can sit on, or unique food options, people going out to eat want something different each time so they can remember the memories made there. 
Opening just a few weeks ago, 402 Eat + Drink brings you these options and many more for breakfast, brunch and lunch. It's a memorable restaurant with friendly workers and delicious food. 
Opening on August 11th in Village Pointe, sitting next to Carter's babies and kids store is 402 Eat + Drink. The owners, Janie and Ryan Rogers, were more than ready to open their restaurant. They own 712 Eat + Drink, The Porch and Glory Days Sports Bar. This is their only location in Omaha, and so far, it has been a success.
Two years ago, Village Pointe approached Janie and Ryan to open up a restaurant there. After much discussion and plans to build, they finally settled on a building and opened up.
They have been ready to open since March of 2020, but because of the COVID-19 pandemic, the date kept getting moved back. 
Since the opening, their restaurant has been filled with hungry mouths and faces craving food on their plates, ready to consume what 402 Eat + Drink has to offer.  They have inside and outside seating for all people. The inside is filled with colorful walls and comfy cushioned chairs that help brighten the restaurant and make it feel welcoming and cheerful inside. When walking in, it is never fun being in a restaurant that is drab and dark, which is why being in a restaurant filled with stripes of all colors and chairs that are fun to bounce and sit on make a restaurant more desirable.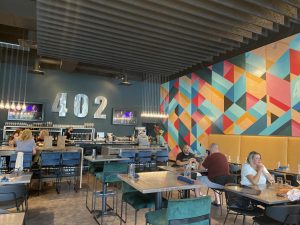 I have been waiting eagerly for this place to open up since I heard about it in March. I love it when they open new restaurants in Village Pointe as it is a place I go shopping with my friends at least once a month and watch many movies a week. 
When I heard a breakfast, brunch and lunch place was going to open, I knew that I had to visit it. Once I learned of their official opening date, I decided to try the food for myself. 
Walking in, I was welcomed in by a very friendly employee. She offered me a table to sit inside, and right away, I was offered water and something to drink. I decided to stick with water as I knew I'd be getting an extravagant meal of appetizers, lunch and a dessert. 
The menu was filled with wonders and new types of food. The appetizers contain fried brussel sprouts, crab rangoon fries, fried pickles, Mexican Street fries, etc. Their salads include chicken, shrimp, steak, salmon, crab cakes or tuna depending on what kind of protein you want. They had flatbread sandwiches, hamburgers and regular sandwiches that contained grilled meat. 
I first started with the Mexican street fries. They were $9 and contained sweet corn, jalapeno peppers, cilantro, fontina cheese, cotija cheese and Tajin aioli with Mexican chili powder, which was served over fresh crispy fries. Those were the first things that came out in about 10 to 15 minutes. It came in a big bowl with a spoon in it. The fries and corn were on the bottom, and then on top was a heavy layer of cheese and chili powder.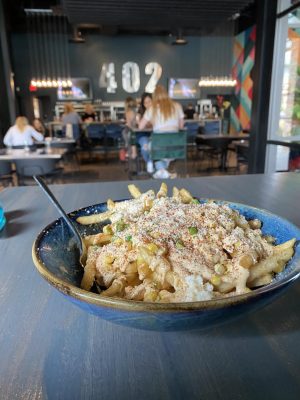 Taking the spoon, I was able to mix it up, so the corn and chili powder-covered all of the fries. First, I used my hands to eat some of the fries, and they were terrific. The crunch of biting into them was perfect. They were airy inside, and they seemed to crumble in my mouth. I then took a fork to eat the corn and fries together, and I thought it was the perfect match. Some people may think that getting corn and fries together would be an untasty idea, but I thought it was heaven in a bowl. The taste and the flavors were immaculate and were dancing on my tongue.
I then ordered the Grilled Steak Torta for $14. On it was a grilled flat iron steak, tomatoes, iceberg lettuce, smoked mozzarella, avocado, pickled red onions and chimichurri aioli on a Mexican roll. The Mexican roll was called a telera, which is similar to ciabatta bread. 
It took about 15 minutes for them to get my sandwich out to me after I got the appetizer. As they brought it out, I was so excited for it to be on the table to eat it. Steam was rising from the meat, so I knew it was fully cooked and warm. Pieces of the steak were spread out, so it was more like a Philly steak sandwich than one big steak just sandwiched between two slices of bread. They also gave me a small bowl of fries covered in herbs. The fries were very crispy, which is what I love, and this is now my new favorite fry place to eat at. The sandwich was juicy and was very messy to eat. Every time I took a bite, I kept having to use a napkin for my hands and mouth. Besides the mess, I adored the sandwich. I wasn't able to finish it and only ate about half of it and then was able to take it home for leftovers. The leftovers were saved, and I air-fried them and ate them the next day.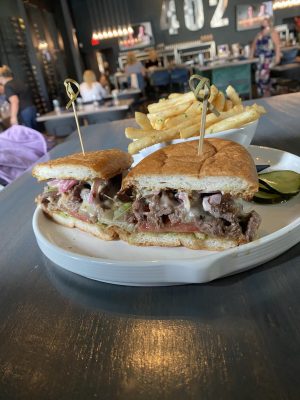 Even though I felt full, I decided to get a dessert. I got the Mixed Berry Mousse for $8. This dessert was gluten-free and contained a berry whipped mousse and was topped with fresh berries. When it was brought out to me, I was amazed at how it looked. It was in a big white bowl, and the mouse was in tiny circles in a big line. It looked somewhat like a caterpillar. There were berries on top, and little globs of whipped cream were put all over the bowl. It looked like something you would see at a fancy French restaurant, except way cheaper. Biting into it, I was surprised at how it wasn't too overbearing in the flavor. It was relatively simple and tasted kind of like yogurt. I loved it and thought it was best with the whipped cream globs.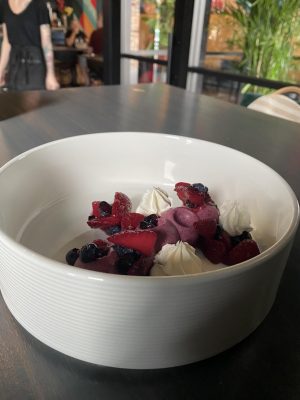 Overall I love this place. I plan on going back to eat more Mexican street fries because those were my favorite food item I got. I could have gotten a big bowl of those fries with some soup on the side. I also want to try their red velvet brownie for $8, a brownie covered in chocolate powder, chocolate sauce and cream cheese ice cream. I think that looks delicious.
 I can't wait to go back to take my family or friends with me, so they can love this restaurant as much as I did. I highly recommend this restaurant for anyone because it has meat, salad and sandwiches, so it has something for everyone. 
About the Contributor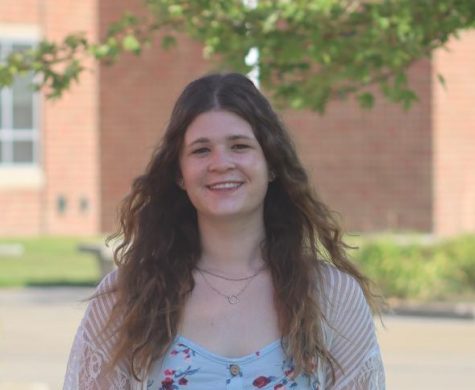 Annalise Smalley, Staff Reporter
Annalise is a senior at Millard West and is returning for her third year on the CATalyst. She loves writing food reviews for new restaurants and doing...