There's no place like home
Cheer team hosts annual camp at school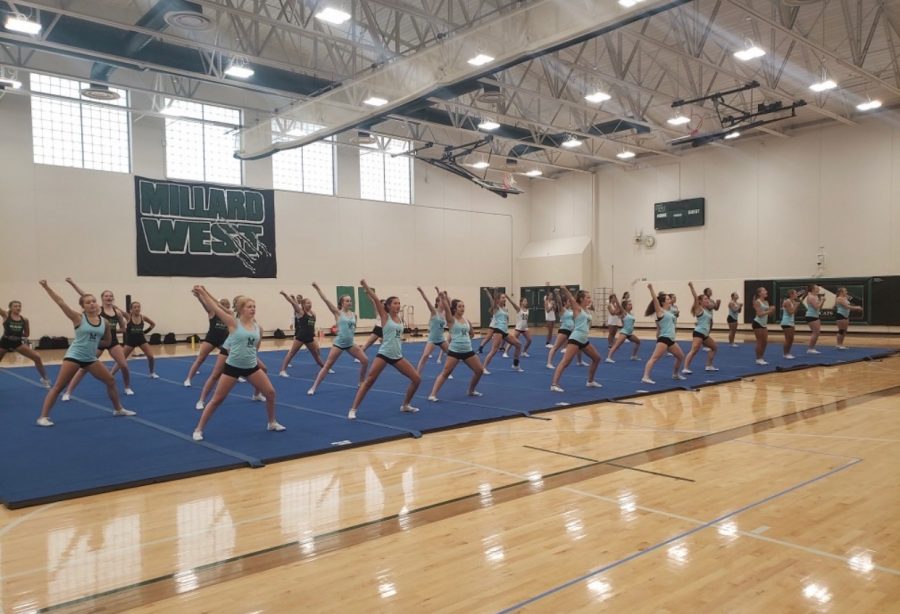 With the continuation of COVID-19, many athletic camps this year looked far from normal. While  others may have gotten cancelled, the Millard West cheer team decided to keep their tradition alive.
A normal three-day masters camp for the cheerleaders would typically be held at an event center in LaVista with other teams around the area. This year however, due to COVID-19 restrictions, the yearly camp was no longer able to happen. 
"As a coach, I missed the traditional camp we usually do," varsity cheer sponsor Kelsey Chastain said."That camp is more intense in every way. From material they learn, performing skills, interacting with other teams and competing on the last day against other schools. We missed some of those key things you can only experience at our usual camp. But all things considered, we were lucky and grateful to have a camp at all this summer." 
Instead of completely canceling the cheer tradition, the sponsors and coaches of the teams decided to have the UCA (Universal Cheerleaders Association) staff that would typically run the camp come to the school. For the program, this was an opportunity to still get ahead of the game while having a way for the new members to bond with returners.
"Camp is a large part of when a team really comes together", Chastain said. "While learning and perfecting skills, the teams learn more about their teammates and coaches to help set them up for a successful year."
The UCA staff consisted of three former or current cheerleaders from Florida and Minnesota. During the duration of the camp, the staff was able to work with the teams to help form and prepare the Game Day and Rally Routine for the upcoming season. 
"Having our own staff was very helpful and beneficial for us," Chastain said. " We were able to get more one on one time for each squad and they help customize the schedule to our needs."
To prepare for these routines, the girls were taught multiple band chants, sideline cheers and stunts to emphasize what cheer is really about. This material will later be used for game days and virtual pep rallies throughout the year. 
"I have been able to work with these girls for the last three years at camp," UCA staff member Abby DeThorne said. "Even with an at home camp, they were able to step up to the plate and put these two routines together in just a few days." 
While practicing these chants and dances, each team was evaluated by the staff and given ribbons based upon the spirit, timing and sharpness presented throughout the performance. Other fun traditions including spirit sticks, boogie chants and warm ups also continued throughout the three days.
"I think that still being able to have our camp this year was a great opportunity for us," junior Brenna Matthews said. "As a team and a program, we were able to better prepare our materials for the upcoming season with football and volleyball. Despite COVID and not being able to have our normal camp, as a squad we were able to bond and better ourselves." 
In the span of their upcoming season, the freshman, JV and varsity teams will continue to work on band dances, chants and other material learned at camp to cheer on the Wildcats from the sideline.