Sugar from heaven
A new candy and ice cream shop opens in Council Bluffs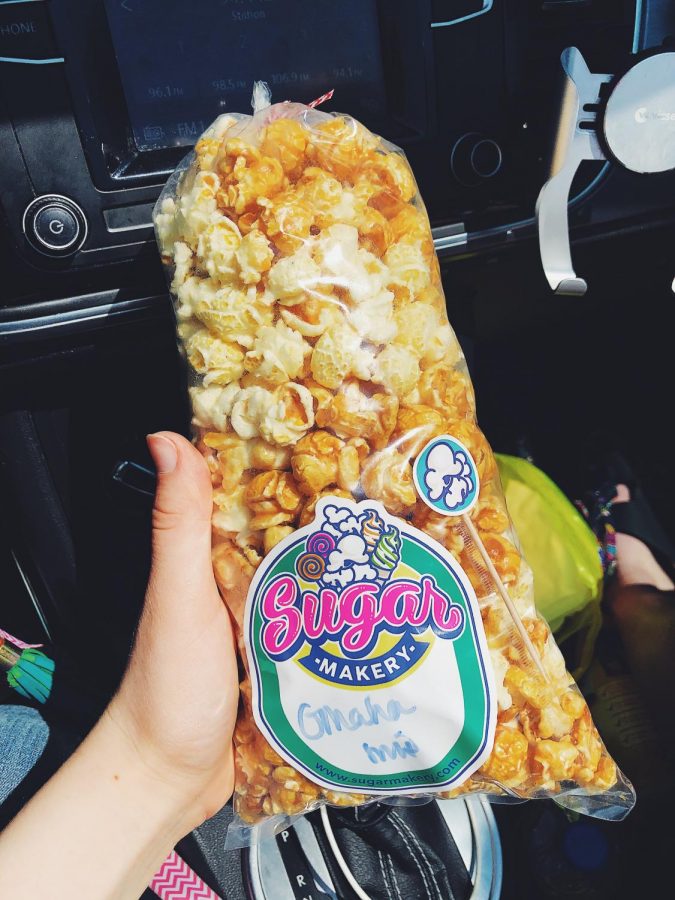 Sugar. One of the favorite ingredients of many Americans. From consuming almost 152 pounds a year, Americans are always looking for new things to try to sweeten up their day. Whether it is brownies, ice cream, candy or sugar-filled drinks, it is loved around the country, and a recently opened candy shop, Sugar Makery Bittersweet is here to satisfy your cravings. 
One of the owners, Katie Rea, has been looking for years for the perfect place to open up their sweet shop. After testing out multiple locations, they decided on opening in Council Bluffs, Iowa. She grew up in Iowa and thought that opening in her birthplace would be the best decision.
Before opening, Rea was a cake artist and made cakes for all occasions, from gender reveals to weddings and birthdays. She called her own first business, Bittersweet Dessert Bar. The bittersweet part not only comes from the chocolate she uses, but also stands for all the moments in life, such as a baby turning one, which is a happy, yet sad moment as the child is growing up.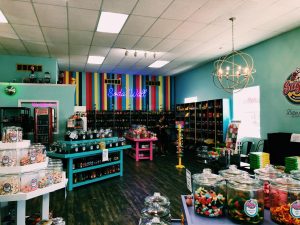 After years of making cakes, Rea met up with Alexis and Malcolm McCue, owners of Sugar Makery, the first and original location. Rea has wanted to open up her place, and when the McCue's offered to share a location with her and make desserts together, she was more than thrilled at the idea. They combined their business names, Sugar Makery and Bittersweet Dessert Bar, to come up with the name Sugar Makery Bittersweet. From there, the business has been a success, and people love it. 
Months of planning led up to the opening of the delicious sugar place on March 15th. They never thought that their business plans would be changed when the corona outbreak got worse, and they were worried they would not be able to succeed in the first few weeks. Instead, Iowa and Nebraska have supported them, and their doors are opened to everyone. 
To make sure everyone is safe, they only allow a maximum of 10 people inside at once and sanitize every hour to eliminate any germs that wandered in. They sell bulk candy, and instead of letting customers grab at it for themselves, they are more than willing to help bag the candy to avoid unnecessary contact. 
I love dessert places, and I am always looking for fun places to explore that not only sell cake or ice cream, but also have candy, chocolate and other delicious items they specialize in. During these times that we are in, it is fun to get out of the house and go on a "mini" road trip. 
Walking into the store, I was not expecting much other than a couple of containers of ice cream, some candy on the walls and welcoming faces. Instead, I was met by all my childhood dreams. Candy lined the walls in big containers and tables were spread out with big vases of candy ranging from gummies to chocolate to licorice. One wall was covered entirely in glass bottles of soda with more flavors than I have seen in my life: rootbeer, strawberry, vanilla, prickly pear, orange, lemonade, cherry, grape and so many more.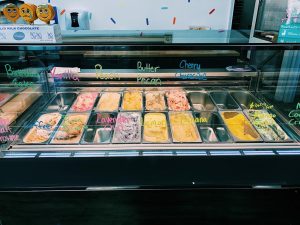 The other side of the candy shop featured an eight-foot case of handmade, fresh chocolate made that morning. The case held chocolate covered Oreos and pretzels covered in M&M's and caramel. There were many kinds of truffles such as Oreo truffles, chocolate truffles and vanilla truffles. Next to the eight-foot case was a four-foot case of fudge, fresh and soft from being made that day.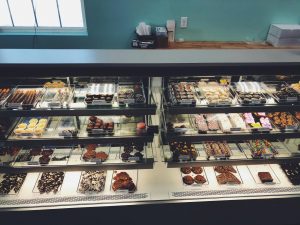 At the front of the store was one of the most exciting parts for me. An extended counter was there with many smiling, friendly faces ready to serve not only delicious ice cream but also edible cookie dough. I was able to either get the ice cream and cookie dough separate or together in a cone or bowl. I loved it. 
Behind the counter is a big area where they sell 50 flavors of homemade popcorn. These flavors include fruity flavors to chocolate flavors to regular popcorn such as buttery or cheddar popcorn. I thought it was incredible to have so many flavors for popcorn; some I did not even know existed as a flavor. 
Besides all the delicious treats all around me, the shop was bright. The walls were covered in "sprinkle" designs and neon strips and color. I felt as if I just walked into a Willy Wonka factory. 
It took me forever to decide what I wanted. I walked around and around the store, looking at all the options, and wanting to buy the whole store. I decided first I should get a soda, as the bottles were cool looking and soda was a rare treat for me. I went with the grape soda with a "Route 66" label on it for $2.99 My friend went with a root beer bottle with two adorable bulldogs on the front. 
After picking out our sodas, I decided it was time to get some ice cream and dough. There were various flavors of ice cream, some filled with candy and little treats, while others were plain and simple. After much deliberation, I decided to go with dairy-free ice cream for $3.00 so I would not feel sick later. The Mango Coconut ice cream stood out to me. It was a bright yellow and looked creamy and cold, sitting in its container. After asking for the Mango Coconut, the employee serving me asked me an odd question. "Have you ever seen a magic spoon?" I was confused and said no, as I did not know what she meant.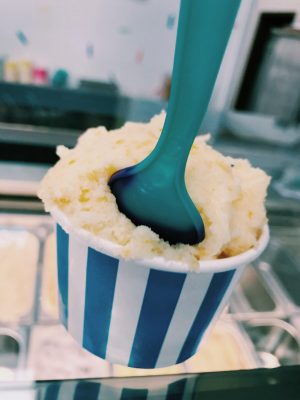 This was the coolest part of the trip. I watched as she took a blue spoon and stuck in my ice cream, and it turned purple as soon as it touched the coldness. I was thrilled by it and felt as if I was once again a child as I clapped my hands and laughed at this "magic trick." 
After getting my ice cream, I thought it would be best to try some cookie dough to get the best experience I could. I chose to go with the brownie batter as I love brownies the most out of all baked goods. Once again, the employee pulled out a "magic spoon." This time it was white, and when she stuck it in the batter, it turned into a rainbow spotted spoon. I was smiling from ear to ear at the spoon as I had never seen a color-changing utensil. 
I then went to the chocolate case and asked to get some of the chocolate. I got a pretzel covered in M&M's and chocolate and an oreo truffle. Each was $1.25. 
Walking to the front, I was overtaken by the smell of the popcorn, and my friend and I decided to get a small bag of popcorn to share. I got the Omaha Mix, caramel and white cheddar mix. It cost me $3.49. It came in a small plastic bag with its bright and colorful logo plastered on it. 
The shop had nowhere to eat inside it, and because of the pandemic, we could not eat inside anyway. We went back to my car and ate the ice cream before it could melt. My ice cream was one of the most fantastic things I have ever eaten. It was rich in flavor and the mango and coconut paired well together, giving me a Hawaiian vibe as I ate it. I felt as if I was on a hot summer day relaxing while I ate it. The spoon added more magic to my ice cream, and in about 10 minutes, I had finished my scoop of ice cream. I decided to save my brownie batter for later, along with my other food.
When I got home, I opened up my bottle of soda and was amazed at how good it tasted. It quenched my thirst and was an excellent fruity, grape taste—sweet, yet also a bitter taste to it. I love grapes as a flavor and was happy with the outcome. 
A while later, I tried the brownie batter, and I was able to save it for a couple of days to snack on at home by putting it in my freezer. The cold batter was delicious and plentiful. I thought it would be best warm, so I warmed it up and tried it again. My taste buds were dancing with happiness at the heaven I just put in my mouth. The chocolate chips were slightly melted and oozed on my tongue while the batter was smooth and creamy. I was in love with it.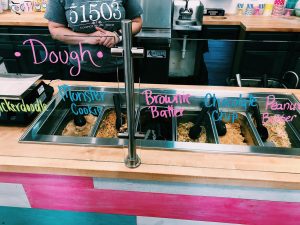 I shared the popcorn with my friend and family. The popcorn was almost a crystallized coating. Biting into it was like biting into candy, and I munched happily on it. Both the caramel and cheddar had the crunch to it, and they were sweet put together. I loved that it was fresh, and I could taste the difference between the fresh, homemade popcorn compared to the chemically made popcorn sold at stores. 
Lastly, I tried the pretzel covered in M&M's. The chocolate was bittersweet, and with the M&Ms on it gave it a sweet taste. Being on the pretzel gave it a salty taste, and the mix of salt, bitterness and sweetness was perfect. I was happy with my choices and happy the food was able to last so long. 
This is my favorite dessert/candy place I have been to, and I plan on taking my friends and nanny kids on the "mini road trip" to explore the place. It is a high recommendation for everyone to go here as it has something for everyone. I give this five stars.
About the Contributor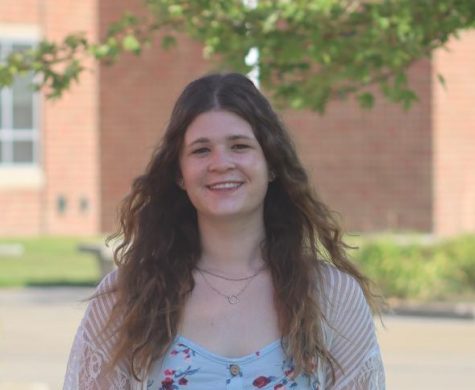 Annalise Smalley, Staff Reporter
Annalise is a senior at Millard West and is returning for her third year on the CATalyst. She loves writing food reviews for new restaurants and doing...