Our home state is also affected
Nebraska's response to combat COVID-19 pandemic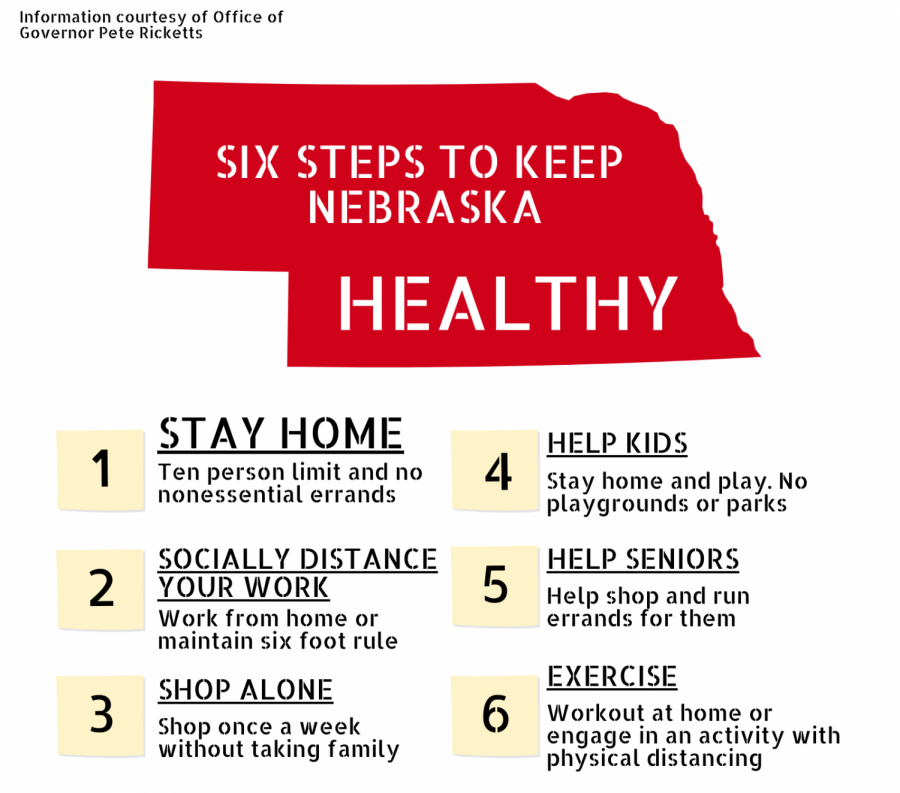 Since the beginning of the global pandemic, Nebraska has been able to fall behind most states regarding the number of confirmed cases and coronavirus-related deaths. Ever since schools have closed, COVID-19 has been a hot topic amongst individuals. Fortunately, Nebraska is ranked 40th among states in COVID-19 deaths per capita, as reported by Henry Cordes, a writer for Omaha World-Herald. While this is significant for Nebraskans, this does not mean the rate of infection is slowing down. As of April 13th, Nebraska's Department of Health and Human Services reported 871 confirmed cases, with 247 of the cases coming from Douglas county.
As this growth in cases pursues, public places are receiving citations for not following state directed health measures instilled by Nebraska's Department of Health and Human Services. Avoidance of social gatherings with 10 or more people have been broken along with citizens trespassing in the now closed city parks. As many as 20 tickets have been issued by Omaha police for individuals trespassing at closed city parks. Following Omaha Scanner on Twitter, up to date coverage on the number of compliance checks regarding social distancing have increased as Nebraska does not have a stay-at-home order for citizens making it one of the seven states where governors have not issued mandates. Governor Pete Ricketts continues pushing state directed health measures, but cases are still on the rise.
With the lack of a stay-at-home order, citizens continue to venture out even as non-essential businesses and schools are closed. Because of this, the number of confirmed cases is only expected to grow as Nebraska's peak in the pandemic is projected to be May 3rd, as displayed by Institute for Health Metrics and Evaluation. While there is no stay-at-home order, citizens have begun wearing face masks following recommendations from the Centers for Disease Control. As stated, "CDC is additionally advising the use of simple cloth face coverings to slow the spread of the virus and help people who may have the virus and do not know it from transmitting it to others." Many Nebraskans have followed suit by making their own facemasks and wearing them as they continue doing tasks in places where social distancing is hard to maintain such as in grocery stores and pharmacies. 
Testing for COVID-19 has improved in Nebraska, but that does not mean it is unlimited. Nebraska Medicine states in their testing guidance state "Testing should be reserved for those who have symptoms typical of COVID-19 (cough, fever, shortness of breath), those with severe symptoms, or those with a combination of the symptoms listed above." For individuals who are sick, it is recommended they quarantine for a 14 day period. If symptoms worsen, consulting a health provider and continuing to follow local healthcare guidance is recommended. 
For Nebraska, continuing to practice state directed health measures is the best solution as the shift from daily life to pandemic life continues. In order to keep Nebraska healthy, citizens must follow recommendations made by healthcare professionals and departments for health
About the Contributor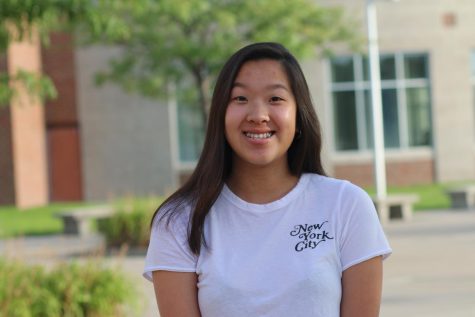 Michelle Zhang, Opinions Editor
Michelle is a junior back for her second year of writing for The Catalyst. Providing a touch a humor in each piece, Michelle intends to make each of her...