Man, at least you're on the radio
Cage the Elephant produces a Grammy award-winning album Social Cues
Cage the Elephant consists of five studio albums. Recently their Social Cues won a Grammy for best rock album. Starting as a garage band they are now leaning towards alternative modern rock with a touch of the 70s and 80s rock. This band always have been radio-friendly with lots of experimental taste. These tracks are about the high price artists pay for success and how exhausting it can be. 
The first Track "Broken Boy" sets an edgy feel to create the emotional mood for the album. Starting with a fast pacing manic beat about being forced to live in his skin. This is electrifying kick the album off with an expeditiously ride leaving the listener questioning why he is broken. 
"Social Cues" is one of my front runners. It portrays the glamorized rockstar lifestyle, how once an artist reaches success in life nothing else matters to people. This indicated a message but in a modern indie-rock tune, that makes the listener want to get up and move. "Social Cues" is one of the more well-known songs and radio-friendly on the album. It's facing the painful reality of being a rockstar with lines such as "Hide me in the backroom, Tell me when it's over. Don't know if I can play this bar much longer" shows that being a rockstar isn't always glitter and gold. 
"Black Madonna" is the next magnetizing beat. This track only gets better and deserves the replay button. One of the stronger points in the album with a slick groove, hitting the listener with, "Call me when you're ready to be real" creates an artistic tune.  
"Night Running" has a hip hop, reggae beat. This track forms a thick and grunge beat. It drifts from "Social Cues" and "Black Madonna" creating a more straight forward song. 
"Skin and Bones" brings into ease in from "Night Running". "Skin and Bones" has imagery and a nostalgic sound. This track has a nice tempo and the outro is my favorite. "If I fall I'll tuck and roll, close my eyes and let the love light guide me home, Let the love light guide me home" verses like this gives off a melancholic vibe. 
"Ready to let go" is one of the tracks that stand out. With the bloody, eerie music video, it gave people the creeps. This deserves a spot on a playlist. This song was based on a trip to Pompeii, Italy, which Matt Shultz, the lead singer, was with his current wife, Juliette on this trip. Which this leads to questioning their marriage which was unraveling leading to a divorce. This song is a perfect represents the resisted change. Lyrics such as "I was blue your dress was red, ain't it strange? We both knew this day was coming." This song had a bright vibe but with undertones of sadness and how change can be good even if we don't want it.
"House of Glass" brings a fast-paced upbeat song to the table. This song shows there origin of the rock they came from. With lots of basses and easy lyrics, it creates a solid piece of their work.  "Love's The Only Way" has a more slow pace and maturing sound. It reminded me of their older track such as "Trouble" from "Tell Me I'm Pretty." It has an echoing calming lyrics which brings lots of diversity to the album. 
"The War is Over" starts with a lower tone with a sound alternative. It's a clean solid track and it has a nice groove compared to the other tracks. "Dance Dance" has as 60s techno vibe. This stands out and even the instrumentals are stunning. They create an older sound that anyone can vibe too. 
"What I'm Becoming" has the unique slow sound the same as the "Loves The Only Way." This song portrays the overwhelming emotional journey he has gone through and takes it's slow. "Tokyo Smoke" starts with an edgy rough sound and brings the life back to the album before it ends. This burst of excitement ends with a soft slow track. "Goodbye" represent the heartbreak people face. This is such a gem of pure raw emotions and very touching. It ends with a soft burn and leaves the listener wanting the excitement again. 
Cage the Elephant has created an album that tells a story that will fill the listener with rage, excitement, and emptiness. The award-winning album beats other artists for their unique style and how it changes through the album. From past tracks such as "Ain't No Rest for the Wicked" Cage the Elephant has done it again, telling a story within three minutes. I truly think anyone from any age can enjoy this album with the deep meanings and the throwback styles. 
Social Cues is a creative storytelling album that should be on your next playlist.
*****/5
About the Writer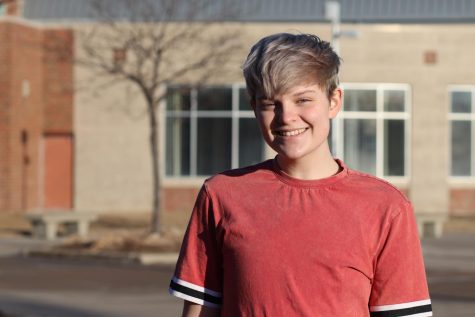 Haden Batchelder, Staff Reporter
Haden Batchelfer is a junior and this is his first year on the CATalyst staff. He spends lots of his free time doing photography, screenwriting, and editing...