Giving brownies a new name
A cafe opens up in downtown Omaha with a twist
Around Omaha, people can find many restaurants that sell homemade cakes, cookies, donuts and pastries, but few have been able to find a place that sells a homemade brownie decorated to one's own liking. Brownie Bar, a recently opened cafe located off 13th St and Leavenworth brings a classic dessert with a twist. Brownies covered in a thick, homemade frosting and flavorful sauce. 
Brownie Bar opened on November 12th. The owners used to work at the Omaha Farmers Markets. They were selling their brownies and made local tea and coffee to many people when they had the idea to open up a place of their own. The idea was created when they realized everyone was making cookies and cakes, but no one was making brownies to sell. After their opening date, they have been busy making brownies, designing new flavors, and serving their customers the perfect drink.
Going to the Brownie bar, the owner will show the customer the brownies and then they are able to choose the brownie flavor and the topping(s).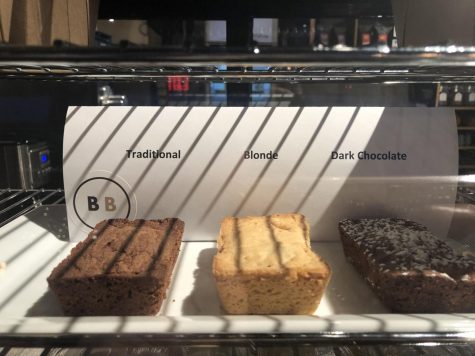 Brownie Bar offers three versions of their brownies: traditional milk chocolate, blonde bar or dark chocolate for those who want a taste of rich chocolate. The flavors for frosting include Buttercream frosting, a rich buttery white frosting, Chocolate Mocha for the coffee lovers, Butter Mint which is a twist on mint frosting as it has a strong butter taste, and Peanut Butter, a strong frosting fill with peanuts and sugar. One of their seasonal frostings was the candy cane frosting, a light pink frosting tasting of peppermints. 
If wanted, customers can add a topping of housemade sauce. The favorite sauces of the cafe are Raspberry Compote, a reddish sauce that tastes of sweet berries and honey and Dulce de Leche, sweet milk sauce that tastes of rich caramel. The other sauces include Strawberry Compote which tastes of fresh strawberries, and Fudge sauce, a light chocolate flavoring. 
After finding a place where I could design my own brownie, I was hooked and went with a friend to see how delicious this place was. 
Walking in, the Brownie Bar was a cute, quaint restaurant with four long tables pushed against the walls. I instantly smelled fresh brownies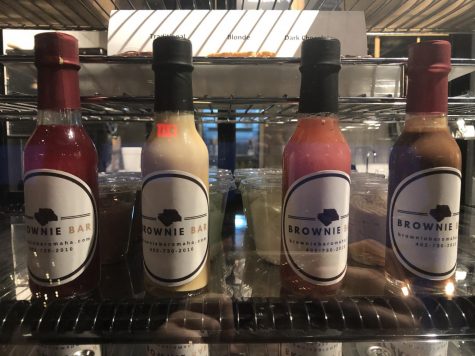 and brewing coffee and tea. Going to the counter, I was overwhelmed by deciding what brownie I wanted and what was going to go on top. The owner offered me samples of the frostings and sauces to make my decision easier, and I happily obliged. I was given samples of the Raspberry and Dulce de Leche sauces and the candy cane frosting. After a while, I finally decided on the Dark Chocolate brownie with Candy Cane frosting and a Raspberry sauce on top. In total, it cost me $5.50.
I got to watch as they frosted my brownie and covered it in sauce. I was then given my brownie and an extra sample cup of sauce. 
Sitting down at one of the tables, I quickly dug into my warm, sugary brownie. I was happy with my pick of the Dark Chocolate brownie as it was the perfect taste of chocolate and wasn't too sweet or rich. The frosting gave it a holiday twist and brought me back to the memories of eating candy cane cookies and peppermint sticks during the holiday season. The Raspberry sauce gave it a fresh fruity taste to it and was more sour than sweet, which helped to even out all the sugar I was taking in. The sauce brought me back to the times where my family and I grew raspberries over the summer and would have a simple dessert of brownies and fresh raspberries on the first day they bloomed. 
Brownie Bar is a place for all people who are looking for a new cafe to eat. They serve food that tastes heavenly and brings back memories of baking brownies and eating them warm and fresh from the oven. I would recommend this place to anyone who is looking for a new dessert place to eat and would give 5 stars to the cafe and the baker who made the brownies so perfectly.