The future of playwriting
Students write and direct their own plays
Students currently enrolled in Advanced Theatre are taking creative control by writing and performing their own plays. The plays were performed on December 12 after school in the Black Box.
The class was asked to write a nine to 12 page script that involved two to four characters and must range from eight to 20 minutes. There were very few guidelines in place, allowing the students the ability to express themselves and what they write. The prompt asked each student to focus on real and honest responses.
 The Wish by Ainsley Olsen tells the story of a station that records wishes and assigns agents to fulfill each wish, Gwen just wished for something heavy.
"Story writing, in general, is a way to help me express my thoughts and general creativity," senior Ainsley Olsen said. "This is a way to really understand the playwrights and how hard it is to write a cohesive script."
Once the scripts were finished the class then read each one and chose three different plays to put on at the Advanced Theatre Showcase. The students of the chosen plays become the directors and the rest of the class was divided and cast in the shows.
 Flight 2490 by Elaina Woods is another comedy that tells the story of two pilots who believe their plane is going down and decide to get certain things off of their chests.
"I started writing by developing the characters first and deciding how I wanted to incorporate details," senior Elania Woods said. "I also bounced ideas off my friends while I wrote at Scooters one night."
After casting each play the focus in class turns to the more technical aspects of the show. This included set design, costume design, finding props, blocking and storytelling. Students that chose not to act in the plays were then tasked with running the technical aspects during the show.
"In Advanced Theatre we are focusing on storytelling with our acting, writing and directing, and so student written and directed projects are the best way to test those skills," Drama director Brooke Phillips said. "It is pretty cool to see these fully student-created works come to life."
The third play, Martha! by Hunter Amos, is a comedy following, the main character, Carl and his budding love for a mannequin. The cast spent two weeks tirelessly working in class and spent time preparing their set and costumes.
"It is cool to make a space for students to begin to learn to create their own work," Phillips said. "This shows them what that feels like in high school, in case it is something that they want to pursue as a career."
The theatre program allows students the chance to experiment and take creative risks. It is a great opportunity for students to express themselves through performing.
About the Contributor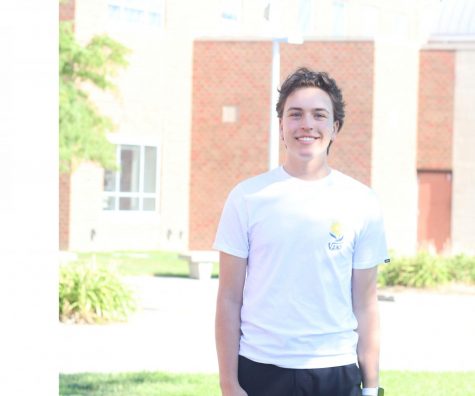 Kaden Roth, Catalyst Online Editor-in-Chief
Entering his senior year at Millard West, Kaden is in his third year producing content for The CATalyst and MWHS Wildcat News. His interest in discovering...