Disney offers new service for customers
New app takes over other streaming apps
Disney has always been a major part of most kids' lives. From waking up in the morning to watch your favorite Disney Movie or your favorite Disney show, to going home after school and watch endless Disney Channel. As kids get older, the same movies aren't played as much, new shows begin to come out while the older shows we grew up with stop playing. Now we have Netflix, Hulu and other streaming apps to play shows but the demand for the older Disney shows and movies to be on those streaming apps was getting higher since they could not be found anywhere. Luckily Disney made an app called Disney + that has all the shows and movies you loved growing up and even more.
Disney + is a streaming app for almost every show and movie ever streamed on TV.  There are a few ways you could pay all having an option of a 7 day free trial. The first option is 7$ a month. Another option to pay is prepaying $70 for the whole year which would calculate to $5.83 a month. They also made a deal with Verizon to give unlimited wireless customers a free year of Disney +. Disney did release a new deal for the price of $12.99 a month which includes Disney +, Hulu, and ESPN+. 
This app launched on November 12th in the US, Canada and the Netherlands. It is now available in Australia, New Zealand and Puerto Rico as of November 19th. In a little more than a day, the app already had about ten million users. It is thought to roll out in most markets around the world within two years. 
The shows and movies range anywhere from the 1920s to now and they continue updating and/or adding new movies and shows every day. They have a wide range of items to watch. They have all the Disney Originals including, Hannah Montana, Lady and the Tramp, Cheetah Girls, Phineas and Ferb and so much more. They included all the Disney Princess movies like The Little Mermaid, Cinderella, Princess and the Frog, Frozen. Marvel and Star Wars movies and extras are also available. They have Pixar movies that include Inside Out, Toy Story, Monsters Inc and many more. They included National Geographic as well. 
The app is a lot like other streaming apps. They give you the option to have multiple profiles for one account. The max number for profiles on one account is seven. When you make the account you can pick an avatar of Disney, Pixar, Star Wars, Marvel character or National Geographic animal. They have over 200 avatars available for use. After you select your character you can anything you would like to remember which profile is yours. They have an option to make it a kids profile to filter movies and shows you would not want your kid to watch. They also have an option to enable autoplay so the next video in a series to play automatically but you can always turn it off if you do not want autoplay. You can also switch the language if you would like. They added a "continue watching" area so if you need to finish a movie or show at a later time you do not have to search for the item you were watching. Disney + organizes items into categories to help you find them easier. 
Disney + is an app where you can find new or old movies and shows featured on Disney Channel for a low price a month compared to other streaming devices. Disney is updating the app every day to make sure it is the easiest to stream for you. With over ten million users and growing, and a wide range of movies and shows, the app will continue to succeed.
About the Writer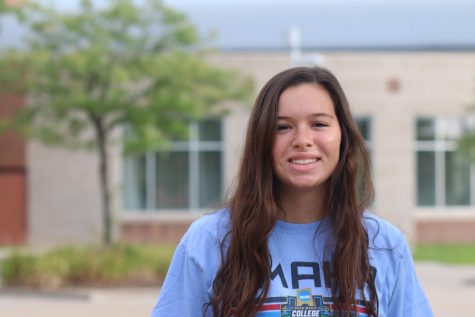 Michelle Miller, Staff Reporter
Michelle is a sophomore at Millard West and this is her first year on the Advanced Journalism staff. Her favorite parts of journalism are Feature stories...