Spicing up the perfect taco
A popular chain of authentic Mexican food opens up a roomier and stylish rerstaurant in downtown Omaha
Many restaurants in America contain ethnic foods such as Mexican and Italian, but finding a traditional restaurant that serves authentic items can be difficult. Voodoo Taco can help with anyone's needs when it comes to eating Mexican food. With two restaurants already surrounding the Omaha area, and a third one recently opened on September 20, 2019, offering everything from carefully wrapped tacos to chips and queso. 
Voodoo Taco, located downtown off of 24th and Farnam St,   is a bustling and thriving restaurant. Walking into the restaurant, there were people at every table ready to be served and eat. Out of the three buildings around Omaha, this recently opened one gives lots of room to its customers which is perfect for get-togethers, football games or a place to eat with the family.
The building has a modern gray look to it with a sign that reads VOODOO TACO. During the night, its glows bright red, attracting all eyes to the sign. The inside contains a bar with a glowing counter and bar stools. Around the restaurant are tables with a striped light and dark brown print. The walls are a neutral color and include graffiti artwork. 
Looking around the restaurant, I noticed lots of creative voodoo dolls to go with their name. The voodoo dolls weren't scary to look at but rather gave the restaurant a different look. Voodoo taco gave off the impression of a classy Mexican bar, yet a place where there is no worry about dressing up and being formal. 
After looking at all the different aspects of the restaurant, my friend and I sat down to decide what we wanted to order. It was a tough decision as everything looked delicious. After looking at the menu for a few minutes, we decided to order chips and queso for $5.85, cheese and rice for $3.75 and a Baja shrimp taco for $4.95. We also each got a regular drink for $2.50. In total, the meal cost me $21.31, which was a great price for the quantity of food we got and the quality of it.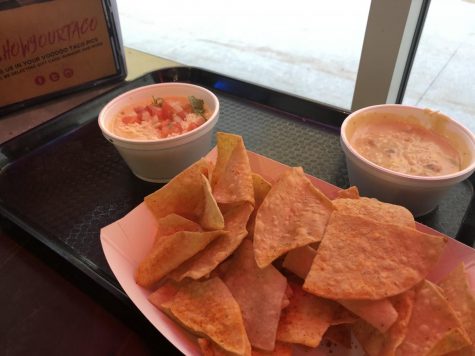 Voodoo taco meal. The chips were covered in a red spice and a dish of cheese sat to the side. Another bowl to the left was the rice and cheese. A creamy mixture of rice, cheese and tomatoes.The first item we got was the chips and queso. The chips were warm from the oven and covered in a dark, red spice that added flavor to the chips, but was very spicy and salty. If I had a choice, I would've asked for not as much spice or for an even spread among them. Some chips were barely covered in the spice while other chips were layered in the spice, making the chip almost too hard to eat. The queso, a cheese dip filled with tomatoes, herbs and small pieces of lettuce was thrilling to the taste buds and was the item I most enjoyed. It was hot in temperature and was thick and creamy. It was savory cheese that tasted fresh and it seemed as if that the people put real work into making it have the best flavor possible. 
The next item we got was the cheese and rice. It was a cup of rice in cheese, tomatoes, chilies and small bits of spinach. The rice was soft and perfectly cooked. The cheese was like the queso dip, except it had bigger chunks of tomatoes which, for me not liking tomatoes too much, made it harder to chew up and swallow. This was my least favorite part of the meal. I think if they would've only had rice and cheese with herbs and spices it would've been perfect. The tomatoes added too much juice to the item and gave it a bad flavor. 
The last food item I got was the Baja shrimp taco. It was a soft tortilla filled with fried shrimp covered in thick layers of breadcrumbs. Rice was stacked on the bottom of it and tomatoes and bright green slices of avocados were on top, giving it the perfect garnish. The shrimp was rich in flavor and crunchy to the bite. It reminded me of my trips to California where I would have fresh shrimp from the Piers. The tomatoes and slices of avocado gave the taco a colorful look to it and also brought spices and juices to the taco, giving it an authentic taste. It was the perfect size to go with my other food options and gave me a satisfying feeling at the end.
Overall, I thought that Voodoo Taco was an outstanding place to eat and find authentic Mexcian food. Eating each bite of the food I ordered, I could tell hard work and effort was put into it to make it the very best. 
Next time I go I want to try the pork taco with the beans and rice. I also would get the chips and queso dish again, but I would ask for less spice or no spice on my chips. I would recommend this place to anyone who loves Mexican food, wants to see a new unique look to a restaurant, or is just looking for a delicious place to eat on game day.
About the Contributor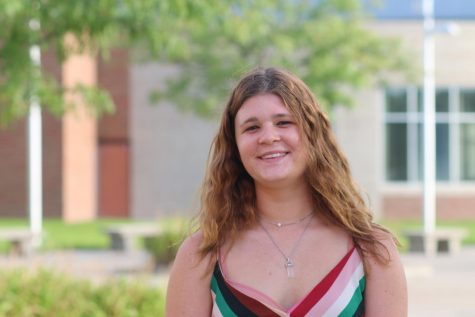 Annalise Smalley, Staff Reporter
Annalise is a junior this year, and is in her second year of Advanced Journalism. She runs in her free time and loves to cook and bake. Annalise has two...