Netflix vs. Hulu
Which is the better option
Netflix and Hulu are both streaming services for movies and TV shows, and there has long been a debate about which one is better. Netflix has been around since 1997 and Hulu since 2007. Most people have an opinion about it, but I'm going to tell you mine based on facts.
Compared to Hulu, Netflix is expensive. At $12.99 per month is where Netflix sits on its price, whereas Hulu is anywhere from $5.99 to $11.99 depending on what you want, Ads or no Ads. If one wants to decide solely based on price Hulu is the better option, but there are more factors to consider. Also if you have Sprint you are given the option to have Hulu for free along with your phone plan.
Netflix had a recent hike in its price from $10.99. They say it's due to "making the Netflix experience better." I get it creating your movies and TV shows are expensive, but I haven't seen credible changes in Netflix lately. They are even losing shows that are the two most watched shows on Netflix, The Office and Friends, are moving to other streaming services. Hulu doesn't even have those shows in the first place. So maybe that's more of a bittersweet concept because they won't have to lose them.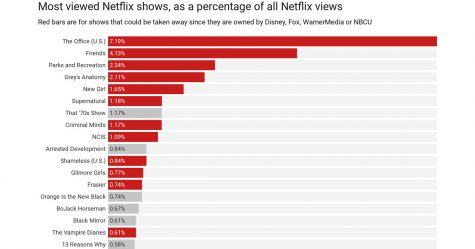 In 2018, there were about 700 Netflix original content including outside the United States version of Netflix. Whereas Hulu only has seven original contents, but do people want original content is the actual question. I do, however, like some of the Netflix originals. I've never seen any of the Hulu originals so I can't say anything about those.
As stated by Fortune.com, "a research firm, 7Park Data, found that more than 80% of Netflix streams were for licensed content, that is, shows like 'The Office' . . . 42% of subscribers watched little or no original Netflix content." despite releasing 88% more original programming in 2018 than 2017, viewers still preferred to watch classic shows on the platform. 
Netflix originals are usually alright. From their movies to their TV shows I would say I like very few of them. 
According to Forbes.com, The average subscription costs the consumer $10 per month, which puts billions in revenue back into the company for programming, marketing and technology. Between this revenue and the billions Netflix borrows, Goldman Sachs, an American multinational investment bank and financial services company, estimates that Netflix could be spending an annual $22.5 billion on content by 2022.
That's a lot of money that they're spending on just original content. They should dial down the spending on those and work on getting other shows that more people would like. With about 700 original content you think they would say that's a little too much. I get that they can't just discontinue shows that they have already started, but maybe if they just took a break from creating anything new.
Netflix offers 1,569 shows as of February 2018, and the number of movies offered has decreased from 6,755 in 2010 to 4,010 in 2018. Hulu has not stated the size of its library, but it is estimated that they have around 1,650 shows and over 2,500 films.
Hulu may seem like a better idea so far for people living in the United States, but if you live anywhere outside of the US you won't be able to access Hulu. Whereas Netflix is offered in 190 countries. The four countries that Netflix isn't available in are China, Crimea, North Korea and Syria.
As most people now know Disney is creating their new streaming site Disney + later this year (around November) and is yanking their ties with Netflix. Recently Disney bought Hulu so you will be able to use Disney + as a Hulu add on if you choose along with the stand-alone app, but it would be a lot easier because you would be able to keep everything in one place.
If you want Disney+, ESPN+ and Hulu, Disney will offer a bundle that will include all three. The bundle will cost $13 a month, which is $5 cheaper than subscribing to all three separately.
According to everything stated above the better streaming service is Hulu. Because of the pricing and better show/movie options. As well they will be a part of Disney + and ESPN +. It is a better option for a family or just the average person.