Passion to Practice
Commitment that shows for sophomore golfer
Hang on for a minute...we're trying to find some more stories you might like.
All is quiet on the course until you hear a golf ball being hit into the air towards the hole with the strength of a nine-iron. Watching as the ball finds its target on the green, the focus shifts to how to proceed to get a low score. For sophomore Blake Skoumal, this would be a regular day on the golf course. The thoughts running through his mind are all centered around the idea of winning another medal.
As well as his current spot on the Millard West Varsity Golf Team, Skoumal has found time in his schedule to participate on the lacrosse team in the fall, become an officer for the NHS club and he is a part of the Wig Show Choir group which is the top team that singers can make.  
For many people, committing to one high school activity can be difficult, but Skoumal has found time to participate in everything he wants to as well as keep his grades where he wants them to be.
"It is difficult to juggle both golf and school due to the amount of school days that we miss for our tournaments," Skoumal said. "I have to work extra hard to get all my school assignments done after practice or tournaments, but all of my teachers are very understanding, especially about my absences. They help me make up in class work whenever I need to."
The commitment that Skoumal has for school and sports goes beyond what most people would expect from a sophomore. The thought of college is usually still far from the minds of underclassmen, but Skoumal is already thinking about how he can further his golfing career into college.
"I would love to golf in the future," Skoumal said. "It would be amazing to get to golf in college and even continue to play for fun after college. As the time gets closer, I'm planning on applying for athletic scholarships through golf because there aren't many other people that do it."
In order to get closer to his goal of winning more medals and possibly getting to play at the State Championship, Skoumal works year round. During the high school golf season, Skoumal works with his teammates and his coach, Eric Little, to improve his skills. Unlike other Millard West Golfers, Skoumal uses monitors to practice his hitting at indoor facilities in the winter. Over the summer, he participated in competitive tournaments through the Nebraska Junior Golf Tournament.
"Blake is doing everything that is asked of him and currently leads by example," Little said. "As his coach, I can see his improvements after getting himself committed to golf in the offseason. In due time I would like to see Blake take on a more vocal leadership role within the team. Blake's future both on and off the course looks bright as long as he continues to love the process of getting better each day."
The hard work that Skoumal put in during winter months and the weather delays payed off during his high school season. The two tournaments that Skoumal has competed in so far have ended with good outcomes. He placed and won medals for his accomplishments in both tournaments.
After working hard on the Millard West JV Golf Team, Skoumal's talent was recognized when Little asked him to move up to play on the varsity team. Getting to play with upperclassmen was only a goal in the beginning of the season.
"I won a playoff to play on the varsity team and in both of my tournaments I shot the best on the Millard West team and medaled," Skoumal said. "I got second place at the Millard West JV Invite by shooting a 78 and I got fifth place at the Millard South Varsity Invite by shooting a 81. In my opinion, this season has been really good for me so far and I hope to continue playing this well for the rest of the season."
Being part of the varsity team is something that Skoumal has been hoping for since he started to become passionate about golf. The beginning of his interest in golf start at a young age and has only grown since.
"I've been golfing for as long as I can remember," Skoumal said. "I picked up a plastic golf club at only 18 months old and hit a plastic ball around the house until I was old enough to start golfing with actual clubs. My dad was the one who finally decided to let me start playing competitively. He is my biggest supporter and he always wants to know everything about my golf round once I get home."
Golf as well as all the other activities that Skoumal is involved in, has already made a big impact on his life. He is hoping to continue with his passions throughout college as well as into his life. His scores so far this season have shown his talent as well as his commitment to his passions.

About the Writer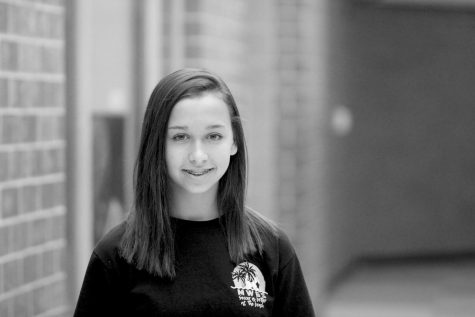 Kiersten Watkins, Staff Writer
Kiersten is a sophomore and this is her first year on the Advanced Journalism staff. She enjoys taking pictures of different activities. Along with journalism,...