Horrible Harry Returns
Millard West alum and Buffalo Bills defensive tackle returns for push-up contest
Hang on for a minute...we're trying to find some more stories you might like.
Cheers flooded Wildcat I as former student Harrison Phillips made his way to half court. Sporting the old No. 66 jersey from his days with the Wildcat football team, the current Buffalo Bills defensive tackle made it look as if the odds were heavily stacked against his competitors.
On Friday, Feb. 8th, during the girls varsity basketball game, Phillips, who recently finished his first season with the Buffalo Bills, returned to Millard West to catch up with former teachers and coaches, support the girls basketball team and compete in the halftime challenge.
The other contestants included principal Greg Tiemann, athletic director Lance Smith and several basketball parents. Harrison reached 54 pushups in 30 seconds, passing his goal of 50. However, Quinn Osborne, whose daughter, senior Katelyn Osborne, is on the girls basketball team, recorded 56 pushups and took home the $100 prize.
"I was a little intimidated going against an NFL lineman," Tiemann said. "But you have to do stuff like this, even if it's a little embarrassing, for the fun of it."
Phillips has always said that anytime he's in Omaha he would be honored to return to Millard West to speak to students or participate in events like the push-up contest.
"I think it's an honor for us as a school that students had such a fun memory of their school," Tiemann said. "It says a lot about the school, the experiences and friendships and the overall success we've had here. He wants to come back and thank people. I think that says a lot about him. It says a lot about us as a school as well."
Phillips credits Millard West for helping him get to where he is now.
"I think my time here built a really tight circle of friends and the people around me who helped motivate me and believed in me," Phillips said. "When I went to Stanford, I went out there on my own for the first time and I think they prepared me enough that I was ready to handle that."
His advice for students looking to succeed in their academic and athletic careers is simple: go above and beyond what's expected.
"Maximize your time as much as you can," Phillips said. "There are people here at Millard West who want what's best for you, so if you are clear and concise with what your goals are, they'll try and do whatever they can to make those goals come true. Also, just take it a step further knowing that if your whole team is doing a workout or your whole class is doing the same review academically, make sure you do something to go above and beyond that. Whether it's making your own flashcards in the academic part, or after your workout or practice your stay and get some extra reps in just to try and separate yourself."
Phillips will be back on March 8th to speak to students at an all-school assembly for Unified Sports.

About the Contributor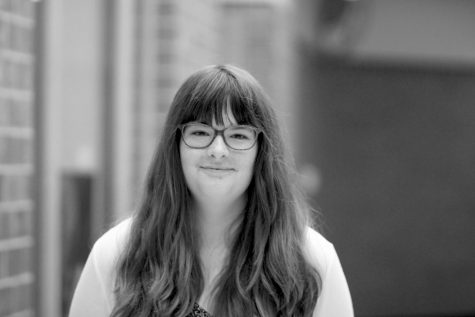 Tenley Wright, Staff Writer
Tenley is a sophomore and this is her first year on the Advanced Journalism staff. She uses her free time to improve her photography and writing skills....