Academy Opportunities Open New Doors for Students
Hang on for a minute...we're trying to find some more stories you might like.
Students in Millard are interested in the medical field, teaching and business have an opportunity to take part in the Academies. Students are able to get college credits before graduating high school, although, these classes are different than the AP or dual enrollment classes that you'd take. Each Academy has classes from a combination of Metro and UNO and a year of college could be cut off after taking these classes.
When joining during junior year, you are strongly encouraged to stay participating for the full two years. Teachers want to make sure the students are positive they want to switch or drop out before they make that big of a decision. They do however, let students switch to a different Academy if they feel another one would fit them better.
The Academy has four different routes students are able to take depending on their interests. The four of the academies are Health Sciences, Entrepreneurship, Distribution, Logistics and Education. The listed academies cover the four basics of what most high schoolers are looking to become or go into during college. Many smaller majors can come from the Academy that students choose.
During the students sophomore year is when the process to apply begins. The first step is attending the information presentation during school in the auditorium. At the presentation, they give interested students a form to fill out telling them which Academy they're interested in. A parent meeting is a couple weeks later that parents are encouraged to go to in order to find out more. Then, there is an open house for the specific academies and on their website is a form that needs to be completed. When turning the application in, they will give students a card telling you the date and time of their interview.
Health Sciences is one of the most popular Academies. In this Academy students learn more about how it would be to work in the medical field. During this experience, students earn their CNA and are able to do some internships. One of the opportunities is getting to ride in the ambulance and assist EMTs by helping work on the patient. A few of the classes taken during this Academy include: Human Anatomy, Medical Law and Genetics. Sophomore Grace Caniglia wants to go into the Health Sciences academy this coming year.
"I'm not exactly sure what I want to do in the medical field, but this will allow me to experience different experiences," Caniglia said. "My brother was in the hospital a lot in years past and so I was there a lot as well. I saw all the doctors and nurses helping him and I decided I wanted to be able to help others in that way as well."
Millard also offers an Entrepreneur Academy. This teaches students how to own and run a business, market a business, control the income and outcome, buy supplies and maintain the business. The classes for this specific academy include: Accounting, Introduction to Business and Introduction to Entrepreneurship.
Another Academy offered is Education, where students are able to learn about child development and how to run a classroom. Students have the opportunity to choose from a variety of elementary and middle schools in the area to intern at. This allows students to experience what it is like to run a classroom. They are assigned projects that help them prepare for the work that is required as a teacher. Some of the classes taken while in this academy are Child Development, Professional Speaking and World Religions. Sophomore Kayla Nunnenkamp is interested in a future teaching career.
"I want to go into the Education Academy because I have been very interested in teaching from such a young age and I have a strong passion for it," Kayla Nunnenkamp said. "I'm excited to get new experiences along with ideas for teaching in the future."
Lastly, they offer a Distribution and Logistics Academy. Students learn how materials are shipped and delivered to different businesses. Students learn how to keep inventory of what materials are in stock and what are needed. Some of the internship destinations include Union Pacific, Fat Brain Toys and Werner Express.
Interviews for the Academy start January of 2018 to decide on new members. Good luck to all those applying.

About the Writer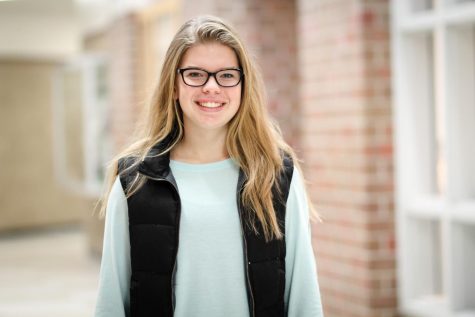 Kaitlin Kocis, Staff Writer
Kaitlin is beginning her first year as a staff writer. She is interested in writing hard news, feature stories and opinion stories. She is involved in...