On Oct. 2, The President's Own United States Marine Band performed at Millard West in Wildcat 1 as a part of their 2023 tour. 
West was the band's first location, as they will be busy performing throughout October and into the beginning of November. The band has been playing music for America since 1798, performing for former President John Adams and Thomas Jefferson. The President's Own director during 1880-92 was the first to make sound recordings. The people who make it into the band enlist in the Marines for the sole purpose of being a part of the band. Band members of The President's Own are some of the best musicians in the country. They have put on over 500 public and official concerts. As for the decision for the concert to be held here, a representative for the marine band reached out and contacted Millard West's band director, John Keith, about the possibility of hosting the concert at the school. After speaking with the school staff, he determined that they could make it happen. From there, they began planning.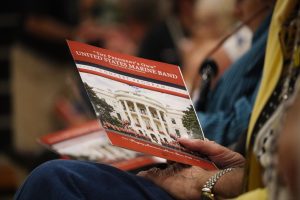 "Having the opportunity to host and hear one of the best concert bands in the world was an amazing experience for our students," Keith said. "They were exposed to great music literature performed at a very high level. I hope it increased their love of the music and inspired them to continue to practice and develop as musicians."
Around 2,000 tickets were issued for the concert. The band divides the U.S. into five regions and visits those regions once every five years, performing annually for the U.S. people. Taking video of the band was not permitted, but even still, the concert was memorable for all who attended.
"The concert was inspiring, especially to those in music here at West," sophomore Alex Johnson said. "One of the marines sang with the band, which was really beautiful."
In addition to watching the performance, students were also able to ask the Marine band members questions during a clinic that was put together for the varsity band.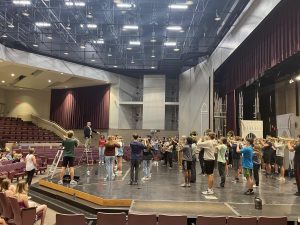 "Considered one of the best concert bands in the world, it was an honor to have the opportunity to listen to the music they created," junior Julia Maroon said. "They gave us plenty of tips about how to improve as musicians and told us the paths they took to get to where they are now. It was quite fascinating. As a musician, it inspired me to want to continue doing music in college."
The Marine Band has put on shows all throughout October and will be putting together their next annual show for the west coast in 2024. Millard West hopes to host them again the next time they perform for the midwest in 2027.