The battle
Millard West soccer mid season review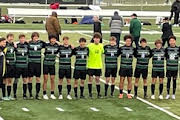 So far, the Wildcat soccer team has played 12 games, battling it out against many high ranked schools. Through these games, Millard West has been able to come out victorious six times, giving them an even 6-6 record on the season.
The first game Millard West played was against Bellevue East. This was a nice kick off                            to the season for the Wildcats, as they pulled ahead early in the game, and eventually took down the Chieftains with a score of 5-0. Following this, they hosted their first home game of the season, against Lincoln Southwest. This game was rough for the Wildcats, as the Silverhawks pulled ahead and only let up one Wildcat goal, made by senior Parker Siebken. This game was eventually lost 3-1 and gave Millard West a record of 1-1.
"The team has done very well in rising to the challenges presented this season," senior Cody Fuller said. "We have had to overcome many injuries, but we are still connecting passes well, and still have an optimistic attitude."
The Wildcats' next two games were away games against Papillion-LaVista and Gretna. Although the Wildcats played similarly in both games, the outcomes were very different. In the first game, the Wildcats quickly got ahead, taking home a 4-0 win. However, it wasn't the same in the second, as the Dragons bested the Wildcats 3-0. Following these games, the Wildcats traveled back home to play two Omaha schools. The first game was against Omaha Central and the second was against Omaha Northwest. Millard West dominated in both games taking home a 2-0 win and another 5-0 blowout. Through both these games, one player on the Wildcats, senior Johnson Lu stood out, scoring four combined goals.
"I think we've definitely improved since the beginning of the season," Lu said. "We've had to adjust our positions and formation while also having to deal with a lot of injuries."
The next games did not go as easy for Millard West, as they fell to Skutt Catholic and Bryan, 5-0 and 1-0. At this point in the season, the Wildcats were 4-4 and going into a game against South Sioux City. This game was a home non-district game, and brought the Wildcats back yet another win. Following this win, the Wildcats played an away game in Des Moines, where the ending score was 1-0 in favor of Valley High School. Finally, Millard West played Dowling High School on Saturday, April 16 and Omaha South last Tuesday to bring them to a match happening today against Creighton Prep. The first game against Dowling was won during penalty kicks, and in the game against Omaha South, Millard West fell short of a goal to bring them to a current record of 6-6.
"We need to work on being consistent in our game, that depends a lot on a lot of external things," coach Juan Aguirre said. "The team got better in each game but sometimes it depends on a lot of things, injuries, etc."
Other important highlights this far are Lu totaling seven goals and averaging 1.4 goals per match. Along with this, Lu has got three assists and is at 17 points for the season. Following Lu in scoring is senior Jonah Crosby with two goals so far.
All in all, the Wildcats have had a steady season this far and look forward to the upcoming games. They only have so many games left, so every minute counts.