Wildcats take on State
Varsity cross country competes in final meet of season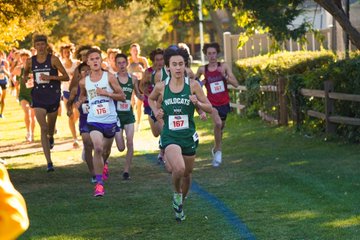 Fourteen Wildcat runners traveled to Kearney Country Club on Friday, October 22 to compete for their final time this season. Millard West Varsity Cross Country has been working all season for this race. It is the most important race of the fall: the NSAA Class A State Cross Country Championships.
The boys varsity team has taken home over five first place finishes against some of the most competitive schools. Likewise, the girls varsity team has shown promise placing first in over two meets and working through challenges during the season.
Millard West took on ten other schools including Fremont, Creighton Prep, Lincoln East, Elkhorn South, Gretna, Papillion La-Vista South, Lincoln Southwest, Lincoln Pius X, North Platte and Norfolk.
The Wildcat boys sent seven runners to the race, all of which combined to get the team a score of 69. Junior Pierce Marshall took first for the WIldcats and fifth in the overall race with a time of 16 minutes and 11 seconds. Sophomore Jack Witte was right behind Marshall with a time of 16 minutes and 30 seconds, getting him 15th place in the race. Following him was sophomore Porter Brickley with a time of 16 minutes and 47 seconds and junior Joey Hartnett three seconds later. 
"It felt empowering to finish first for our team at the state meet because it gave me a boost of confidence for the following races and next season," Marshall said. "I will hopefully be able to lead our team in a few more races in the near future."
Placing 31st for the Wildcats was senior Seth Fey with a time of 17 minutes and 14 seconds. Right behind Fey was senior Cole Haith who gunned it past the line nine seconds after for 45th place. Compared to his previous races, senior Sam Kirchner placed lower than usual with a time of 17 minutes and 23 seconds, coming in last for Millard West.
"Our team probably could have tapered more," Fey said. "Our team is in good shape, but I believe we are overworked and tired. Our team is great with accountability whether that means you make sure your teammate does the workout they missed, or whether you tell them to back off the run."
The Millard West girls team sent seven runners as well, and came out with a score of 140. Junior Isabelle Hartnett placed first for the Wildcats and tenth in the overall race with a time of 19 minutes and 34 seconds. Following her was sophomore Brianna Hernandez with a time of 20 minutes and 28 seconds. Seniors Sammi Vojslavek and Sydney Beaudin were shortly after her with times of 20 minutes and 41 seconds and 20 minutes and 46 seconds respectively.
"I think I improved a lot and learned more about myself as an athlete and I'm happy with how the season turned out," Vojslavek said. "I think I could have pushed myself more during the 2-3k because it was a tough point in the race, and I think I could've potentially passed a couple girls."
In fifth for the Wildcats and 44th in the race was freshman Kate Ebmeier with a time of 21 minutes and 1 second. Junior Sammy Ullman came behind her in 64th with a time of 21 minutes and 26 seconds. Finally, in last place for the Wildcats was Callie Kirchner with a time of 21 minutes and 58 seconds.
"A lot of people were satisfied with their races at State," Ebmeier said. "As a girls team, one of our main goals was to just make it to State, and although we didn't place in the top three, we were very close. Even making it there shows what a strong and fast group we have."
With these times, the boys team was able to place second in their meet right behind Fremont. The girls team stayed consistent with most of their times this season and were able to secure a fourth place finish in the meet.
The Wildcats wrapped up their season last Friday, but they still have the NXR Heartland Regional Championships coming up on Sunday, Nov. 14. This will take place in Yankton Trail Park, South Dakota.