Wildcats battle 13
Millard West Varsity Golf Team plays strong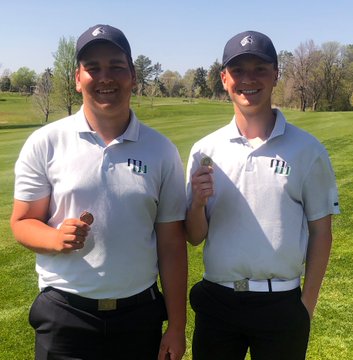 On Thursday, April 29, the Wildcats Golf team took on 13 schools in the Capital City Invitational. Their season has started off strong, and they have had several high placements, including their last invite where they placed fourth
Going into the Invite, the players knew this was an easier course than they usually played at. It was deemed the second easiest course Millard West would golf at, and unchallenging to achieve par. Every course has a rating, and this course was rated three less than their previous one.
Millard West brought five golfers to the Pioneers course, and several placed higher than previous meets. The Wildcat team consisted of seniors Blake Skoumal, Hogan Wright and Palmer Wright. Along with them, juniors Adam Hahn and Aiden Nelson also shot the course. Skoumal placed first for the team, and fourth in the overall invite, with a score of 71. This was three strokes higher than his previous Beatrice Invite. Following Skoumal was Hahn with a score of 75. This was good enough to secure him 10th overall place, along with beating his previous invite score by eight strokes.
"I felt really confident going into the tournament," Skoumal said. "With how I have been performing, I definitely should have shot under par with Pioneers being my favorite course, and it being ranked the second easiest course Millard West has played at. Even though I left a couple shots out there, it still made me really happy that I could contend for the lead."
Coming in third was Palmer Wright with a score of 77, beating his previous invite score by 9. Directly after Palmer, his brother, Hogan Wright placed fourth for Millard West with a score of 83. This score was just enough to pass Nelson for the fourth spot, leaving Nelson in fifth with 84, tying his previous invite score.
"One reason that I shot nine strokes better is that my irons were working well and I putted nicely," Wright said. "I think the team has done well compared to my expectations. If we can continue to consistently shoot good scores, I think we will have a good chance going into State."
After all 13 teams' scores were counted up, Lincoln Pius X was able to secure first place with a score of 297. Creighton Prep came in second, three strokes behind Pius, and Lincoln East tied Prep. The Bluejays and the Spartans both accumulated scores of 300. The Wildcats came in fourth, with a score of 306, beating their previous invites score by 21 strokes.
"I missed a few short putts that I would like to have back, but that is just the nature of golf," Hahn said. "There were some shots that if I hit five more times, I wouldn't have come close to how good I hit them in the tournament. I think we are right about where I expected us to be if not a little better. We just need to keep it up and find a rhythm going into Districts, and if we do, we have a good chance of making it to State."
The Wildcats practice constantly, just to be where they are in their season right now. To see their progress in the next invite, show up at the Norfolk Invite, at 9 a.m. this Friday.