March Madness
Recapping the memorable moments in a chaotic tournament
While on the calendar the end of March was on April 1, for sports fans it was still pushing its limits.  The annual NCAA March Madness tournament concluded on April 5, after taking a year long hiatus because of COVID-19. The tournament started with four play-in games on March 18, with Texas Southern, Drake, Norfolk State and University of California at Los Angeles all winning their games.
Going into the tournament, there were a couple of questions fans were asking themselves: First, was Gonzaga's perfect record fabricated? They had played only conference games, and the West Coast Conference is relatively weak compared to the likes of the Pac-12 and Big 10. Second, how far would the Big 10 go? They lead the tournament with nine total teams. Third, how far would the consensus #1 overall pick Cade Cunningham take the Oklahoma State Cowboys? Other questions asked were the impact of COVID-19, this year's Cinderella story and the quest for the perfect bracket.
The first round would answer a lot of questions asked. In the round of 64, many fans bandwagoned on Colgate University (14), simply because it shared a name with the Colgate toothpaste brand. Colgate had a 14 point lead at one point but ended up losing 85-68. The team that became a fan favorite was Oral Roberts, named after its founder. The team eked into the tournament as the 15 seed and had to face the heavily favored 2 seed Ohio State, who was the runner up in the Big 10 conference championship. Many people became confused and nervous for their brackets when Oral Roberts had a three point lead at half. Oral Roberts played up to the competition and ended up winning 75-72 in a thrilling overtime game. They became the first 15 seed to beat the two seed since 2012, when Lehigh beat Duke 75-70. The first Big 10 team fell, but there were still eight more that remained.  The second B1G team to fall was Purdue (4) losing to North Texas (13) 78-69 in another overtime game. The final upset on the first day of action was when Syracuse (11) beat San Diego State (6) 78-62. Wisconsin (9) did beat North Carolina (8), but 9v8 matchups are meant to be even competition, so it was a technical upset, but many agree Wisconsin was the better team. 
The second day was less eventful, but the first upset was the one that would break everything. ESPN confirmed when Maryland (10) beat UConn (7) 63-54, everyone's bracket was busted. The upsets were not done for the day; Ohio (13) beat the reigning champ Virginia (4) 63-54, UCLA (11) breezed through BYU (6) 73-62 and Abilene Christian (14) pulled away in a thriller over Texas (3), 53-32. Then, the first major COVID-19 scare happened, as the Oregon (7)- VCU (10) game was canceled, with fears of a possible outbreak on VCU's side. Oregon was given the win and would advance on to play against Iowa (2).
Then, in the round of 32, the first game was a huge bracket buster for those that had Illinois (1) winning it all, as they lost to Loyola Chicago (8) 71-58. The face of Loyola Chicago, Sister Jean, gave a motivational prayer before the game.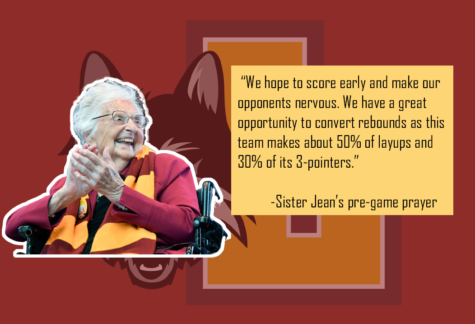 "We hope to score early and make our opponents nervous," Jean said in the prayer, per CBS. "We have a great opportunity to convert rebounds as this team makes about 50% of layups and 30% of its 3-pointers." 
Somehow, someway, she was right as the Fighting Illini lost the rebounding battle 30-27, shot 28.6% from behind the arc and only hit 44.9% from the field. Then, Syracuse pulled off yet another upset, beating West Virginia (3) 75-72. Later on, Oral Roberts had once again pulled something out of their sleeve, as they beat Florida (7) 81-78. The final upset on day three was when Oregon State pulled ahead of Oklahoma State (4) 80-70 and ended Cunningham's college career on a sour note. 
Day four was yet another action packed day, as once again, the first game was an upset, as Oregon dominated Iowa 95-80. This ended Luka Garza's historic career with the Hawkeyes. Then, the Pac-12 suffered their first loss in the tournament, as Colorado (5) fell to Florida State ( 4) 71-53. Finally, on the last game of the day, the University of Southern California (6) soundly defeated Kansas (3) 85-51.
Following a five day break in action, the Sweet 16 picked up play as Jean and her Loyola Chicago Ramblers lost to Oregon State 65-58. The next big game once again involved Oral Roberts, but this time, they were on the losing end as Arkansas (3) beat the Golden Eagles 72-20 in a nailbiter. Houston (2) also ended the Cinderella run of Syracuse, sending them packing after a score of 62-46.
The next day, Gonzaga (1) made a statement win beating Creighton (5) 83-65 after many doubted their performances going up against weaker teams. While Michigan (1) took care of business against Florida State, sending them home after a score of 76-58, Alabama (2) was unable to pull off a historic season where both football and basketball teams became national champions, as they fell to UCLA 88-78 in OT. The final game had two familiar foes clashing as USC beat Oregon 82-68.
Heading into the Elite 8, here were what the big story lines were: Gonzaga was taking care of business, and was closing in on becoming the first ever undefeated team to win the national championship. The Big 10 was down, as by the Elite 8, the nine teams fell to one, as Michigan was carrying the conference this far. Oklahoma State lost Cade Cunningham and were unable to capitalize on the one year they would have with him. COVID-19 was quiet, as one game was canceled, but a couple of players would be out for the entire tournament due to COVID-19 protocol. While people rallied behind Oral Roberts, both UCLA and Oregon State proved to be superior and represented the Pac-12 well, showing that the conference was not just a football conference. There would be no perfect brackets, as Oral Roberts-Ohio State broke over 90% of brackets.
The first game of the Elite 8 had Houston taking care of business, ending Oregon's States miraculous run. Then Baylor (1) punched their ticket to the Final Four by beating Arkansas 81-72.
The next set of games had Gonzaga continuing their dominance by beating USC 85-66. Michigan, the last B1G school standing, fell in deep trouble against UCLA early and was not able to mount a comeback, ending B1G's chance of a title and continuing UCLA's run.
The Final Four had Baylor facing Houston and Gonzaga being put up against UCLA.
Baylor destroyed Houston 78-59 in the first game The second game had a much different outcome. Gonzaga and UCLA played in a game hailed as one of, if not the greatest, game ever played. With a total of 11 lead changes and 15 ties at some point in the game, UCLA sent the Bulldogs into OT with each team having 81 points. UCLA was giving Gonzaga a run for their money. They game went down to the very end, and with less than 5 seconds left in OT, UCLA made a shot that would tie the game at 90, seemingly sending the game into double OT. Freshman guard Jalen Suggs had other plans. He took the inbound and ran upcourt, and right before the buzzer sounded, threw up a desperation shot from between the half court line and the three point line. The shot went off the backboard and went in as time expired, giving Gonzaga a hard fought win by the score of 93-90.
The National Championship game was set as two #1 seeds would square off in Baylor and Gonzaga. The two teams combined for the best record in championship history, as the combined record was 58-2. Baylor was back in the big dance for the first time since 1948, still in search of the program's first championship, and Gonzaga was trying to pull off the perfect season and get their first national championship in program history.
The game was over before it got going, as Baylor went on a 9-0 run early. That tone set the pace of the game and they never looked back. They went 5/5 early from downtown and were able to draw enough fouls to stifle Gonzaga's offensive attack. Gonzaga looked lost, letting up easy points in the paint and the post and could not find any offensive rhythm. Baylor's ability to out rebound Gonzaga was key, as at one point in the game, Baylor had 10 offensive rebounds while Gonzaga had nine total rebounds. Baylor was the better team, and that showed as they capped off their season winning the national championship 86-70, ending Gonzaga's perfect run.
That concluded the end of March Madness, and now fans are still excited about next year. The same questions would find their way to get answered. The same teams will be favored and those teams will fall. That is why March finds its way into everyone's minds in early April.