Off to a fast start
Track kicks off season at Concordia meet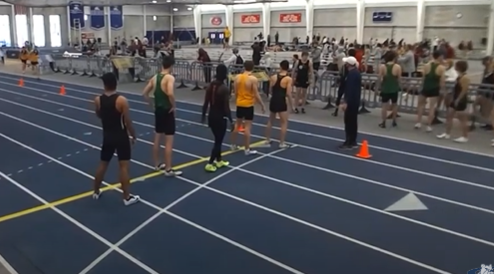 The Millard West track teams began their 2021 season at the Concordia Field House on Saturday, March 20. For the Wildcats, both the boys and girls varsity teams competed in the inaugural meet of the new season.
On the boy's side of the meet, the Wildcats sent two runners to the 60 meter dash finals. Senior Nick Brokaw crossed the line with a time of 7.24 seconds with junior Nathan Peterson just tenths of seconds behind, yielding them sixth and eighth place respectively. Brokaw and Peterson both also competed in the 200 meter dash alongside senior Will Ekborg. Brokaw finished 3rd, Ekborg came home 4th and Peterson barely behind in 5th. Three Millard West runners qualified for the 400 meter finals, senior William Venting finished 4th with a time of 54.11 seconds, junior Collin Schollmeyer in 7th and sophomore Sean Murphy in 15th both a few seconds behind Venting.
"Our sprinters ran better than we expected in the first meet and everyone else is pretty close to where we should be right now," head boys coach Colin Johnston said. "We always train to run our best at the end of the season when it actually matters, so we know our times and marks will improve throughout the season."
The Wildcats found much of their success in the longer events at the meet. With a strong cross country program, Millard West will be expected to do well in these endurance based events this year. Senior Tyler Matrangos was the lone Wildcat to advance to the finals in the 800 meter dash and came home in 5th with a time of 2 minutes and 10 seconds. Millard West had a better showing in the 1600 meters, however, with three runners advancing. Juniors Sam Kirchner, Seth Fey and Cole Haith finished 5th, 6th and 9th respectively. In the 3200 meters, sophomore Piercze Marshall finished 3rd with a time of 10 minutes and 10 seconds with senior Austin Goetsche one position behind in 4th. In the 4×400 relay Fey, Haith, Marshall and Kirchner combined for a time of 3 minutes and 46 seconds, yielding them a 4th place finish.
"The relay team we had consisted of our distance runners, so the 4×400 meter relay was foreign territory for all of us," Marshall said. "Since we have to work on sprinting a little bit, too, even though we run longer distances, we were able to give it our all and perform relatively well."
Millard West also looked strong in each of the jumping events. In the high jump, junior Jaxson Neumann and senior Aidan Berggren both jumped 5 feet 10 inches, putting them in 6th and 7th place. In the long jump, senior Kaden Williams jumped 20 feet and 2 inches, giving him a 4th place finish. Williams was also able to earn 1st place in the triple jump with 42 feet 10 inches. Neumann placed 4th in triple jump with Berggren in 7th.
"We are pleased with where we are," Johnston said. "It's really early in the season to know for sure, but we have kids that can score in a lot of the events. The first meet is always just a measuring stick to see where we are and what we need to improve on."
Overall, the boys team finished in 5th place out of the 11 schools competing. The Wildcats accumulated a total of 55 points. Omaha Westside was barely able to squeak out a win over Fremont with Lincoln North Star capturing the final podium spot.
The girls team also competed in the meet and had a very solid showing. In the 60 meters dash finals, senior Emily Holl finished with a time of 8.21 seconds, good enough for an 8th place finish. Holl also competed in the 200 meter dash alongside junior Alina Ropski; they finished 5th and 22nd respectively. In the 400 meter dash, junior Sadie Millard captured the top spot with a time of 1 minute even. She was followed by junior Layla Hopkins in 4th and senior  Savannah Weitl in 11th.
The girls team also found success in the endurance based events, due to a strong cross country team as well. Sophomores Isabelle Hartnett and Sammy Ullman competed with senior Molly Bies in the 800 meters. Hartnett came home 2nd, Bies in 4th and Ullman 6th. In the one mile event, freshman Thea Kutash finished 5th with junior Samantha Vojslavek in 8th. Hartnett was able to win the two mile race with a time of 11 minutes and 53 seconds, a full seven seconds ahead of second place. The girls 4×400 relay team was able to finish in 3rd place with a time of 4 minutes and 17 seconds, just behind Lincoln Southwest.
In the 60 meter hurdles, with a height of 33 inches, the Wildcats only had one runner advance to the finals. However, senior Lindsay Adams won the event with a time of 9.24 seconds. In the high jump, Hopkins jumped 5 foot even, giving her 4th place. Ullman placed 10th and senior Lainey Malley got 13th. In the long jump, Holl and Adams rounded out the lower two podium spots with Millard in 5th. The Wildcats only had one athlete in the triple jump: Mally who jumped 30 feet and 1 inch, giving her 10th place.
Overall, the girls team finished 2nd out of the 11 teams. The Wildcats had a total of 77 points, 25 behind Fremont who took first place. Both Wildcat teams performed well for the first meet of the season, however there is still plenty of room for improvement throughout the rest of the season.