Wildcat woes
Disappointing hockey season comes to a close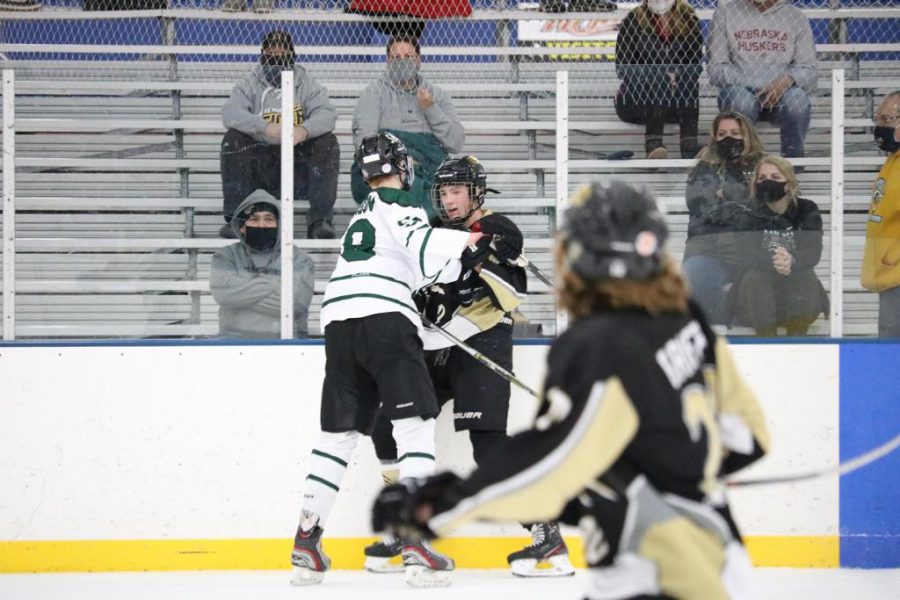 After a rough season wrought with injuries, suspensions and COVID absences, the Millard West Hockey team finished their 2020-2021 campaign in dramatic fashion. On Monday, Feb. 22, the team wrapped up their season with a heartbreaking playoff loss against the Fremont Tigers, finishing the season with a disappointing 5-17-0 record.
The 2020-2021 season started off rough. The Wildcats opened with three straight losses to Millard North, Fremont and Westside. After the Westside loss, the team took a two week hiatus due to COVID, missing three games. When they were finally allowed back on the ice, they came back strong, winning four out of their next seven games — including key wins against Creighton Prep and Omaha Metro — and improving to 4-6. That's when things took a turn for the worse. Over their next 13 games, the Wildcats dropped 12 — only winning one game between Dec. 13 and Feb. 15. 
"Unfortunately, we got hampered in January and February," Johnson said. "We got hit with COVID, we lost a few guys there, we lost one of our best defensemen to a broken hand, we lost a guy to a suspension. So, we struggled mightily in January and February."
The playoffs started off similarly to the regular season, with the Wildcats taking a beating from Omaha Metro in an 8-1 loss. Following this loss, the Wildcats completely turned their performance around, beating Capitals West and Millard South. They rode this momentum into an elimination game against the second ranked Fremont Tigers. The Wildcats played one of their best games of the season, and kept the game close for three periods. But ultimately, they lost a heartbreaker in the final minutes of the game, ending their season. 
"It was the best game we played all year," junior forward Clayton Kriha said. "Specifically because passing looked amazing, we really wanted the puck, we wanted to win that game. It's sad to see us lose in the state tournament, but it felt better than just throwing a loss out there. We fought our hardest, we took the lead a couple of times, and they just played harder because they're just fundamentally a better team. But that's all we can ask for. It makes it feel a little better knowing that everybody gave it their all that game."
Throughout the season, the Wildcats' clear leader was forward senior Carter James. James led the team in goals (11), assists (10) and points (21). Junior forwards Hunter Johnson (7 goals, 7 assists),  Calvin Halverson (7 goals, 4 assists) and freshman Karden Seibel (7 goals, 5 assists) contributed significantly, too, and they will probably be the Wildcats' leading scorers next year. 
The Wildcats goaltending struggled throughout the year. Senior Devin Dougherty and sophomore Anderson Nikodym split time in the net evenly. Both had save percentages below .850 — .843 for Dougherty and .830 for Nikodym — giving up an average 3.35 goals per game. Penalty minutes were also a weak point for the Wildcats, especially for Seibel (65.5), James (48) and junior Kyle Sheldon (42).
Injuries and COVID absences plagued the Wildcats throughout the season. Only seven players played in all 25 games. The most notable injury was James's concussion against Millard South in the playoffs, putting him on the bench for their tough playoff loss to Fremont. 
"The whole day it didn't feel right, knowing I wasn't going to play later," James said. "Even though my team was going to go out there and skate the hardest they have all season to keep the season alive. It hurt watching us lose our last game — my last game — it just didn't feel right."
The team was a young one this year, with five freshmen and four sophomores. They didn't have a lot of experience playing together, and it took most of the season for things to finally click. 
"[Next season] I'm hoping that our freshmen and sophomores really start to gel a little more than they did this season," Johnson said. "This season was a growing season for us, definitely. We started to click there as the playoffs started to roll in. As the playoffs hit, we started to find our way, and I thought our underclassmen really started to perform well."
With only four graduating seniors, the Wildcats are optimistic about next season. Seeing the way they started playing together in the playoffs, the 2021-2022 season looks bright for Millard West.