Wildcat Wrestling falls short of Finals
Millard West sends eight to state tournament, returns with three medalists
Throughout Wednesday and Thursday last week, eight Wildcat wrestlers competed at the 2021 NSAA State Wrestling Championships at CHI Health Center in Omaha. 
Three wrestlers placed and were awarded medals during the televised finals on Thursday night.
"Unless you win a state title, you never perform as well as you think you should," head coach Scott Townsley said. "We took eight down to state with seven of them being first time qualifiers.  We walked away with three medals. This is the first time in 11 years and hopefully the only time we have not had someone in the state finals."
Junior Charlie Nosal (28-6) placed sixth in the A195 weight class where he started off strong by defeating Alexander Ramirez of Omaha South 10-1. Nosal went on to drop his second match 2-11 to the A195 State champion Vincent Genatone of North Platte. After a 7-6 win against Pius X's Matt Bohy and a 7-5 win over Lincoln East's Aidan Ingwersen, he dropped his fifth match to Connor Hoy from Millard South. Nosal then wrestled for fifth place against Fremont's Benny Alfaro, losing 1-3.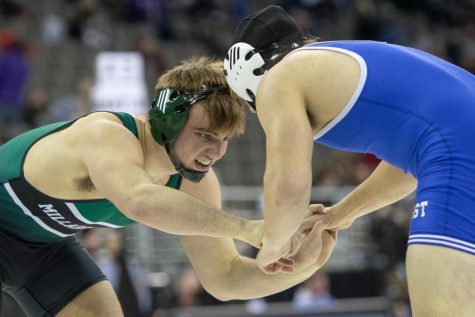 Placing fifth in the A285 weight class was Senior Ryan Kocovsky (25-5), who won his first two matches against Fremont's Titus Richardson and Chase Emsick of Elkhorn South. Kocovsky fell one match short of the finals after losing to the A285 State champion Zephaniah Sivels-Edan from Millard North. Kocovsky was defeated by Omaha Northwest's Tyson Danner 2-1 and moved on to wrestle and win against Preston Welch from Bellevue East for fifth place.
"I did my best to just not think going into the state tournament, and I tried to just believe in my abilities," Kocovsky said. "I really enjoyed wrestling this year and felt like I have improved a lot, but I'm disappointed in the finish."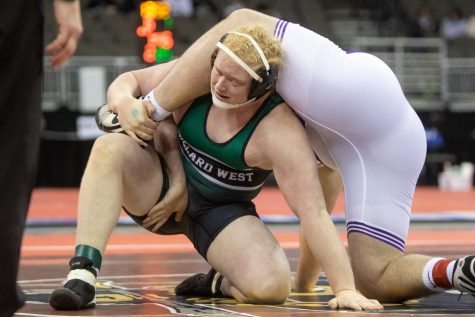 Taking the 3rd place spot on the podium for the A182 weight class was freshman Noah Blair (26-4), who started strong out of the gate, winning his first two matches. He defeated Papillion-La Vista's Alex Morris 9-3, then Henry Thomsen of Elkhorn South 3-2 and moved on to face North Platte's Gavyn Brauer for a chance to compete in the finals. Brauer, who was 57-1 on the season, took the match 3-2 and went on to win in the finals. Blair then faced off against Kearney's Carter Abels where he won 9-2. To secure his spot on the podium, Blair beat Justin Davis from Omaha Central 3-2 in his third place match. 
"I'm blessed to be able to wrestle, and God blessed me with the opportunity to compete and make a run at state," Blair said. "Going into the first day of the state tournament felt exhilarating. Some might think that a freshman would be scared or nervous, but that's just a mentality. I went through those doors with zero fear and a mind full of positive thoughts. I truly had zero doubts that I wasn't going to win it. Of course, I recognize how beyond blessed I am to be a State medalist, however I'm never settled, and there is always work to be done."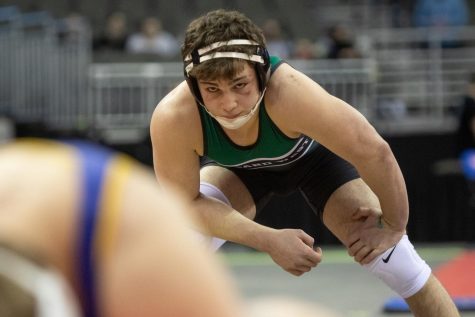 Millard West's other competitors came up short this year and didn't place. 
Freshman Enrique Haynes (A106) lost his first match against Norfolk 9-5 and would move on to win 2-0 against Grand Island. Haynes lost his final match 11-9 to Papillion-La Vista South's Tyler Durden.
Sophomore Avery Russell (A113) lost his first match against Creighton Prep 0-8 but returned to the mat and took his first consolation match against Papillion-La Vista South 13-3. He lost his final match by fall to Grand Island.
Senior Aiden Schollmeyer (A132) lost by fall to North Platte's Jaylan Ruffin in his first match, then went on to drop his consolation match to Jose Hinz of Lincoln Southeast.
Sophomore Jackson Jeanette (A145) dropped his first match 6-3 to Zane Faust of Lincoln Pius X, but would return to defeat Lincoln Northwest's Daniel Krause in the first round of consolations. His final opponent, Westside's Noah Aken, won by fall.
Senior Kaden Williams (A152) was defeated by Creighton Prep's Pierce Johnson in his first match. He then went on to wrestle Justin Leon from Fremont and won by fall, moving on to face Kearney's Gage Ferguson in the second round of consolations. Ferguson won the match by fall.
"The kids wrestled hard all weekend," Townsley said. "I am proud of the way they wrestled and represented the MW program. We finished 14th as a team which is never good enough. The work to get to this point starts right away.  We will begin getting back in the weight room and then start our training all over again."
The team left the tournament with an overall score of 42.0 and placed 14th out of 32 class A schools. With room to improve, Wildcat Wrestling will begin practicing for the 2021-'22 season in March.