Future Wildcats
Feeder schools celebrate with a one of a kind Spirit Day
On January 8, all nine feeder schools for Millard West High School participated in the first annual Wildcat Friday. This was a day for the students to represent their potential future high school by wearing apparel from different activities and athletics. 
Due to the pandemic, athletes and other students have not been able to attend their normal traditions such as going to pep rallies and visiting the classrooms in person. For Reeder, Black Elk, Russell and other elementary and middle schools, this was a way to link with the younger classes.
"During COVID, there have been fewer opportunities for the high school to connect with students at the feeder schools," Athletic Director Lance Smith said. "We would normally have feeder school nights in each sport and other traditions, but none of that was able to happen this year. So, it was one way we could promote MW spirit across all feeder schools in a 'virtual' way."
Despite not being able to meet in person, teachers and numerous students all over the district donned their green and black in support of the Wildcat Nation.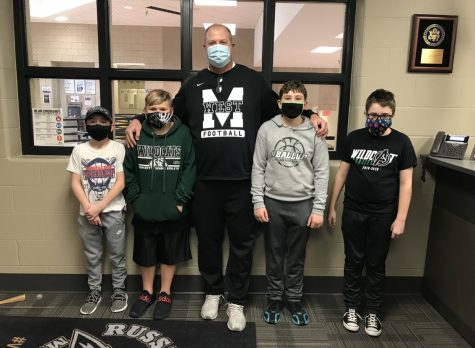 "I got an email from the principal telling us about Wildcat Friday and to wear Wildcat attire to represent the school," sixth grade student Lainey Reynolds said. "I liked getting to dress up because I will go to Millard West for high school when I am older, so I wanted to be able to show my Wildcat pride."
Schools across the Millard area tweeted out pictures of their students in their Millard West merchandise, in hopes that the West students would see them showing their school pride. 
"School spirit sprouts at a very young age no matter where you grow up," Beadle English teacher Becky Pfeifer said. "It gives young people a sense of belonging, hope and pride. Wildcat spirit abounds at Beadle Middle School as many youngsters begin following Millard West activities and events from pre-K all the way through elementary school and into middle school. They dream of the day, when they too, will cheer on their teams, go to prom and walk the hallowed grounds of MWHS to make their footprint on the Wildcat Wall of Fame." 
Becoming involved early on can positively impact the future of the students in regards to celebrations and activities. For both students and teachers in future years, this could be a new tradition and way to connect with their high school before they become a Wildcat themselves.