National Championship Preview
A cheat sheet for one of the biggest events of the year
Alabama and Ohio State will face off for glory in this year's College Football Playoffs Championship game on January 11. Both teams came off impressive wins over Notre Dame and Clemson, respectively, and Alabama has been favored to win it all, with position groups deciding the game.
Alabama fields one of the highest-powered offenses, led by senior wideout and Heisman winner Devonta Smith, and junior quarterback Mac Jones. They finished the season undefeated, with impressive wins over the Texas A&M Aggies and the Georgia Bulldogs in the regular season. They then survived a shootout game with the Florida Gators in the SEC Championship game, where they beat them 52-46. Although Bama's offense is the main story, their defense has quietly been a shutdown squad. They have arguably one of the best secondaries in football, and big interior linemen to stop the run. Their linebacker core is lacking, and may have trouble after allowing 7 catches for 129 yards to Gators junior tight end Kyle Pitts.With a strong secondary and defensive line, this will lead to a huge problem. 
Ohio State on the other hand is, as usual, a well-rounded team. They have one of the best backfields in the country, with projected 1st round draft pick, senior quarterback Justin Fields. The running back corps has extreme talent with the two-headed monster of sophomore Master Teague and senior Trey Sermon. Sermon had a breakout game against Clemson, with 31 carries for 193 yards. He also pitched in with the passing game, with 4 catches for 61 yards. Fields raised his draft stock, throwing for 385 yards, 6 touchdowns, and completing 22 of 28 passes. He ran for 42 yards with 8 runs, but most notably taking a hit from linebacker Senior James Skalski of Clemson, a shot that damaged Field's ribs, and got Skalski ejected from the game for targeting.
 The Buckeyes' defense also is a shutdown squad full of talented players. They held the consensus #1 overall pick junior quarterback Trevor Lawrence to 33/48 and 400 yards. Despite the high yardage given up, they only allowed 2 passing touchdowns and had one interception to complement. They allowed 1 touchdown from Lawrance on the ground, and let senior running back Travis Etienne 32 yards and 1 touchdown on 10 carries. This team reminds me of the 2020 New Orleans Saints, a team with a solid rushing and passing attack, and a defense that limits the offense from scoring.
As mentioned earlier, this will be a game won by position group, not one side of the ball over the other.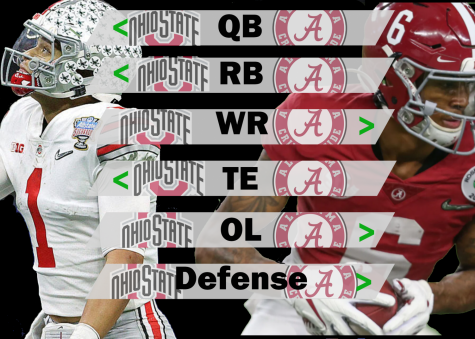 I give the edge to Ohio State in the quarterback position because of the fact Fields has played Alabama, and is much more experienced than Jones. For running back, the two headed monster of Sermon and Teague is deadly, and much more explosive than Bama's senior running back Najee Harris. Both wide receiver corps are extremely talented, but Hiesman winner Smith gives Bama the edge. The battle of the trenches at the line of scrimmage contains tons of first round talent, but Bama's dominating performance over Notre Dame's lethal pass rush edges them over Ohio State. Ohio State has an overall dominant defense, but lacks in the secondary, while Bama lacks linebackers. With both teams' passing attack, I give it to Bama for having the better secondary. One storyline not often talked about is the coaching, something both teams are very good at. For Bama it is the legendary coach in Nick Saban, going up against an up and coming Ryan Day. This is Day's first championship game as a head coach, but the 11th time for Saban. While both coaches have impressive resumes, Saban is much more experienced and this gives Bama the final advantage in what I am predicting is a 31-24 win over Ohio State. Expect the tight ends of Ohio State to have a big game, and for Smith to win a lot of 1 on 1 matchups against Ohio State's senior starting cornerback Shaun Wade. This should be a good game to watch with some big plays on offense, and would expect a big play or two from each team's defense. Both teams looked prime to win this year, but we will just have to wait and see who goes ahead on top.