Hawks return to action
A new, but weird season for Iowa football begins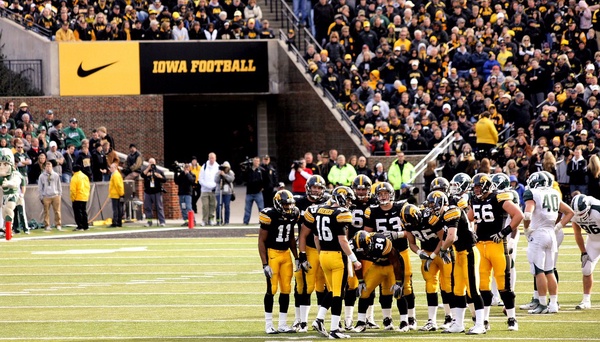 Many people wondered if the Big Ten would even play this year after "canceling" the season earlier in the year. The Big Ten has placed medical protocols that include daily coronavirus testing's and enhanced cardiac screenings. They hope to do the best they can to make sure the season continues with no problems.
After a brutal game against Purdue where the outcome of the game was a 24-20 loss Iowa hopes to regroup this week and make the improvements they need for when they take on Northwestern on Halloween.
In this short season, the Hawkeyes only have eight games instead of the normal 12 games they would usually have in a season. There are no non-conference games this year; instead they will be playing the 6 teams in the west and two cross division opponents from the east being Michigan State and Penn State. Their key games this year include Minnesota and Penn State and at home against Wisconsin where no fans will be in attendance at any games this year.
This is the first time since 1976 that Iowa will not be playing Iowa State for the Cy-Hawk trophy that goes to the winner of the game. They still take on both Minnesota and Nebraska this year where they hope to keep the trophies they won by beating both teams last year to end the season. The Hawks hope to redeem themselves after a 24-22 loss to Wisconsin last year and win back the Heartland trophy on Saturday December 12th their final game of the season.
When interviewed by the Hawk Fanatic sophomore quarterback Spencer Petras said. "We'll have to see how it all comes together Oct. 24, but I have high expectations for this offense, our coaches do as well. As players, we know how good we can be, and we're all excited to go out there and compete".
Iowa is coming off a 10-3 season where they come into the season being outside the rankings at 31 and losing their starting quarterback Nate Stanley. They have a few options at the quarterback position returning sophomore quarterback Petras, who had very little playing time last year is in competition with freshman quarterback, Deuce Hogan the star of the Hawks 2020 recruiting class. Head coach Kirk Ferntz has announced that the sophomore quarterback Petras will be the starter for the first game but freshman quarterback Hogan is in a tough quarterback battle with him.
When asked about Petras by the Hawk Fanatic, offensive linemen Tyler Linderbaum said. "I've been fortunate to be roommates with Spencer for a year, going on two. He just has a commanding personality, what you're looking for in a leader. He has great leadership skills. As each day goes on he's just building more and more confidence, which is good to see".
Although the Hawks are losing their starting quarterback from last year's 10-3 team, they return key players at the wide receiver position such as senior Ihmir Smith-Marsette who led the team in receiving yards last year and other wide receivers such as Senior Brandon Smith and Sophomores Tyrone Tracey and Nico Ragini. They also have sophomore running back Tyler Goodson returning, their leading rusher from last year. He won the starting position at running back later in the season after having breakout games against Minnesota and Nebraska.
The Hawkeyes defense is definitely the strongest part of the team where they hope to continue their success from last year's season. They didn't give up more than 24 points last year while only giving up 308 yards and 14 points per game which was the 12th best in the nation. Although they are losing key players on defense such as Geno Stone and A.J Epenesa,  they have plenty of depth from last year to replace players that left for the draft and graduated.
They also need to improve on some things such as finishing once they get to the redzone. Even though they finished fourth in the nation in converting in the redzone going 40-42, 15 out of those 40 were field goals. They also need to improve on 3rd down conversions on defense, there were several games last year where opponents such as Penn State and Wisconsin converted on over 50 percent on 3rd down attempts.
Ferentz, who is entering his 21st season at Iowa with a 162-104 record, is very positive with what could be the outcome of this year.
When interviewed in Iowa's yearly press conference Ferentz said. "I think our players have been extremely impressive, the last couple weeks, but also throughout the entire period". "I think they have been united, I think they have been focused and have worked extremely hard". 
Through all adversity with the coronavirus and players opting out of the season because of the pandemic and some key departures on both offense and defense, Iowa looks to have a good but short season with no issues.