Casting the ballot: How to register and vote
Nebraska offers its residents a few options to register to vote and cast their ballots in the upcoming presidential election
With the 2020 presidential election less than a month away, citizens will cast their ballots to elect former Vice President Joseph R. Biden or incumbent President Donald J. Trump. However, the COVID-19 pandemic altered how Americans will vote for the candidates: polling sites are still open, but they can submit mail-in ballots for a socially distant option.
Anyone voting needs to register with his or her state, whether planning to attend a designated polling location or send in a vote by mail. Eligible Nebraska voters must be a United States citizen, 18 years or older by November 3 and live in Nebraska. They also cannot have been convicted of a felony or found to be mentally incompetent. Voters received a registration brochure earlier in the year with an application; they can mail this form to the address provided to register.
Nebraskans need to fill out the application as the directions guide, cut off the form from the rest of the brochure and mail it to 12220 W Center Road — the Douglas County Election Commission. First-time voters will also need to show proof of identification: they can submit a copy of valid photo IDs, utility bills, bank statements or other government documents showing their name and address.
Nebraska residents may visit www.nebraska.gov/apps-sos-voter-registration/ to register online. They must fill out an application portal confirming their eligibility, personal information and party affiliation. People can also register through the state Department of Motor Vehicles when renewing a driver's license and through the state Department of Health and Human Services and State Department of Education when applying, reviewing or changing an address connecting to public programs.  The deadline to register is October 16, and voters cannot participate in the presidential election if they are not registered by this time.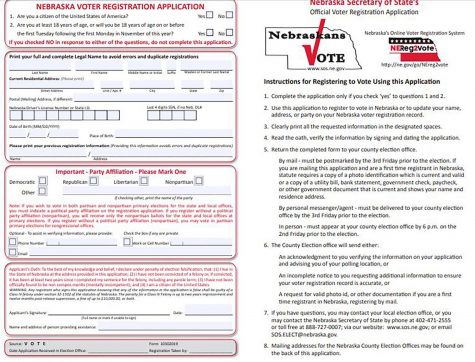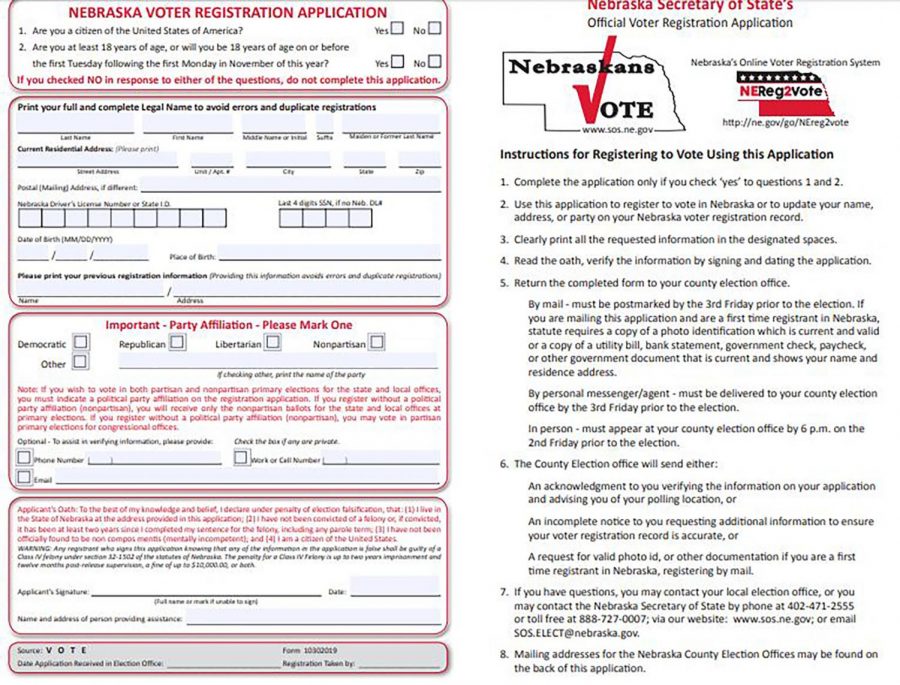 Those concerned about visiting a polling site during the pandemic may vote by mail. They can request a mail-in ballot online (https://sos.nebraska.gov/elections/early-voting-0) or by sending an email to the local elections office. These must be requested no later than October 23, and the ballot must be completed and sent to the local elections office by 8 p.m. on November 3.
In-person voting is still a viable option. From 8 a.m. to 8 p.m. on November 3, Nebraska residents can visit their designated polling site – found on https://www.votercheck.necvr.ne.gov/voterview. Residents may also vote before the election, by arriving at the county elections office before November 2.
Anyone wanting to find more information about Nebraska's voting process and guidelines can visit https://www.nebraska.gov/featured/elections-voting/ for details on absentee ballots, registration and how to vote on Election Day.