Playing her part
Senior reaches 1,000 assists in just over one season as a Wildcat
On September 12, at the Millard North Invite, the varsity volleyball team celebrated a huge victory. During the first game of the event against Millard South, senior Bridget Smith reached a very special milestone of 1,000 assists.
Smith first began volleyball at the age of 6. As she grew into the sport, she took on the role of the setter, whose job is to set up the ball for an attacking player to hit. This position allows for Smith to accumulate assists throughout her games, explaining why she was able to reach so many during her time playing for the school.
"After the point that was scored following my 1,000th assist, the rest of my team and my coaches got up and cheered for me," Smith said. "Hearing everyone celebrate my achievement was a really good feeling. I felt a huge sense of accomplishment."
The team had kept records of Smith's previous assists and were expecting her to pass the 1,000 mark sometime during the game. The managers had been taking stats and made sure to let everyone know when she was one assist away from reaching 1,000.
This milestone is all the more impressive given that Smith reached it in such a short amount of time. Having gone to Skutt Catholic High School for two years, Smith transferred to West for volleyball as a junior.
"Since Bridget transferred, our offence has run really smoothly," teammate and senior Elise Gilroy said. "She connects well with all of our hitters, and she also has great chemistry with everyone which is great because her role is so important to the team. Reaching 1,000 assists in just a little over a season is amazing, and I think it is proof of her hard work."
Smith's decision to transfer was driven by the fact that she felt Millard West volleyball would allow her more opportunities to play as a setter.
"It feels really good to know that transferring was the right decision," Smith said. "Being able to reach 1,000 assists in my time here is proof of that. It just goes to show that I have had plenty of playing time and opportunities."
While this achievement has been proof of Smith's talent as an individual player, it also goes to show that the team works well together as a whole.
"It's definitely a group effort," head coach Joe Wessel said. "Bridget is the quarterback of this team. She runs the offense. But without her teammates putting in the same kind of hard work and effort, she would not reach this milestone alone."
Smith also acknowledges that reaching this milestone was not something that she could have done on her own.
"So many other people have helped me get to where I'm at right now," Smith said. "My coaches and my dad especially push me to my full potential. Assists also depend a lot on the rest of the team. In order for me to have a good set, it requires a good pass and then for one of the hitters to finish the ball."
Smith is only moving forward, planning to grow her numbers as the Wildcats finish up their regular season with four more games.
About the Writer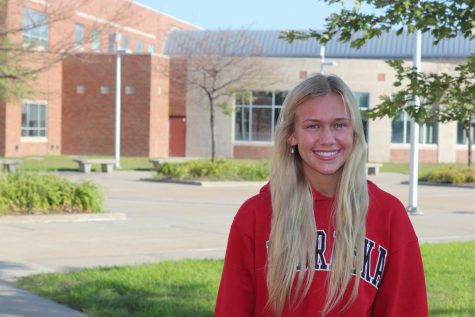 Dana Summers, News Director
Dana is a senior at Millard West and is returning for her second year on the CATalyst and MWHS News staff. Her favorite aspect of journalism is being able...