Striking online
Climate activists take to social media to spread their message
Wednesday, April 22nd, marked the 50th Earth Day. People celebrated all over the globe by getting outside and appreciating the planet we call home. Not only did people commemorate the Earth, they also went to social media to protect it. 
With the current pandemic taking place, large crowds are not an option, so meeting in person to strike was not able to happen. Climate activists wanted to keep the momentum going, so they got creative. They took to social media and started to post pictures of themselves with climate signs and using the hashtag #onlineclimatestrike. One of the key groups that helped organize the Omaha area to strike online was Students For Sustainability (SFS).
"It's important to continue striking online because the climate crisis has by no means gone away and we have an opportunity right now to reach different groups of people than normal on social media because of everyone's increased online presence," Mercy High School senior and SFS president Cate Kelly said. "And others can help by continuing to post and share strike information and environmental awareness things online, by picking up trash in your neighborhood, donating to environmental organizations, and using this time to plan for future action."
This new way of striking has allowed the opportunity for people to participate in a climate strike for the first time. People were able to get creative with how they were going to make their signs and take a picture to spread the message.
"This was my first climate strike that I have been able to participate in, cause I am usually very busy, but since it was online, I was able to join with other activists and it was really fun making a sign and going outside and taking a picture." Millard West junior Emma Cavalier said. "By striking online it proves that people are very passionate about the subject because they are willing to adapt by going online."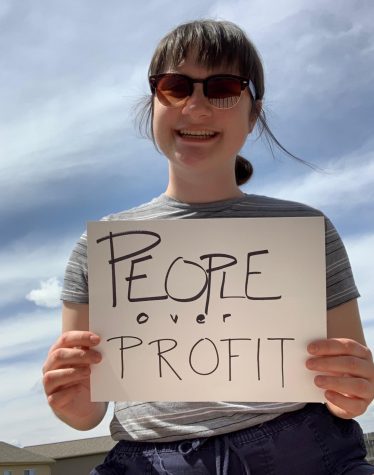 Major activists like Greta Thunberg started striking online when the virus started to rapidly spread. Every Friday, activists like Greta Thunberg continue to strike online by posting pictures on social media. When Earth Day came around, it was important to really show on social media that the fight is still alive for the climate.
"It is nice to see that people are still active with informing and fighting for the climate," Millard West senior Lauren Rezac said. "I was worried that the virus was going to hinder the movement, but activists all around the world collectively found a way to continue the fight for climate justice."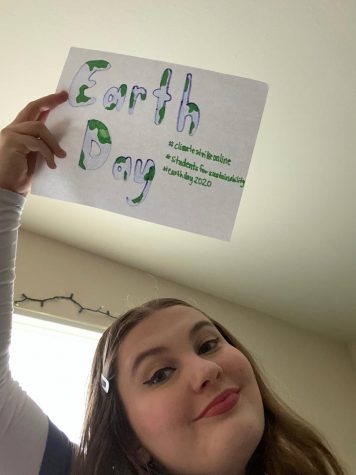 Although Covid-19 is a serious global threat, activists want to continue to push the seriousness of the state the Earth is in. They will continue to inform others and advocate for better policy that helps the planet even if it is from their home.
"The strike makes the impact of reminding people that the earth is still in a very strenuous place and this is still a crisis that threatens us all," Kelly said. "Action needs to be taken with the same level of seriousness as it's being taken for coronavirus."
As life in quarantine continues, the fight for climate justice will try to stay alive. Advocates hope that the strikes that happened around the world on Earth Day helped spread their message. They continue to urge others to join them in trying to save the planet.